I haven't run since a week ago Sunday.  I'm currently icing my ankle/leg.  It's getting MUCH better.  I plan to run this weekend (but not before.)  Who would have thought I'd miss it so much?  Weird.  Seriously weird. 
The gym this morning was tough.  Mike made me do a ridiculous amount of squats—back squats and front squats (holding the bar on the front of your shoulders).  I didn't care for it.  The highlights of the day were when I went around a corner and almost ran into somebody, and then he almost kicked a woman who was coming around the corner.  Basically, be careful going around corners at the gym.  Perhaps use a mirror to make sure no one is coming or bending over with their leg sticking out backwards. 
The weather today is GORGEOUS…I am inside on the computer, about to start practicing.  I've been trying to put in at least an hour a day.  That may not sound like much, but (as I tell my students) it's the consistency that matters. Then I have teaching.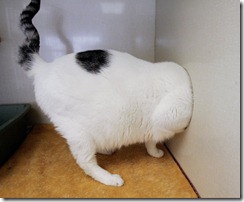 It's strange because for my fall schedule (so far) I don't start teaching any day until at least 4:30.  I could almost have a full time job and then teach violin.  Of course, I'd hate that.  When would I work out and plan my wedding?  And blog?
I updated the "life" page last night.  Let me know what you think!
I've been doing a bit of cruise research recently.  We're looking at Celebrity.  Anybody cruised with them recently?  Pointers?  Advice?  Suggestions?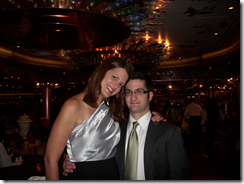 The regular mail carrier seems to be on vacation this week.  The substitute keeps getting our mail mixed up, plus it comes three hours later.  It's really throwing me off!  Usually the mail comes around 11 am and now it's coming between 2 and 4 pm. 
Chris is having a great time in Vegas.  I've barely heard from him at all, so I'm SURE he is!  He seems to be doing a lot of golfing…I'm sure that's what they are doing…golfing…at least that is what he is telling me about.  (I'm kidding of course, I'm sure it's true.  Chris loves golf.)