I thought I'd copy some of the recipes I've made recently in my blog here in case the links stop working at some point!  We'll have the Caramel Apple Cheesecake, Fruit Pizza, Pumpkin Pie Fudge, and Pumpkin Bread Pudding. (Some of these may not have even been linked to, so this is a treat for you!)
Caramel Apple Cheesecake Pie (from the sweets life)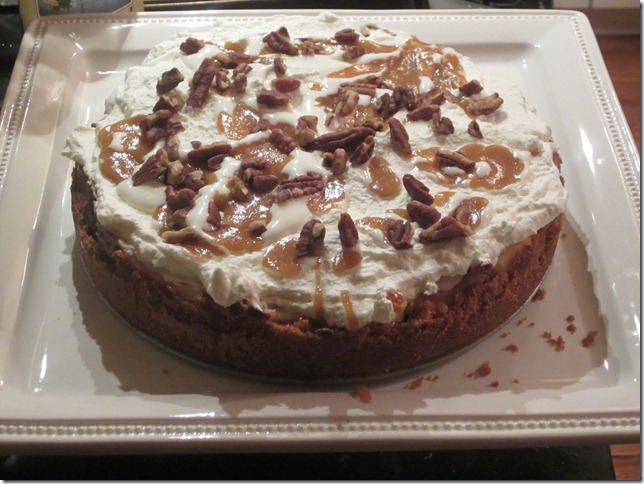 Caramel Apple Cheesecake Pie
from Annie's Eats
Ingredients:
for the crust-
-1 1/2 cups graham cracker crumbs
-3 tbsp sugar
-1/2 tsp cinnamon
-5 1/3 tbsp unsalted butter, melted
-1/2-3/4 cup caramel (see below for recipe)
-1 cup chopped pecans
for the apple filling-
-5 tbsp unsalted butter
-1/2 cup light brown sugar, packed
-1/4 tsp salt
-1 tsp cinnamon
-5-6 Granny Smith Apples, peeled, cored, and thinly sliced
for the cheesecake-
-8 oz. cream cheese (I used 1/3 less fat)
-1/4 cup sugar
-1 tsp vanilla extract
-1 egg
-1 tbsp freshly squeezed lemon juice
for the topping-
-3/4 cup heavy cream
-3-4 tbsp confectioners' sugar
-1/4-1/2 cup caramel
-chopped pecans
for the caramel-
-1 stick unsalted butter
-1/2 cup heavy cream
-1 cup packed light brown sugar
To Make the Caramel:
1. Combine butter, cream, and brown sugar in a saucepan over medium heat. Stirring constantly, bring the mixture to a boil. Once it boils, reduce heat to medium and continue to stir until it thickens (approximately 8 minutes). Remove from heat and allow to cool.


Directions:
1. To make the crust, preheat oven to 375F. Line a 9-inch springform pan with parchment paper (I skipped this step and just greased my pan well. The first piece was tough to get out, but the rest came out fine!). In a medium-sized bowl, mix graham cracker crumbs, melted butter, cinnamon, and sugar. Toss until evenly mixed and moist. Press into the bottom of the springform pan, pressing mixture halfway up the sides.
2. Bake for 6-8 minutes (until light brown). Remove from oven and allow to cool. Pour a layer of caramel over the crust and sprinkle with pecans. Refrigerate while you prepare the filling.
3. To make the apples, melt butter in a saucepan and add brown sugar, salt, and cinnamon, cooking for 1 minute, until bubbling. Add apples, tossing to coat. Cook over medium heat until liquid is reduced (15-20 minutes). Allow apples to cool before placing in crust.
4. Reduce oven heat to 350F. To make the cheesecake layer, use an electric mixer to mix sugar and cream cheese until smooth. Add vanilla, egg, and lemon juice, beating until well-combined. Spread the cheesecake filling over the apples.
5. Bake for 30 minutes, or until an inserted knife comes out clean. Remove from oven, cool to room temperature, and refrigerate at least 4 hours, or overnight.
6. To serve, remove cheesecake from springform pan. Using an electric mixer with a whisk attachment, beat heavy cream and confectioners' sugar on medium until stiff peaks form (don't overbeat!). Carefully spread over cheesecake layer.
7. Top with caramel sauce and pecans. Slice into pieces before serving.
Fancy Fruit Pizza
from allrecipes.com
Ingredients
1 (18 ounce) package refrigerated sugar cookie dough
1 (8 ounce) package cream cheese, softened
1/3 cup sugar
1/2 teaspoon vanilla extract
2 medium firm bananas. sliced
2 teaspoons lemon juice
1 (20 ounce) can pineapple chunks, drained
1 pint fresh strawberries, halved
2 kiwifruit, peeled and sliced
1 (11 ounce) can mandarin oranges, drained
1/3 cup orange marmalade
1 tablespoon water
Directions
On a greased 14-in. pizza pan, press cookie dough into a 12-in. circle. Bake at 375 degrees F for 10-12 minutes or until golden brown. Cool completely on a wire rack.
In a small mixing bowl, beat the cream cheese, sugar and vanilla until smooth. Spread over crust. Toss bananas with lemon juice. Arrange the pineapple, strawberries, bananas, kiwi and oranges over cream cheese mixture. Refrigerate for 1 hour. Combine marmalade and water; drizzle over fruit.
Pumpkin Pie Fudge (Adapted from several sources)
Ingredients:
-2 cups granulated sugar
-1 cup light brown sugar (I've used dark too)
-3/4 cup butter
-2/3 cup condensed milk
-1/2 cup canned pumpkin
-1 to 1 1/2 teaspoons pumpkin pie spice (for less spice kick just use one teaspoon)
-1 package white chocolate chips
-1 jar (7 oz) marshmallow crème
-1 cup chopped walnuts or pecans (optional)
-1 1/2 teaspoons vanilla extract
Directions:
Butter a 9×13 baking pan (I have used an 8×8 as well to get larger pieces) and set aside.
In a saucepan, combine the sugars, butter, condensed milk, pumpkin, and pumpkin pie spice.  Heat until all the ingredients are combined and begin to boil.  Stirring constantly, allow the mixture to boil for about 10 minutes or until is reaches 234 degrees on a candy thermometer.
Remove from heat and quickly stir in the white chocolate chips, marshmallow crème, nuts (if using), and vanilla until all ingredients are fully combined and the chips are melted.  Immediately pour the fudge into your prepared baking dish and let sit on a wire rack for at least 2 hours to cool and store in your refrigerator.
Pumpkin Bread Pudding
from allrecipes.com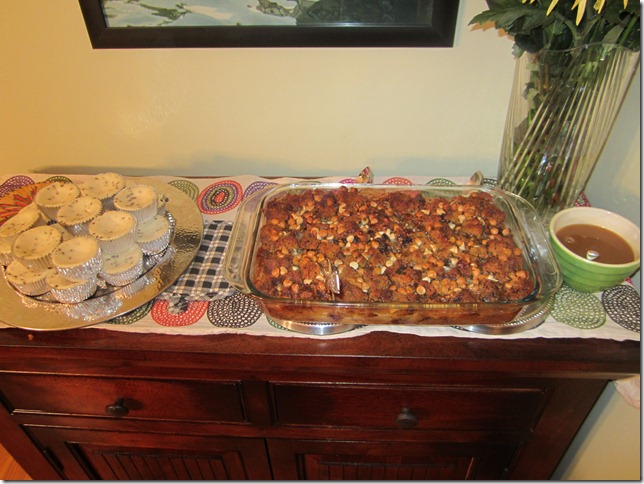 Ingredients
2 eggs
1 1/2 cups half-and-half
1/4 cup white sugar
1 teaspoon vanilla extract
4 cups cubed pumpkin bread
2/3 cup butterscotch caramel ice cream topping
3 tablespoons heavy cream
3 tablespoons dark rum
Directions
Preheat oven to 325 degrees F (165 degrees C). Prepare a 9-inch pie pan with cooking spray.
Whisk together the eggs, half-and-half, sugar, and vanilla in a bowl. Arrange the cubed pumpkin bread in the pie pan. Pour the egg mixture over the bread cubes.
Bake in preheated oven until a knife inserted into the center of the dish comes out clean, 30 to 35 minutes.
Combine the caramel sauce, heavy cream, and rum in a medium microwave-safe bowl. Heat on High in microwave for 45 seconds; whisk. Drizzle sauce over bread pudding to serve.