I've had this on my to-do list for awhile:  finish wrapping up the honeymoon on the blog!
Days 6 and 7 were days at sea, aka, the most awesome days ever.  Sleep in, do whatever all day, eat big fancy dinner, go to bed.  Repeat.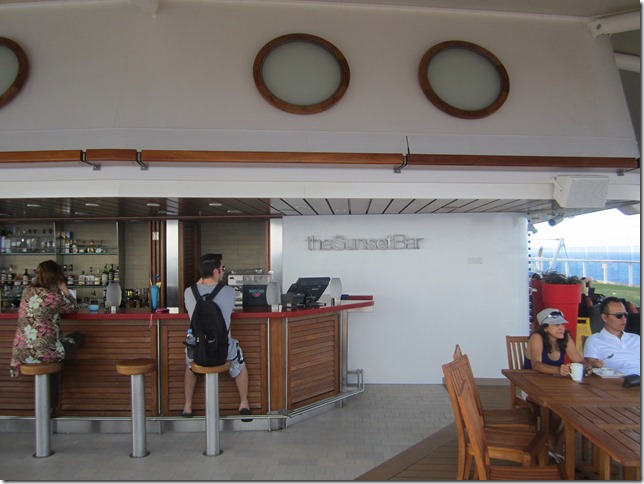 Who's that handsome man at the bar??
We made a point of exploring the whole ship during our sea days.  Usually I like to do that on the first day, but since I had been sick that threw a wrench in things.  We discovered this cool bar, "the Sunset Bar" that was on the top in the back (aft), and was surrounded by "The Lawn Club", an area with natural grass used for sunbathing, picnicking, bocce, and golf.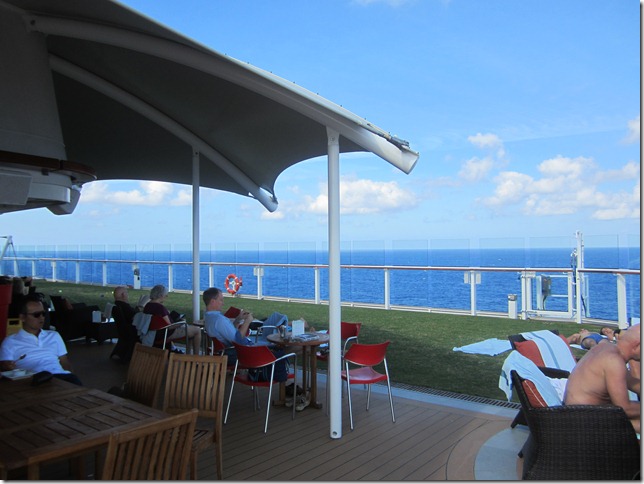 You can see the grass here.  Weird, right?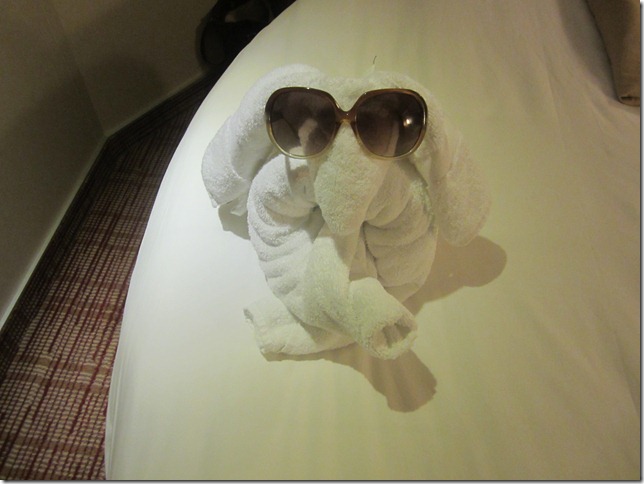 We only got one towel animal all week, so I was really excited when we did!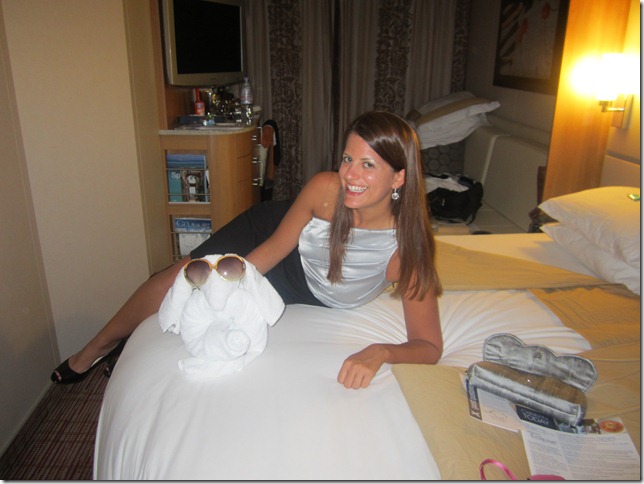 This was my dress for the second formal night.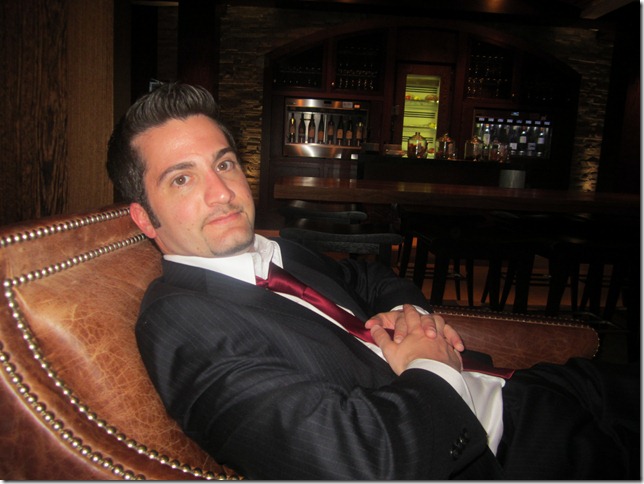 Chris looks very tan, tired, and probably incredibly full.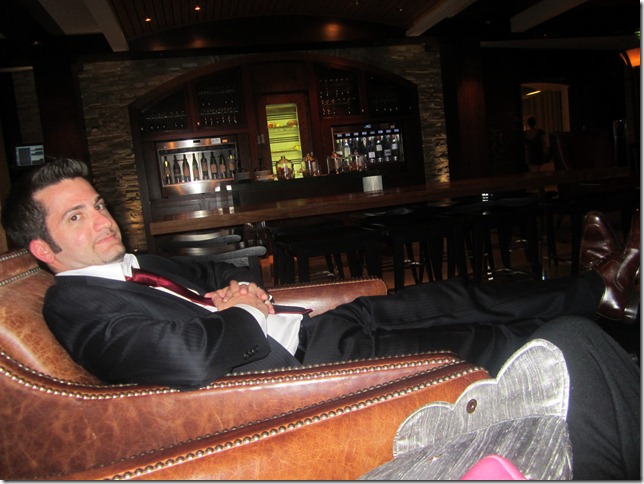 We were in "Cellar Masters" to hear the string trio play before retiring for the night.  I believe we were in our stateroom by midnight every night.  There was a late night comedian who had shows each night, sometimes at 11, 11:30 or 12, and we just never made it.  We were too tired.  You know how old married folks get.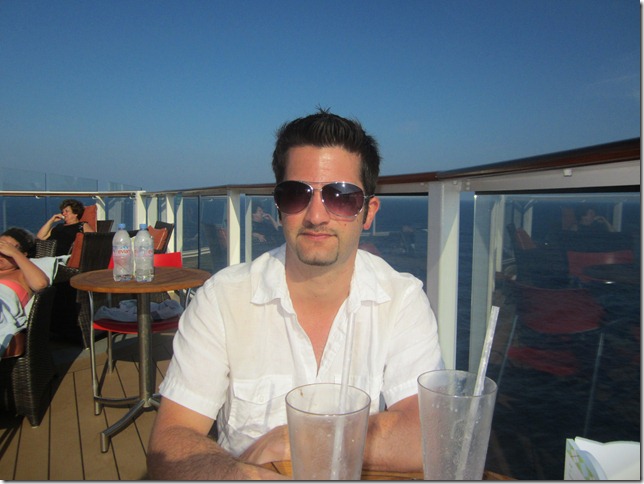 Back at the Sunset Bar the next day, trying to get our money's worth from the drink package.  I also got my nails done at the spa, had to get the fakes taken off so I could return home and be able to play the violin…Chris got a massage which he said was great too.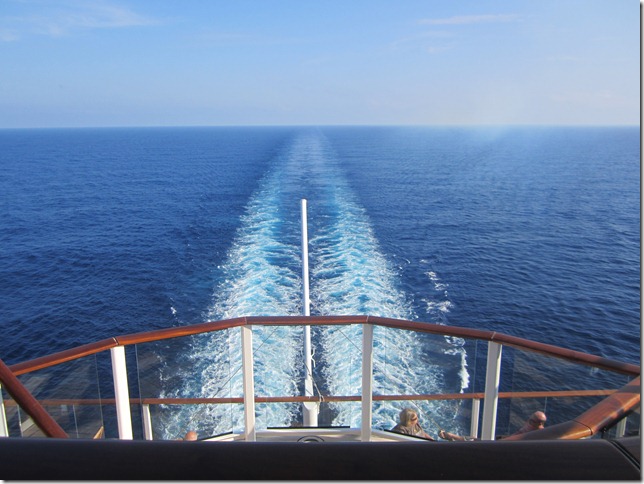 And that's the last picture I took.  Goodbye Honeymoon, Goodbye Cruise!
Would we sail Celebrity again?  Absolutely!!!  It was a fantastic experience and I am absolutely thrilled with our honeymoon experience.  Being in Aqua class was a wonderful choice, the service was phenomenal, our stateroom was great, and the balcony was amazing.  We loved almost everything about our honeymoon and wouldn't change a thing.
And that's that.  The wrap up of my wedding is done, can you believe it?  It's been over two months, and yes, we're still married, thanks for asking.  Things we haven't finished yet include putting together our photo album, but that will happen soon…we have the album, and the pictures.  We also STILL want to get a few more things from Sarah Crowder, but we keep getting distracted by other stuff. 
(Here's a post about all the vendors we used, all that jazz…)
I see things on the internet where people say, oh, I wish we had just eloped, the wedding was just too much stress.  I loved our wedding:  we were lucky to be able to have exactly the wedding we wanted, and to share it with the people we loved.  I wouldn't change a thing about it.  It was stressful and expensive, but it was well worth the stress and expense to have a special day for us, a day full of memories that I hope we will remember forever! 
Thanks for reading my wedding story!