Today I had two firsts:  my first visit to a "fro-yo" place, and my first blogger meet up! 
I know the blog world is abuzz about frozen yogurt places where you can mix all kinds of stuff together and top it with a variety of toppings and then pay by the weight.  I never had occasion to go before, because I am more of a "go out for coffee" kind of person. 
But then Clare organized a St Louis Blogger Meet Up, and I thought, why not?  I'm not really a food or healthy living blogger, so I wasn't sure if I would fit in, but I figured worse case I would have wasted an hour or so.  We decided to meet in Kirkwood at Red Mango, which is (of course) a frozen yogurt shoppe.
The photo is courtesy of Clare at Fitting It All In.  She had her camera out and I suddenly got really shy about whipping mine out also (plus I was holding a cup of frozen yogurt).  I guess I'm not used to hanging out with other bloggers, as generally I have my camera out!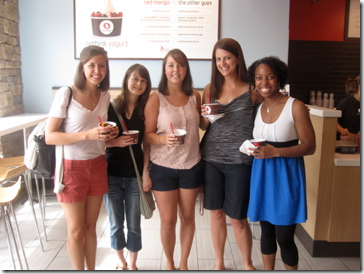 That's Clare, Rachel, Laura, me, and Stephanie.  We had a great time chatting and I hope we can get together again (though Clare is moving to Dallas).  It was funny meeting other bloggers, and especially meeting Clare since she really tells it all on her blog.  I felt both super creepy and yet like we were already friends. 
I would definitely go to another blogger meet up.  It's great to meet new people who are interested in many of the same things as me, and ALWAYS great to meet new people outside of the music world.  I would go to another frozen yogurt place if other people wanted to, but I wouldn't seek one out.  I'm just more of a gelato person, I guess 😉