Interesting in having me or a group perform for a house concert or a concert series? Are you a composer who has written works that involve the violin and other instruments? Let's talk! Hannahviolin at Gmail dot com.
Hannah's Upcoming Performances:
January 26 and 28, Winter Opera St Louis
March 23/24 Illinois Symphony
April 8 3 pm Perseid Quartet at Ladue Chapel
April 8 7 pm Metropolitan Orchestra of St Louis
April 24 7 pm Perseid Quartet at the Sheldon
April 28/29 Illinois Symphony
May 8 through 21 Phantom of the Opera, the Fox Theatre
May 29 through June 3 The Book of Mormon, the Fox Theatre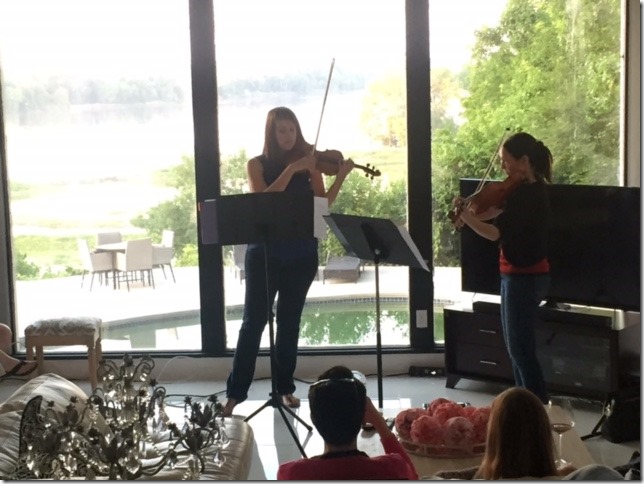 I play and teach the violin for a living. I perform serious classical music as well as playing for weddings and other events. Please contact me for more information.
I grew up in Clinton, South Carolina. After high school graduation I went to Ohio to attend the Cleveland Institute of Music. I received my Bachelor of Music degree as a student of Linda Cerone and my Master of Music degree as a student of William Preucil.
After school I became a member of the Charlotte Symphony, with whom I spent two years before deciding to move back to Cleveland to become a freelance musician and teacher. Upon returning to Cleveland I became a very successful freelancer, playing with many area orchestras and other groups, forming my own string quartet, and teaching at a variety of schools.
In 2008 I relocated to Saint Louis where I am a founding member of the Perseid String Quartet, an occasional replacement musician for the St Louis Symphony, and I perform regularly with Winter Opera St. Louis, Bach at the Sem, and the Metropolitan Orchestra of St Louis. I am on the faculty and teach violin at Washington University of St Louis and Lindenwood University. I also have a private violin studio at home and I am accepting a limited number of new students–please contact me for more information. I also am available to hire for weddings and other events, and am always interested in new projects.
I am not just a serious classical violinist. Most recently I played the role of "The Fiddler" in OnSite Theatre Company's production of "The Runaway Cupcake" and with Third Millenium World's Fair at Artica and other venues. Additionally I have performed with a variety of popular artists over the years, including Harry Connick, Jr., Josh Groban, Mannheim Steamroller, and Trans-Siberian Orchestra, and I was a member of "The Prophecy Show", a Trans-Siberian Tribute Band.
In addition to my musical skills, I am also a writer. I won an essay contest sponsored by Thomastik Strings. My winning essay on "Tone" was published in the Suzuki Association of the Americas' Summer 2009 Minijournal. I have also written a review for the American Music Teacher, Dec 2017/Jan 2018.
Teaching:
I believe that everybody can learn to play the violin. I teach all ages and levels of violin players, and I am a trained Suzuki teacher for all volumes.
I have been teaching violin since I was in high school. I am dedicated to learning as much as possible about children and how to teach them. I was a performance major in college but have taken many pedagogy courses and read many books.
Here's a list of my education in this regard:
Suzuki Violin Pedagogy Training (for more information, visit the Suzuki Association website)
Volume 1A and 1B from South Carolina Suzuki Institute with Rudy Hazucha, 1992-3
Volume 2 and 3 from Suzuki Music Columbus Institute with Carol Smith, 2009
Volume 4 from Ottawa Mid-Southwest Suzuki Institute with Susan Kempter, 2010
Volume 5 from Ottawa Mid-Southwest Suzuki Institute with Susan Kempter, 2011
Volumes 5 through 10 from Southern Illinois University at Edwardsville with Vera McCoy- Sulentic, 2009-2010
Let me know if you have any questions!