Most of my students are really excited about the end of school.  I am too, of course.  At City Academy I am in my last two weeks, and at the School of Music I just have three more weeks (we go past the end of school because we are more dedicated.)  One of my students yesterday complained that she gets really bored once school ends.  I told her that was a ridiculous complaint, and if nothing else she could practice more!  She seemed excited by that prospect so I think she may be my new favorite.
I do love summer.  Who doesn't, right?  (Frosty the Snowman, I suppose?)  The weather is nice (well…arguable) and I've got tons more free time (well…less money).  In honor of summer Chris and I can't manage to stay at home.  In the past week we've eaten out just about every night.  Here is just a sampling: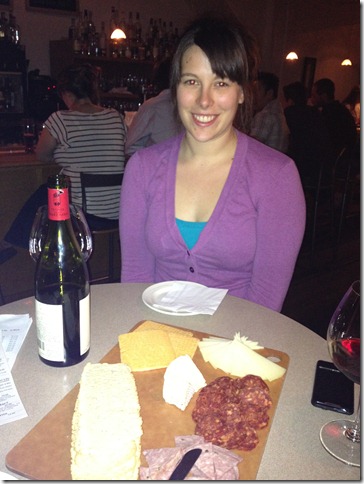 33 with Vanessa—wine and that amazing platter.  Oh, and I love her purple cardigan!
Bar Italia for lunch after the Led Zeppelin rehearsal…
Bridge on Friday night after the Led Zeppelin Concert (my St Louis Symphony substitute debut…may it be the first of many concerts because I had a wonderful wonderful time!)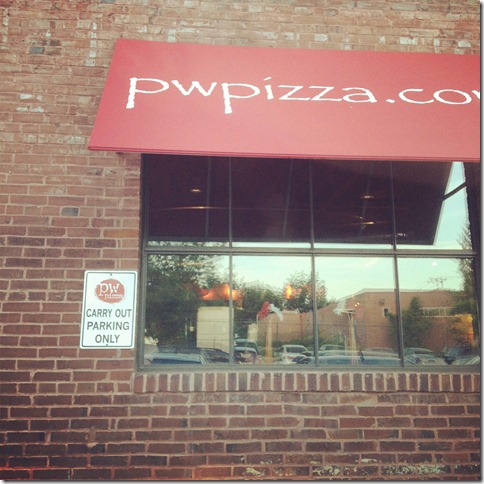 PW Pizza for Carry Out…
Then Pomme Cafe and Wine Bar on Sunday night with Steve and Melissa.  (I thought I took a bread pudding picture, but I evidently lost it.) Modesto on Monday with Melissa.  And last night Chris and I met at Taste after work.
Let me talk about Taste for a paragraph.  We had never been, but it had been on our list (of places to go) for awhile.  I teach late on Tuesdays, and eat dinner afterwards, but Chris wanted to meet up somewhere in the CWE after he was at the golf range.  Often places do not serve food that late on Tuesday nights.  He learned Taste served food until after midnight (yes!) so that seemed perfect.  We split some amazing dishes: the pear walnut salad, the white bean and octopus salad (I loved this one), the pork scrapple w/fried egg, and (our favorite!) the lamb something which is not listed on the website menu—it was a shredded, almost stew like meat that you put over grilled toast…oh my goodness it was amazing.  We will be back (and better than ever?)
Eating at Taste reminded me of my trip to Chicago last summer.  On that trip, Karen and I went to a different "small plates" restaurant each night.  The third place, The Purple Pig (link goes to MY blog round up of that day), I recall the waitress asks, oh, have you eaten at a restaurant like this before?  We started laughing, because we hadn't eaten at a restaurant that served individual portions in awhile.  Also because Karen and I have been playing the world's longest game of phone tag.  I think we've been playing for about six weeks.  One of these days.  One of these days.
All that being said, we've blown threw a fair amount of cash on eating out, and I'm definitely not eating as well as I could be…tonight we are eating at home for sure, and I think we need to try to do a little better.  Maybe this weekend we don't need to eat out every meal.  Or maybe we should eat at home more during the week.  I think the problem is (for me) after being around children all day, I want to go and be around adults in the evening.
Unrelated to food:
The other day I had a friend proofread my "Meet Hannah" post. She told me I don't have to double space after periods anymore, in fact, I'm not technically supposed to. What do you guys think? I resisted at first, but I'm reconsidering. I figure it's like Facebook Timeline, which many people are still afraid of, but I figured, hey, after a few days I won't notice, and indeed I was correct. I like to stay with or ahead of the times, even as I'm all old and stuff. So the question is, does this paragraph look funny to everybody or just me? Should I stick with the single space from here on out? I won't pretend it will be easy, but just because something is difficult doesn't mean it isn't worth it.
Oh, and who's running the 5k with me and Jen and Steve and some others this weekend? Benton Park, Remembering the 80's!  I'm working on a pretty sweet costume (this is to make up for the fact that I'm not entirely sure I can run that far). Let me know in the comments or email me if you are going to be there! If not, consider buying a plane ticket and getting here, it'll be awesomely fun. We'll do brunch after (or you can just leave, either way, no pressure) and then I'll be in a hurry to get to rehearsal and a wedding, but until then…
So, in conclusion, thoughts on double spacing?