Weddings are in the air!  In June my sister Leslie attended her boyfriend's sister's wedding…and caught the bouquet.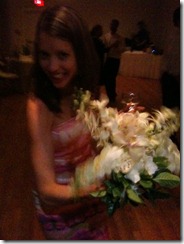 And…I guess it works, because her boyfriend proposed yesterday.  (I actually caught the bouquet at a wedding in 2003, so I will say the method is not foolproof.)
It all started (for me, and this blog IS about me) on Friday with a cryptic phone call from Peter.  He wanted me to call him back about something, and I assumed it was regarding Leslie's upcoming 30th birthday in some manner.  I called back on Saturday, and he told me he had an engagement ring.  He wondered if he should propose before or after my parents visited Boulder (they planned to head there after St Louis) or should he call them, and how to call as they were on the road.  I was of little help, as I am not the proposal expert…I have never proposed to someone, and only been proposed to once!  I have witnessed one proposal (I was hired to play violin during it!) and of course seen them on television and in the movies.  However, we settled that he would call my phone the following day to speak with my parents.  I like to think that Peter asked me for Leslie's hand in marriage.  I presume I will be walking her down the aisle as my dad is really more of a biker than a walker.
Peter said of course not to tell Leslie but I did tell my folks.  The next day he talked with them (or at least my mother, I think my dad might have missed the call) and told them his plan to propose whilst on a hike. 
This happened on Tuesday.  Evidently she said yes to his proposal.  So, my only hope is that she waits long enough after my wedding that I am able to help out with the planning enough!  A fall wedding next year could be lovely and that way I would definitely be able to give helpful advice from my experience.  Perhaps October?
I have already learned so much in my own planning and could probably have used more advice, but I am a bit proud that way…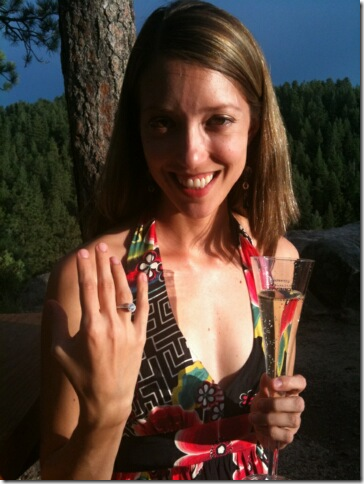 Leslie is also good at creepy poses.  Must run in the family.  Also she definitely needs to start her own blog now.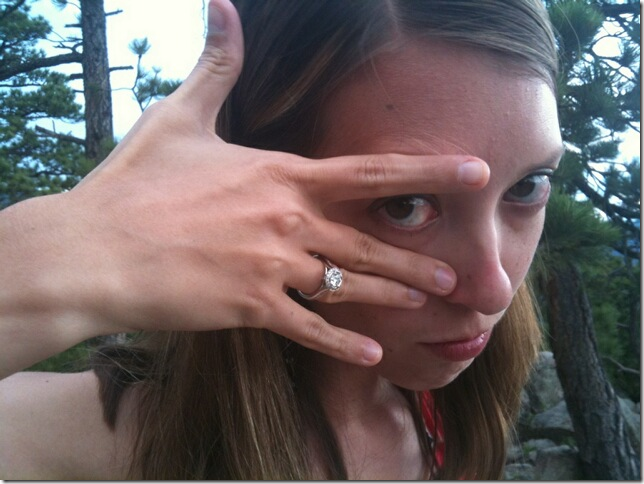 So, a hearty congratulations to Leslie and Peter!  I guess a picture of the couple is in order…