Happy New Year! I had a wonderful Christmas visiting my family in Phoenix, and then I proceeded to come home and be sick with a terrible cold/flu thing for nearly a week. I suppose I should be glad I was already on vacation because I didn't have to cancel anything (except a quartet rehearsal) but it wasn't the way I wanted to spend the week.
That's okay though. It's been really cold and being sick gave me an excellent excuse to stay inside, mostly in bed. And it reminded me that we aren't as in charge as we think, and that health really is the most important thing. I plan to work harder this year on maximizing my health, both physical AND mental. This past year I didn't eat as well or exercise as much as I could have, and I definitely spent more time being anxious and stressed than was good for me, so I'm going to focus on those things.
I'm getting ready for teaching next week, and doing a few things to prepare for the semester ahead. This spring should be a bit easier than the fall, plus I get to ease in. In the fall I returned from a 2 week vacation and had to work nearly a month straight, with loads of gigs in addition to all my students. This spring semester I don't have so many gigs right off the bat so I can focus on practicing (lots of fun music to learn!), teaching and scheduling my Wash U students, which is always an adventure. I'm already well into my viola challenge of #100daysofpractice on Instagram, but I'm also hard at work learning some wonderful repertoire for the quartet this semester (we have several fun concerts scheduled) and I've found myself involved in piano trio/sonata concert as well, so I've got a lot of great performances and chamber music lined up. Orchestrally I'm heading to Illinois for two weeks this spring and playing some things in town, doing an opera, and doing a few broadway shows at the Fox. (Sorry, this post is kind of a brain dump, then again, not sorry, that's how it always is here!)
So, a few pictures from Christmas:
We did quite a few fun activities in Phoenix. We went to an event at the Desert Botanical Gardens called the Luminarias, where the place was lit up with luminaries and you could wander around listening to various live music groups. I liked the mariachi band best.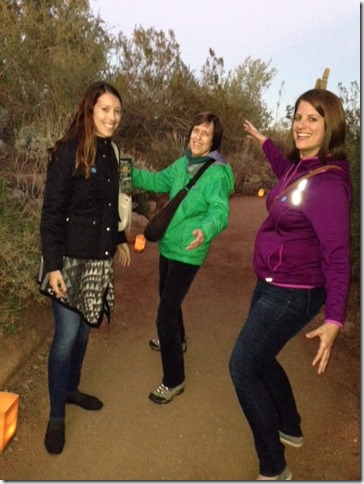 We went to the Museum of Musical Instruments, where I had never been before. It was fascinating, and I'd love to go back with Louie sometime. There was an overwhelming amount of information, but it was really neat to see all the different instruments.
The octobass is VERY large, so I also took a picture of a miniature violin. Nice contrast!
We had a wonderful time just hanging out, eating good food, opening gifts as well. My niece Athena is in the "stick out your tongue" phase of photo taking, but I thought my parents (especially my dad, who has really perfected that look, as it was present in nearly a dozen photos, where the rest of us ranged from crazed with eyes open too wide/shut to somewhat fairly normal) and sister Leslie looked good in this picture!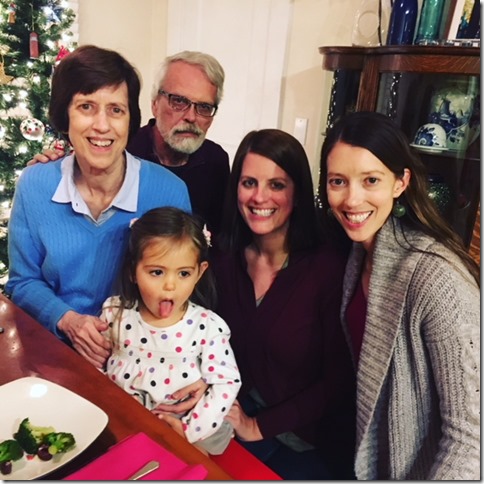 On the last full day of my visit, we took a day trip to Sedona. We hiked a little around Bell Rock, took a tour of the Palatki Heritage Site, and then headed to Jerome for a short visit too. It was a full day, and then afterwards nearly all of us got sick! Traveler's notes: National Parks passes are useful for visiting Sedona as otherwise you have to pay for a Red Rocks pass for the day. And the Palatki site is only accessible via approximately 7 miles of dirt road, which is fun in a Prius C!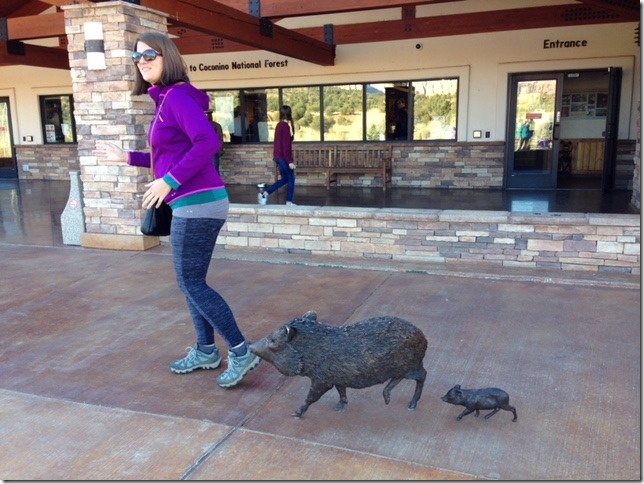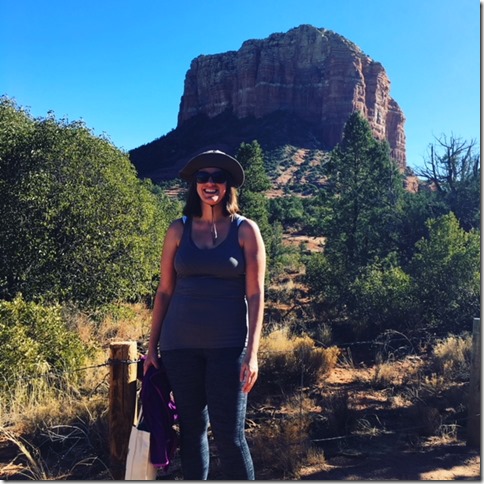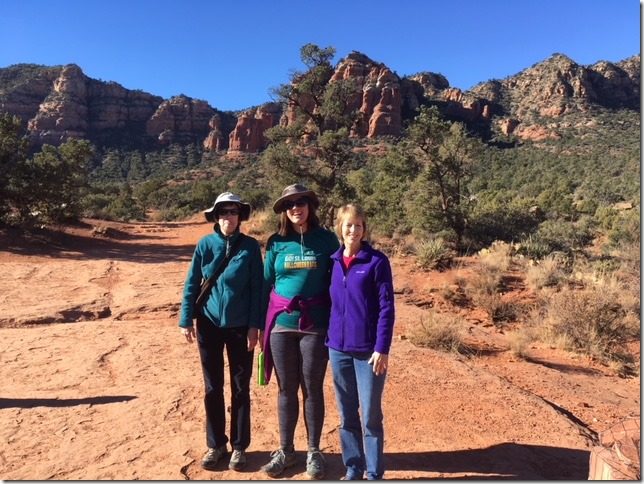 That's my aunt Connie on the right, Mom on the left. They are sisters. Oh, and an interesting side effect of wearing a Go St Louis shirt while in Sedona—numerous people from St Louis talked to me. I guess we are a friendly people!
In any case, it was a nice trip, always fun to see my niece especially (she changes the most) and of course great to see family. Louie and I did our separate things with the plan to come back to St Louis and celebrate New Year's Eve together—we DID do that, but since I was really sick it ended up being lots of tissues, cold medicine, Netflix, and a real struggle to stay up past midnight. I did, but we decided to save the champagne in the fridge until later. (Perhaps today, as Louie is taking the GRE this morning and might want to celebrate after!)
Goals for the new year, just to sort of solidify them. (Then again, saying sort of solidify isn't very solid.) Be able to roll with the punches. Focus on stress relief and health. Be a good friend, but don't worry about how many friends I have