Barbecue means different things to different people.  To me, I first and foremost think of Hickory Hills Barbecue in my hometown of Clinton, South Carolina.  Right or wrong, it will forever be thought of as having both the greatest barbecue and the greatest sweet tea.  My brother worked there a couple summers in high school (or maybe just one) and for my birthday one year treated me and my sister to the buffet lunch.  I believe we each drank approximately a gallon of sweet tea and who knows how much meat.  I remember driving the ten to fifteen minutes home and being so ridiculously, uncomfortably full…such that I have never experienced again except perhaps on Thanksgiving.  Certainly I have never driven so full again.
Here in St Louis they serve an unflavored meat as barbecue and you evidently are meant to add your flavoring at the table.  You can tell I am not at all biased (some things about the south I love, such as barbecue and grits…everything else I hate with a passion) against St Louis style barbecue.  Maybe I am actually just not a gigantic meat fan (don't twss me, please) and prefer side dishes.  I definitely do on Thanksgiving!
Last Tuesday Chris and I decided to go to Bogart's in Soulard.  He had been several times before and raved about it to, and I figured it was a good lunch idea.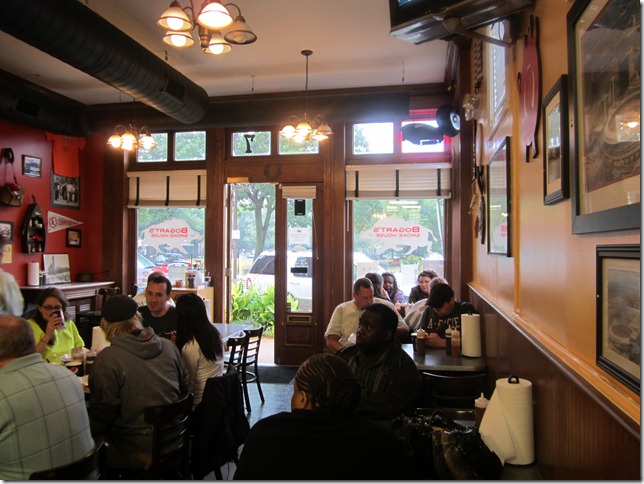 The view from our table.
We both ordered the same thing—the barbecue pork sandwich with potato salad and beans.  I also got a sweet tea, because it was an option and what else would I drink with barbecue??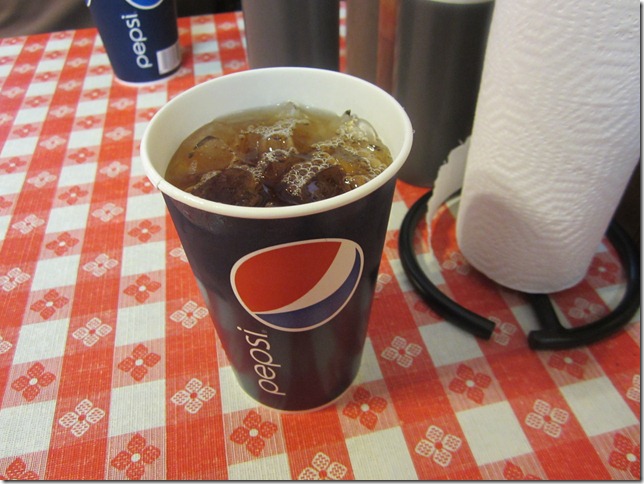 The tea wasn't as sweet as in Clinton.  You couldn't feel your teeth rotting as you drank it.  This is a good and a bad thing.  Also note the excellent tablecloth and the paper towels.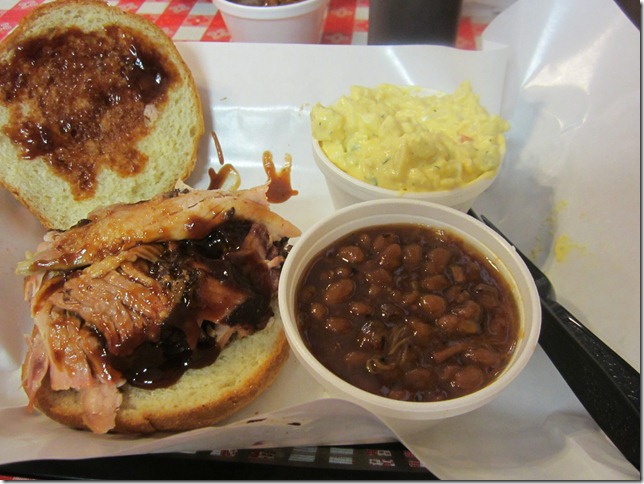 Okay.  The meal.  Sides first:  the beans were to DIE for.  These were the greatest beans I have ever eaten.  Yes they also contain a lot of meat.  DELICIOUS.  The potatoe salad was really tasty as well.  I'll have to try the cole slaw next time, as that was the other thing that I was interested in.  The meat…well you see I added my own sauce.  It was totally fine.  A bit too much bun.  I guess I just want some gross southern style hash on my sandwich…call me crazy!  Anyway, I still recommend you go to Bogart's, and I will be back. 
Remember people, it's barbecue with a "c".  I know I've mentioned it before, but barbecue is one of my spelling bee words.  I spelled it barbeque.  No wonder though, if you look at the Hickory Hills menu…