Today is the first online bake sale I am participating in.  You can bid on my pumpkin bread and the proceeds go to "Kisses for Katie."  Go to Running Ricig's blog here for more information or to make a bid!
At the end of September I read about a "foodie pen pal" food exchange on Food, Sweat, and Beers, a blog I like to read.  It sounded like fun, so I signed up at the Lean Green Bean.
The rules:
Foodie Penpals
1. On the 5th of every month, you will receive your penpal pairing via email. It will be your responsibility to contact each other and get mailing addresses and any other information you might need like allergies or dietary restrictions.
2. You will have until the 15th of the month to put your box of goodies in the mail. This will ensure everyone receives their goodies in time to post about them.
3. On the last day of the month, you will post about the goodies you received from your penpal! Feel free to write your post as soon as your get your goodies if you want, just don't publish it until the last day of the month. Please also include the basic information about Foodie Penpals and provide my email (theleangreenbean@gmail.com) in case people are interested in joining for the next month. 
4. The boxes are to be filled with fun foodie things, local food items or even homemade treats! The spending limit is $15.
5. The box must also include something written. This can be anything from a note explaining what's in the box to a fun recipe…use your imagination!
6. You are responsible for figuring out the best way to ship your items depending on their size and how fragile they are. (Don't forget about flat rate boxes!)
7.  If you're a reader and you get paired with a blogger, you can choose to write a short guest post for the blogger to feature on their blog to show off what they sent you.
8. If two readers get paired together, no one has to worry about writing a post 🙂
I got paired to give a box to Alexis at Fit-Possible and to receive a box from Lindsay.  I'll let Alexis tell the story on her blog, but I was stressed trying to figure out what to buy!  I hope I did okay—I sent some stuff that I enjoy this time of year, and I hope it shipped out okay too.
It turned out, however, that Lindsay lives in St Louis!  In fact, she teaches at a school near where I teach, so we decided to meet in person for her to give me the package, to save money, to save worrying about packaging, and to meet another crazy person who likes to read blogs and run.
Lindsay seemed really nice and sweet. We chatted briefly about teaching and running—we were both running the St Louis Rock and Roll Half Marathon.  I had to get ready for work then, but I had a lovely bag of gifts!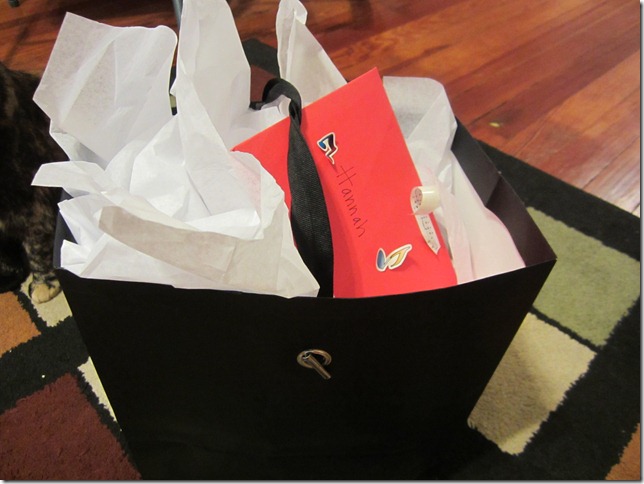 I decided to open it on my infamous rug.  My cat was super curious as to what was going on!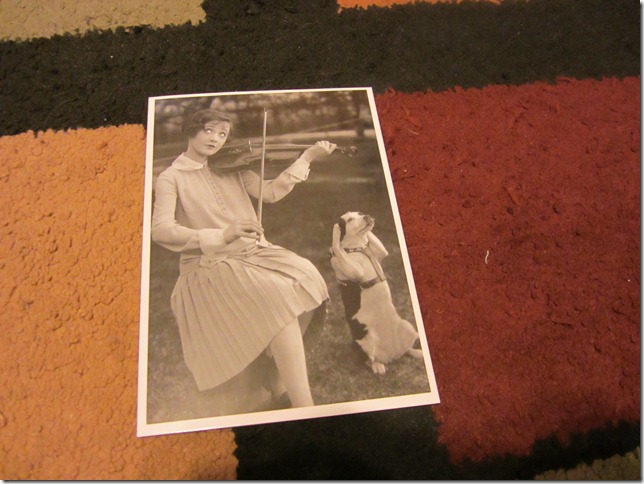 An absolutely adorable card!  The dog reminds me of my cat and how she hates music.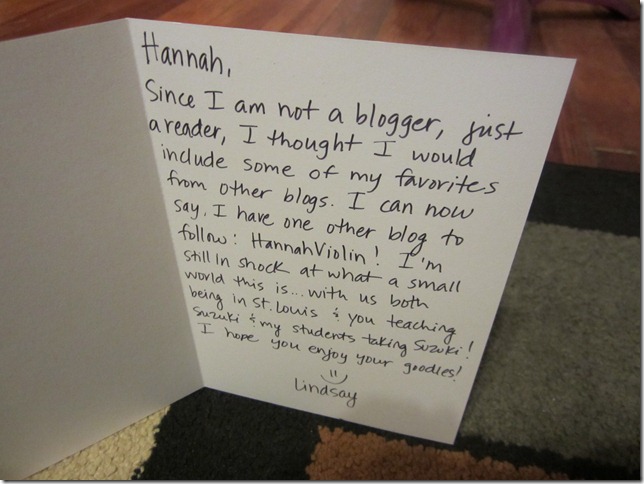 It's a small world.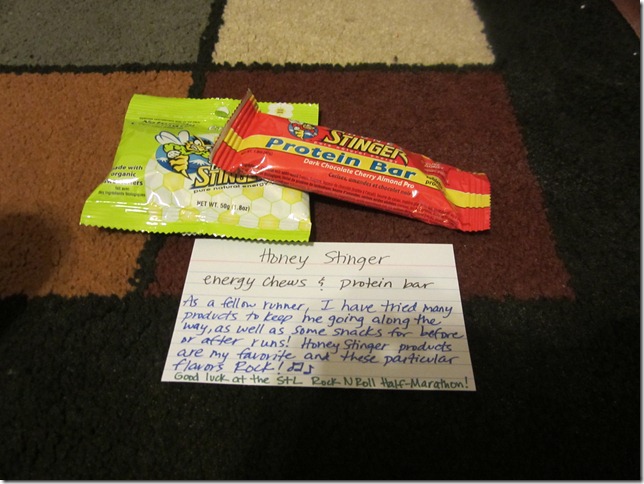 I haven't tried these yet but will soon!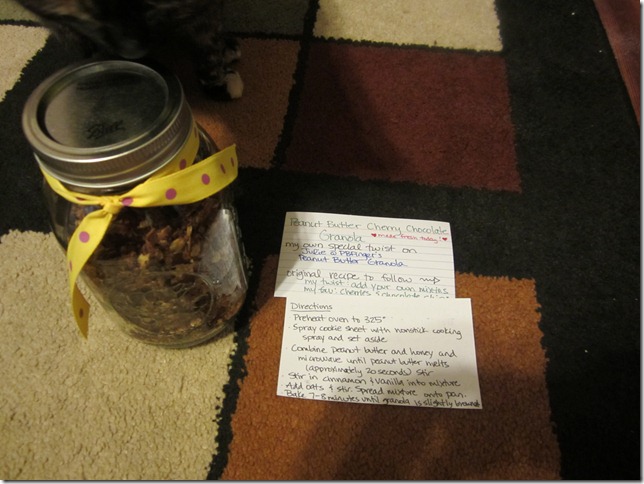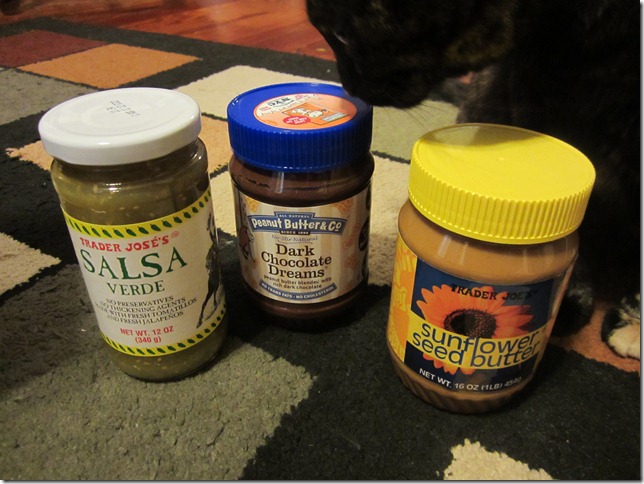 I opened the dark chocolate peanut butter.  My goodness, this stuff is ridiculously delicious.  I may have gained ten pounds from it already.  I almost bought more at Target but I think that would be a terrible idea.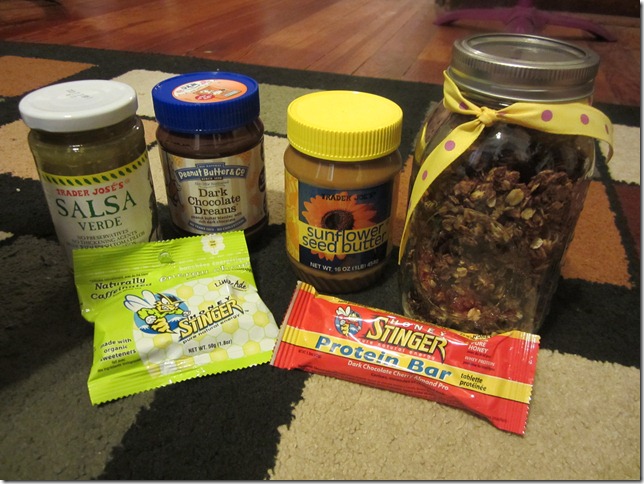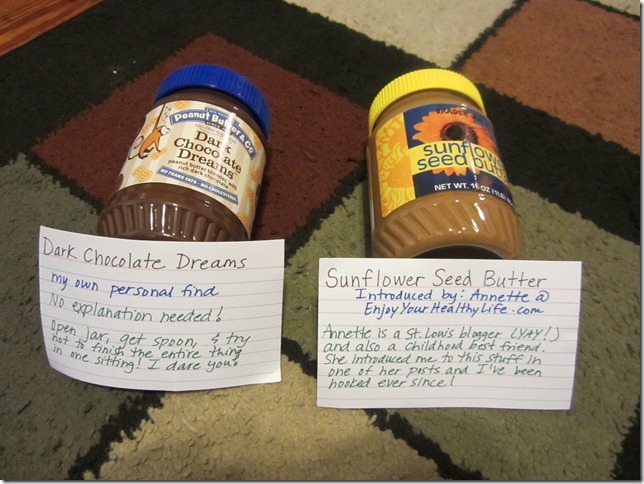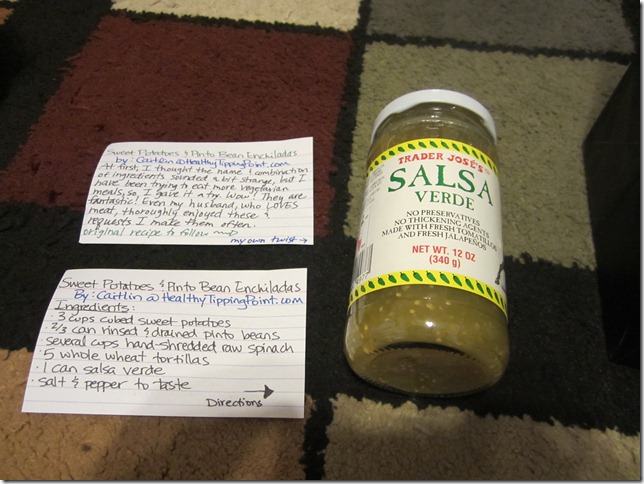 All in all, I LOVED opening these gifts.  It's been a crazy month so I haven't gotten to cooking anything yet, but I hope to try the Enchilada recipe soon in particular as I love Mexican food.  Thanks Lindsay, for a wonderful bag of food!!
I can't wait to see what next month brings…