Last night's dinner…it was delicious!  I should have taken a picture, but I was too eager to get started eating it.  And the recipe is from Cooking Light, so it's not too bad for you.  I'm not sure about the sauce—it was tasty, but I don't think I made it exactly right.  Oh well!  In any case, I highly recommend you try this recipe.
Blue Cheese-Stuffed Chicken from Cooking Light Magazine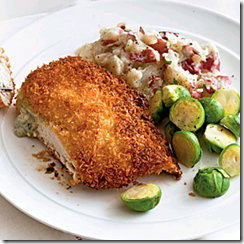 Resist the urge to turn the chicken before it's time; otherwise you risk having the breading stick to the pan (mistake #12).
Yield: 4 servings (serving size: 1 breast half and about 4 teaspoons sauce)
Ingredients
1/2  cup  (2 ounces) crumbled blue cheese
1  tablespoon  reduced-fat sour cream
1  teaspoon  fresh lemon juice
1/8  teaspoon  freshly ground black pepper
4  (6-ounce) skinless, boneless chicken breast halves
1/4  cup  all-purpose flour
2  tablespoons  2% reduced-fat milk
1  large egg, lightly beaten
1  cup  panko (Japanese breadcrumbs)
1 1/2  tablespoons  butter, divided
6  tablespoons  finely chopped drained bottled roasted red bell peppers
2  teaspoons  water
1  teaspoon  Worcestershire sauce
1  teaspoon  minced fresh garlic
1/2  teaspoon  hot sauce
Preparation
1. Preheat oven to 350°.
2. Combine first 4 ingredients in a small bowl. Cut a horizontal slit through thickest portion of each chicken breast half to form a pocket. Stuff cheese mixture evenly into pockets.
3. Place flour in a shallow dish. Combine milk and egg in a shallow dish, stirring well with a whisk. Place panko in a shallow dish. Working with 1 chicken breast half at a time, dredge chicken in flour, then dip in egg mixture; dredge in panko. Repeat procedure with remaining chicken, flour, egg mixture, and panko.
4. Heat a large ovenproof skillet over medium-high heat. Add 1 tablespoon butter to pan; swirl until butter melts. Arrange chicken in pan; cook 4 minutes or until browned. Turn chicken over; place skillet in oven. Bake at 350° for 20 minutes or until done.
5. While chicken bakes, combine remaining 1 1/2 teaspoons butter, bell peppers, water, Worcestershire, and garlic in a small saucepan over medium heat. Bring to a simmer; cook until butter melts. Remove from heat, and stir in hot sauce. Serve sauce with chicken.