Readers:  Have you entered my "contest" to win a free copy of Running of the Bride?  I recommend you do!  It's a fun read, and who doesn't love FREE?
Now…where were we?  Oh yes, Boulder, Colorado.
While we were in Boulder we wanted to do some beer tastings.  One of the days our friends had a double rehearsal (meaning two rehearsals in one day) so Chris and I had some time to kill.  We decided to drive to Longmont to visit the Left Hand Brewery Company and also hit up Oskar Blues Brewing Company, which neither of us had heard of until the night before, but figured two breweries were better than one.  Then we planned to return to Boulder (30 minute drive) and meet our friends at Avery Brewery Company.
If you're saying, that sounds like a lot of beer, you'd be correct. (Mike gave me a little bit of a lecture today about the beer drinking and whatnot on vacation.  Yes, yes.  I know.)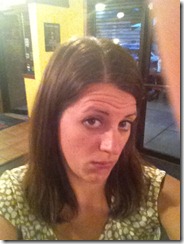 The more beer I tasted, the more photos like this magically appeared on my camera.
Anyway, we headed northeast to Longmont, getting to travel on a fantastic highway called the Diagonal Highway, which was like the hypotenuse of a triangle.  Oddly Google maps gave us the option of taking the what-should-be-named "right angle" highways, but that would have added ten minutes to our drive.  (And don't confuse that with he-who-shall-not-be-named.  That's when the real trouble would start.)
We started at Oskar Blues.  They had a tasting deal, 5 samples for $10 or $12, so we both ordered that.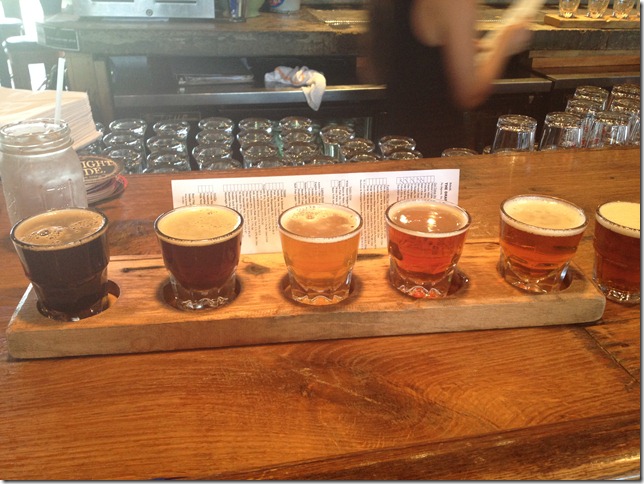 The bartender was awesome and helpful, and made recommendations.  She gave me an extra sample of her favorite, and then later gave Chris a few more to try.  We ended up at the restaurant rather than the brewery I guess, but there were plenty of beers to try.  I particularly loved the first one, Dale's Pale Ale, and Chris liked the Deviant Dale's IPA best, but we enjoyed all of them, even the dark ones, which I usually don't care for.  (I'm a hops gal.)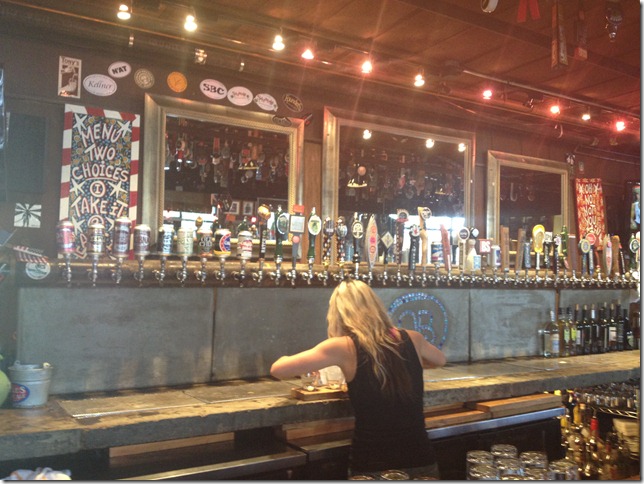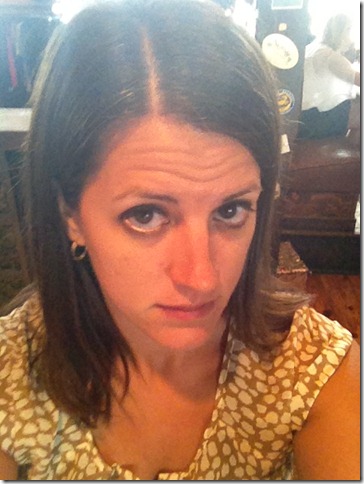 Then it was time to go to Left Hand Brewery Company.  That was a different experience, but still nice.  It's soured a bit by the fact that we ended up leaving Chris's credit card there (we had to give them a card to hold the tab, then when we cashed out I ended up paying and they didn't give us the card back, we had forgotten, and ended up having to go back the next day to retrieve it AND discovered they had charged his card for the tab as well as my own…super annoying.)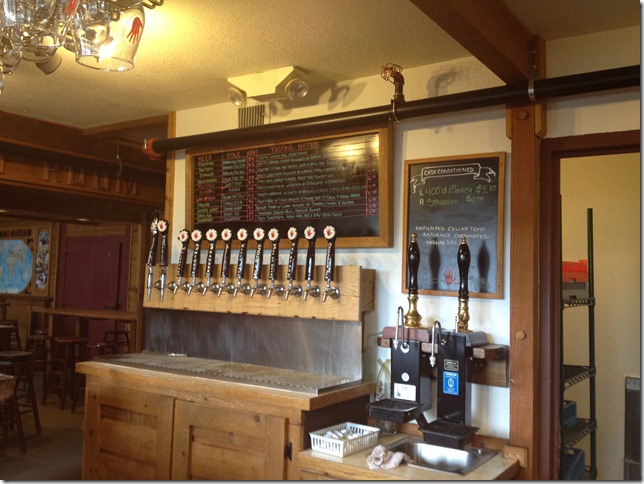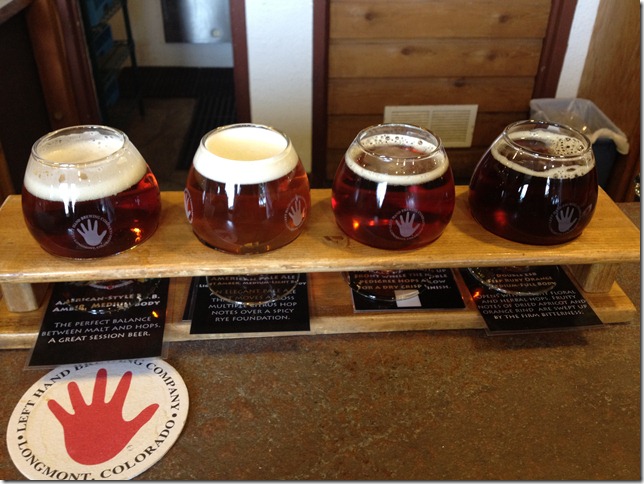 4 samples for some price.  I can't recall but it was cheap.  I don't remember what my favorite was.  It might have been the pretzels, honestly, because by this point I had definitely had PLENTY of beer already.  But we were having fun.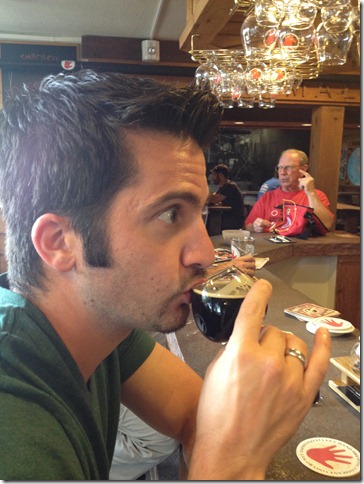 I debated buying a purple tee shirt with a cow on it.  But do I really wear tee shirts?
So, after we finished our samples, we headed back to Boulder.  It was time for our third and final brewery of the day, Avery Brewing Company.  Avery was cool because you could order small sample size beers, just one if you wanted.  I ordered a couple, of course.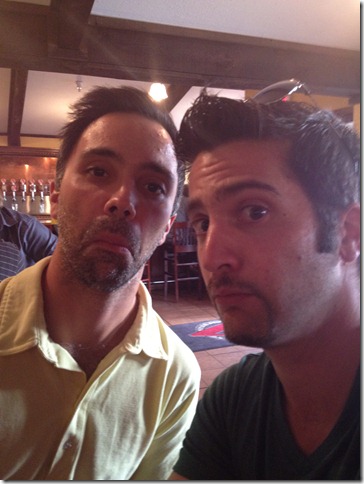 Dave and Chris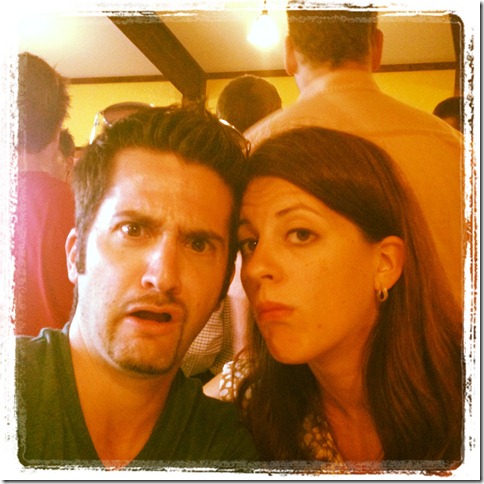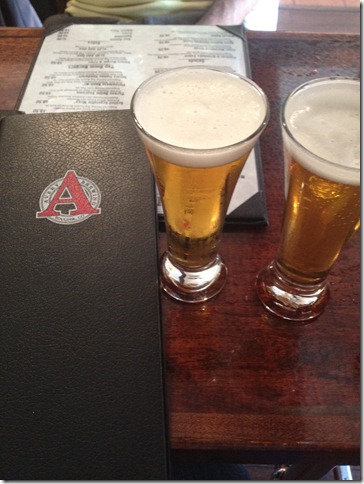 My beers.  Alls I know is that they were IPAs, or at least pale ales.
What is your favorite sort of beer?  We tried to tell some people at the bar that here in St Louis we have a fancy brewery called "Budweiser" that they should come visit if they like beer.  Not sure why they laughed at us and then slowly backed away.