I am just stopping in to tell you that I'm having a wonderful time on vacation.  Isn't it grand?  Don't you wish that YOU were on vacation? 
And you say, Hannah, weren't you already on vacation? Well, kind of.  I was moving and taking a break from teaching but now I am actually on vacation.  You know, the kind where you fly somewhere, and rent a car and the rental company takes complete advantage of you by charging you for the supplemental insurance even though you told them you didn't want it, and then later when you call tells you you'd have to return to Denver to fill out new paperwork (Yes, I'm looking at you, Payless Rental Cars, and I won't ever be looking at you again, because that is a lousy precedent—if my husband says NO don't try to sneak it back in.  And then don't be an ass on the phone.)
We are visiting my sister Leslie and her fiancé Peter, and our friend Dave, who are all at the Colorado Music Festival, which is in Boulder, Colorado.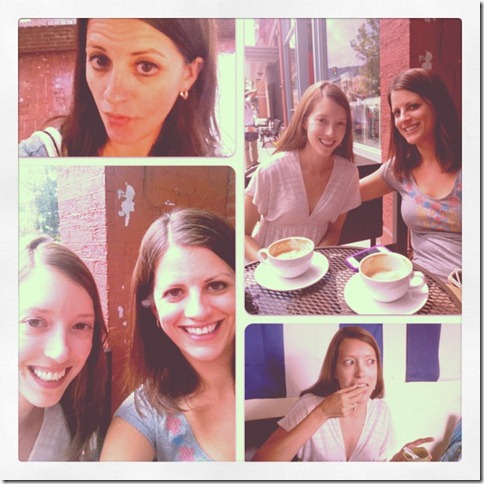 Initially I thought, I don't want to tell my readers we are out of town.  You worry about safety and that kind of thing.  Robbery.  But our new place is a lot more safe and secure than any of our previous houses have been…so I am not worried.  Besides which I've been showing off on twitter and instagram…so…
Anyway, I said I was just stopping in.  We got into town yesterday, had lunch at Illegal Pete's, shopped and walked around in the afternoon, dinner at the West End Tavern.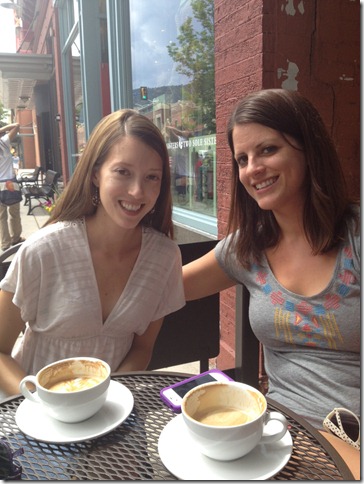 Leslie and I outside the Laughing Goat, which is evidently Boulder's best coffeehouse.  The vanilla lattes were good.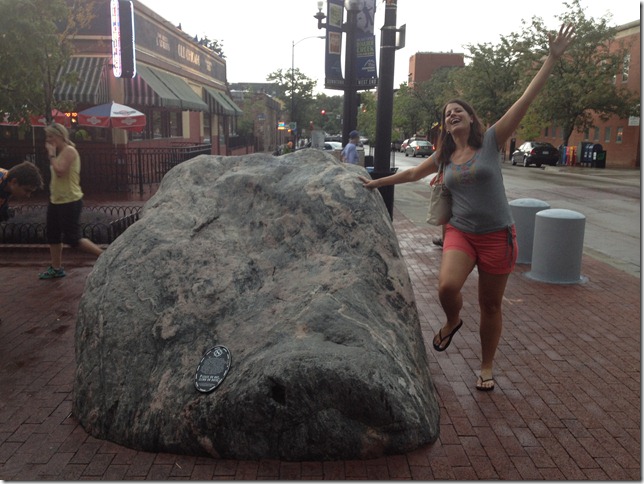 Posing with what I think of as the Boulder Boulder.  I don't think that's what it is called, however.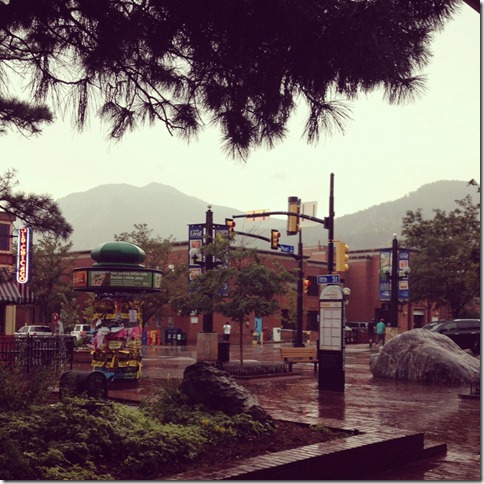 Then…(and this is huge for this St Louis girl)…it started to RAIN!  And it rained, and it poured.  And we got a little bit wet, which was fun at first, and then I remembered why rain is annoying.  But it was a really nice change from NOT having any rain.  (That's some quality writing, right?).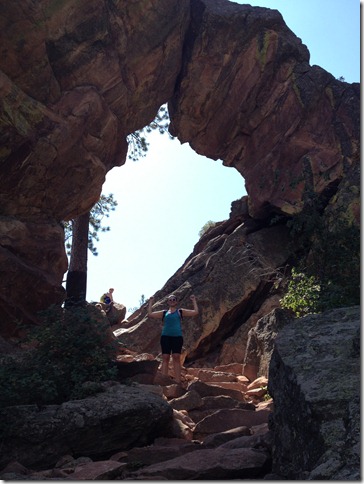 This morning Leslie and hiked up to the Royal Arch.  This is a crappy photo because the light was difficult, but that's me at the top.  Interesting fact about hiking:  going down is easier than going up.
I've taken a ton more pictures, but I have taken most of them on my regular camera, and I forgot to bring the USB cable, so I'll share them later.