I don't really understand Boxing Day.
But I feel pretty good post-Christmas. The trick is to get the melancholy out of the way pre-Christmas, then post-Christmas feels great. Another good trick is to plan a couple of vacations in January. (This is at least the third year in a row I'm doing this, and it seems to work really well. After that, February is short, March can be another vacation over spring break, April is always the busiest month, May you are almost there…and then June is my birthday month and the end of school! Don't lecture me about living in the moment. Life isn't short, it's the longest thing you do.)
Oh, and now a wedding anniversary. And I'd better not forget my husband's birthday like I did our anniversary the other week (I couldn't figure out why Chris was so insistent on us having a fancy dinner the night of the second in Chicago—he kept insisting and I kept saying it didn't need to be that night as it was our travel day and there were other days we'd be there and finally said in a loud, cross tone "What is your obsession with the second?" He was silent for a bit and then said "It's our anniversary." Needless to say, I made a reservation somewhere nice. To be fair, I hadn't technically forgotten our anniversary as it hadn't happened yet…no, I can't rationalize this. I totally sucked and forgot.)
All of these things can help with post-Christmas blues. (Except forgetting your anniversary. Don't do that.)
After eating enough to gain 7.8 pounds yesterday (a fact my trainer thought was both ridiculously disgusting and impossible to believe, even though HE told me he lost 11 pounds over the last two weeks in order to be able to overindulge a bit this week…that doesn't sound crazy or anything—I hope he's reading today) I figured a good workout was in order. That and it was already scheduled. Lunges on the Smith machine, front squats, dead lifts, kettlebell swings. I feel like I'm forgetting something but I really think that's it. Maybe I was slow today or we did extra sets?
I probably smelled strongly of Ham the entire time.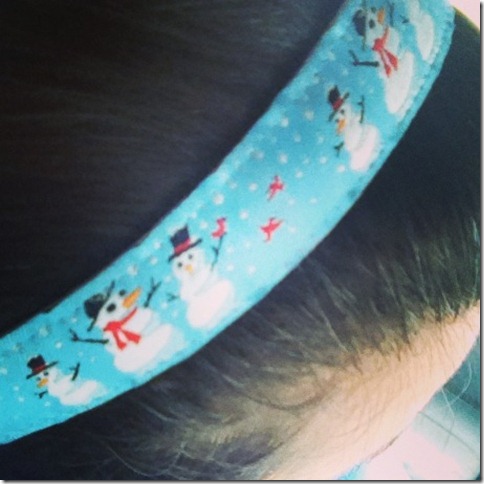 I wore a festive headband. It was in honor of Boxing Day AND the snowstorm that was predicted that totally missed us.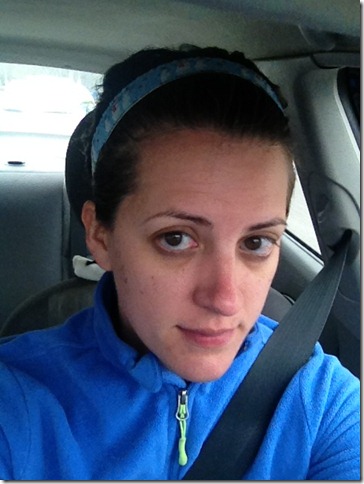 Post workout, in the car. I was cold.
I actually had to get dressed in regular clothes, including pants that buttoned for a rehearsal for this jazz concert I'm playing on—I feel so COOL when I play with jazz musicians, even though we all know that's not true. (Also, children, being cool is NOT important in life. Being smart and nice is.)
Christmas present. I don't have a Toms problem or anything. PLUM CORDUROY THANK YOU LESLIE!
Last thought for tonight: We finally watched Moneyball. Why did we wait so long? Second favorite baseball movie!! (First favorite is of course Field of Dreams.)
What's your favorite baseball movie? Or, top three? I think my third favorite is A League of Their Own.