I know my mother doesn't want to read about it, but I went with some friends to a Beer Festival in Forest Park over the weekend called St Louis Brewfest. 
You should know that traditionally my family doesn't drink.  My parents were brought up in the Mennonite Church and many of my relatives are still part of the church.  I was raised to believe that alcohol was wrong along with dancing and a whole host of other behaviors, ranging from listening to popular music to shopping for new clothes or other frivolous purchases.  I was raised as a Presbyterian, but my mother still insisted on many of her Mennonite values (or at least as I understood them to be, as I don't even really know) for her children.  I attribute much of my guilt and self-loathing to my religious upbringing.  (Is that harsh?  Let's put a 😉 there.)
In any case, four of us girls went to brewfest on Saturday night (after a long day of weddings…grr…)  Basically you pay one price for the ticket, get a little souvenir tasting glass and get to go crazy and drink as many samples as you like of a variety of local beers.  It's out in a field at Forest Park under a tent.  I was the only non-single girl so naturally the secondary plan (other than tasting a lot of beer) was to attempt to meet people.  I used to be really good at talking to strangers (maybe briefly between senior year of high school and into college for a bit) and that's a skill I'm trying to bring up again…it is a confidence thing (you must assume that you are interesting and/or attractive enough that strangers would WANT to talk to you) and since I have been feeling more confident lately (seriously thanks to my workouts with Mike) I figured that would be good.  I won't hold you in suspense though, we didn't really meet anyone, and simply ran into a variety of people we already knew, and I did inadvertently pick up a friend of a guy Jen knew.  But I digress (and use too many parentheses, right?). 
Why are you here?  Well, for the pictures.  I took lots of pictures and most of them were terrible!  But some turned out okay.  Please don't comment on my tan lines, I really am not interested.
(And sorry friends, I will be taking MORE pictures in the future.  It's fun, plus you all look great generally so don't worry!)
Adrianne and Melissa, Jen and I
The view inside the tent.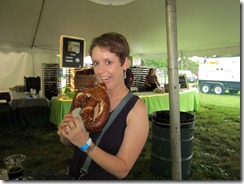 We split this giant pretzel from Companion Bakery.  While it won't help me lose ten pounds, it did give me the ability to drink a little more beer.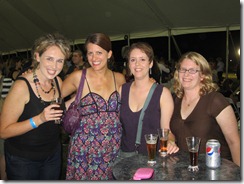 Overall it was a great night!  It was great to hang out with my friends (and again, just so pleased to have real friends in St Louis), and it was great to try all the different beers.  Ran into a few other people I knew including the ocarina player from my trio (Hi!).  And I would definitely go back next year.
Oh, and I may have been on tv…again…
Adrianne and Jen both had facebook comments that people saw them on Channel 5, and we were all there doing a toast in front of the cameraman.  Did anybody see me?