Here we are again, on a Monday. I ran 8 miles this morning as part of my training for the Go Halloween Half Marathon and now I'm catching up on some things before I start teaching for the week…
The weekend went by quickly, as they are prone to do. At least I only had one work-related commitment so it wasn't too crazy!
Friday night we went to a local Mexican restaurant, Lily's, with some friends. I think Louie and I have developed a problem (it's been years I'm sure) where we really will always pick a Mexican restaurant over anything else. It's not JUST the margaritas, it's also the tacos, and the beans, and the chips…I promise! We had a great time.
Saturday was the Maplewood Dog Swim. Mackenzie had had a rough day on Friday involving having to spend a good deal of time at the vet (no worries, everything seems to be under control) so it was nice for her to get to run around with other dogs and swim to her heart's content. We were there about 1 1/2 hours, and by the end she was really dragging, but kept insisting she was still having fun.
She didn't like to jump into the pool and instead always used the stairs or a shallow entrance. She was very smart though and also knew how to use the stairs to get out of the pool!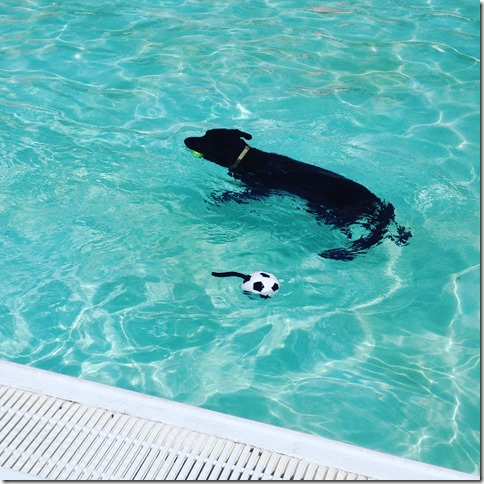 The pool was fun to watch for us too—there were dozens of dogs running around and frolicking and trying to fetch tennis balls. It was a real hoot!
Saturday night I had a performance with a pianist I hadn't played with before. He is also a doctor, but is an excellent performer! We played two pieces together for a program at a local synagogue. Afterwards he and his wife and Louie and I went to Basso for a bite to eat. Louie and I had been there before but not for awhile. We each got a little pizza and shared some roasted cauliflower, and it was very tasty.
Sunday we went on a bike ride on Grant's Trail. I like it, but I think Louie found it a little dull. We'll have to get out to a more scenic ride next time, probably along the river (and NOT the River Des Peres) would be better but we just weren't sure how all the rain over the summer had affected those trails and didn't want to have to turn back. Otherwise I spent Sunday cleaning and doing other stuff around the house and then had dinner with my friend Sarah. We are both violin teachers and spent a lot of time sharing stories and possibly making some plans for joint studio projects.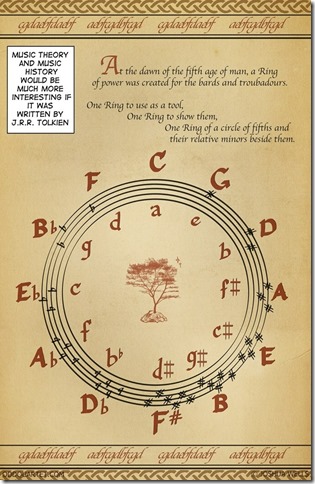 I saw this on the internet the other day and thought it was great. Maybe I need it printed out to show my students. A small percentage of them would find it most amusing and helpful, and the rest would probably just be baffled. LOTR is so a few years ago, isn't it?
How's your Monday going? What is your favorite Mexican restaurant?