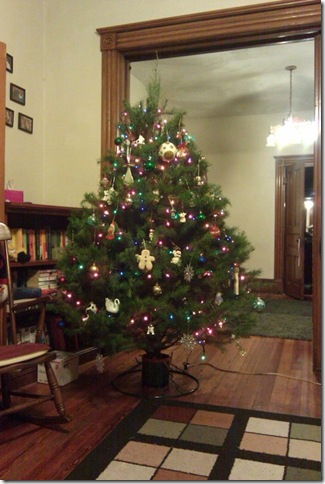 I want to get a new tree topper and maybe a few new ornaments.  But I'm pleased with the tree!  It's a really nice shape this year.
I only had two students cry today.  Is this normal?  I don't think I'm mean—usually I think the students cry out of frustration.  I just try to be kind then and offer kleenex. 
One of them cried because I took away their stickers.  Maybe I shouldn't have, but I was frustrated.  Remember the sticker chart from before? I opted to continue using it just because…well, I got tired of the begging and pleading, and decided there wasn't a huge harm.  And there wasn't except for the one student who has a real love/hate relationship with the chart.  He got three more stickers for songs completed, but then in prep for the concert last week said he didn't know one of the songs.  I told him he would lose his sticker if he didn't relearn it (I know he was more than fully capable of doing this with minimal).  He didn't relearn it and ended up not performing it.  Now, in my mind, the sticker chart is the songs the child KNOWS and can play.  When we play games, I take my assignments from the chart.  The same student today refused to play another song on the chart that he knows.  He said, I don't know it.  I said, really? because the chart says you do (and I know he can play it).  He refused to try, so I ripped the two stickers off and told him he'd have to redo them.  Then he started crying.
I feel bad, but I also hope this makes him realize I am serious about my threats.  I told him he can get them back at any time by simply playing through the song, and in fact he can play with the music.  I think that's reasonable.  Thoughts?  Did I go overboard?
My other tough love student:  the one I told last week that she needed to buckle down and learn her piece or she wouldn't be able to play the concert this weekend. WELL!  She was my first private lesson today and she came in with a big grin on her face.  I knew this was going to be good.  She had improved EXPONENTIALLY.  Was it perfect?  No.  But I could tell she had worked hard and knew the piece much better.  I told her how proud I was of her work and how she showed me she could really perform well under pressure.  I'm glad I was tough on her, because it paid off. 
My spinning class that I signed up for (just a five week session) got canceled due to low enrollment.  The question is:  do I sign up for a Jan-March weekly class or do I wait and see what happens at my gym?  (They are expanded and adding a spinning room, but I don't know the schedule.)  The weekly class is only about $6 per class which is quite reasonable.  But my gym would be free…but I don't know how busy it would be? or when the classes would be. 
HBBC:  Day of rest: 0 points, 7 servings f/v (this is becoming my daily goal!):  1 point, total: 1 point