Today I am thankful for my delicious and no-fail pumpkin bread!  I make this bread every year at least once (if not more) once we get into pumpkin season (a.k.a. Autumn).  It is easy to take to potlucks and always turns out really moist, freezes well, and is just basically really good.
I made my famous pumpkin bread yesterday for a baby shower.  I decided to be fancier this year and add chocolate chips.  What a brilliant idea!!  I can't believe I've been making this stuff for years and just now thought of that.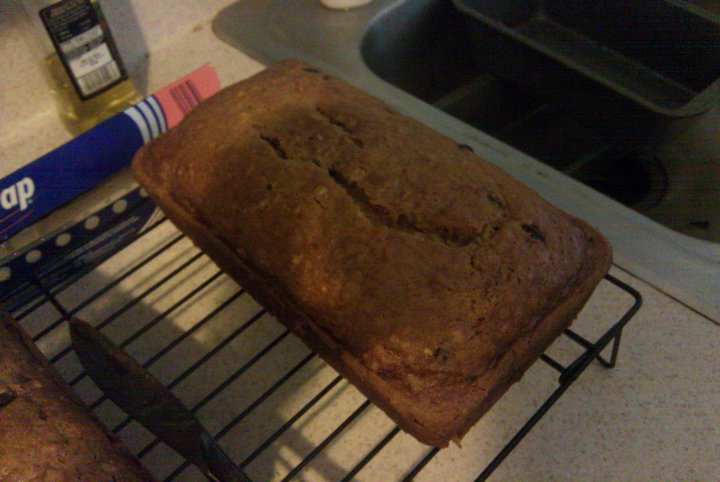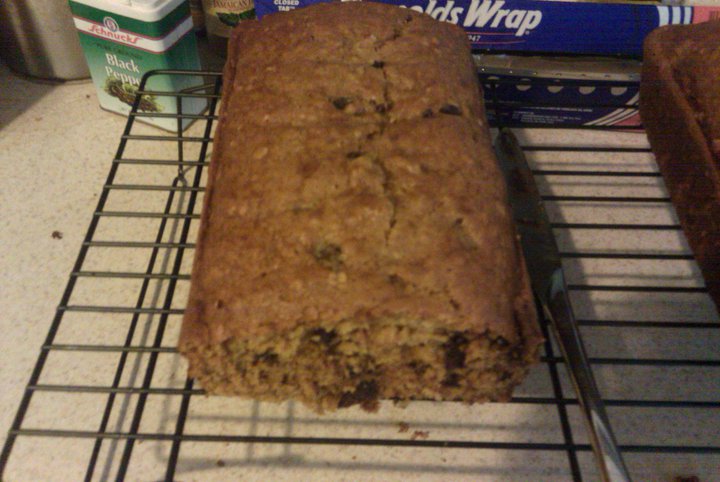 Okay, I searched the internet high and low, but could not find a link to the recipe.  It's your lucky day:  I'm going to type it out.  I'm assuming it came from a Libby's pumpkin can as Libby's pumpkin is mentioned in the recipe by name.  My sister Leslie copied it for me (by hand!) several years ago.
Pumpkin Bread:
Ingredients
3 1/4 cups all-purpose flour
3/4 cup quick or old-fashioned oats
2 teaspoons baking soda
1 1/2 teaspoons pumpkin pie spice
1/2 teaspoon baking powder
1/2 teaspoon salt
3 eggs
1 3/4 cups Libby's pumpkin (15 or 16 oz can)
1 1/2 cups sugar
1 1/2 packed brown sugar
1/2 cup water
1/2 cup vegetable oil
1/2 cup evaporated milk
1 cup chopped walnuts (note:  I never use these!  Here's where I would recommend adding chocolate chips instead!)
Directions:
(Preheat oven to 350 degrees F)
1.  Combine flour, oats, baking soda, pumpkin pie spice, baking powder, salt in large bowl.
2.  Beat eggs, pumpkin, sugars, water, oil and evaporated milk in large mixer bowl on medium speed until combined.
3.  Beat flour mixture into pumpkin mixture on low speed until blended; stir in nuts (remember, CHOCOLATE chips).
4.  Spoon into 2 greased 9 by 5 inch loaf pans.
5.  Bake in preheated 350 degree F oven for 65 to 70 minutes or until toothpick in center comes out clean.
6.  Cool in pans for 10 minutes, remove to wire racks to cool completely.
* for mini loaves, prepare the same, but use 6 greased 5 5/8 by 3 1/4 inch pans.  Bake at 350 degrees F for 40 to 45 minutes.
I am so thankful for my pumpkin bread recipe!