My usual (ha) weekend recap post is late. Yesterday was a very busy day for me, and although today is too (this is all due to Winter Opera St Louis rehearsals and practicing!) I'm going to write a quick blog post while I digest a delicious lunch.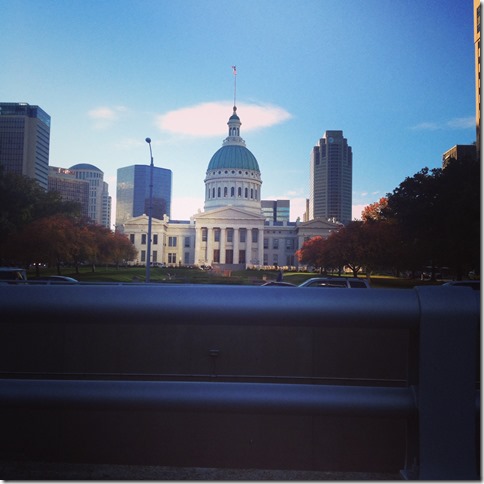 I had a bunch of weddings over the weekend. This was taken while I was stopped in traffic on my way to the one Friday evening. It's the Old Courthouse in St Louis and on my right hand side was the Arch but I was way too close for a good photo of that.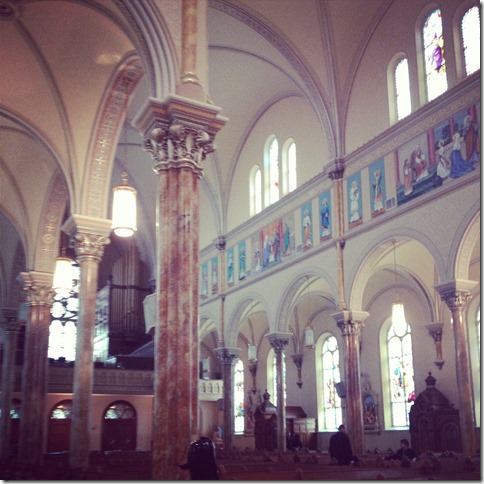 Saturday's first wedding was at St Anthony of Padua church, which I had never played at before. I was amazed when I walked in the door—the church was SO beautiful! It's kind of sad to me that I'll go to an old church in what is often a pretty lousy run down (possibly crime-ridden) neighborhood and then there is just a gorgeous church, beautifully decorated and that probably cost tons of money and man hours when it was built. We just don't make buildings the way we used to.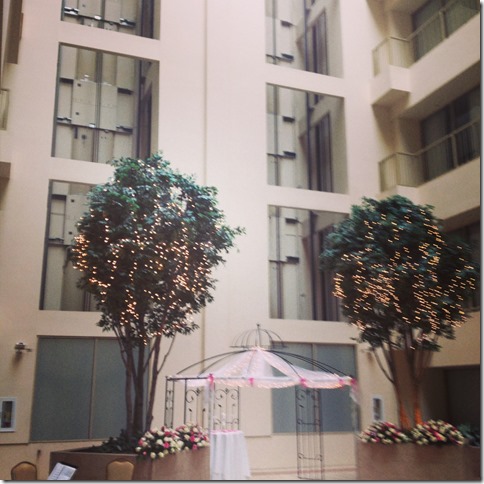 My second Saturday wedding was at the Sheraton City Center in the fifth floor Atrium. I thought it was very cute, and I tried to get a picture to give you an idea of the scope, but I found that challenging to do surreptiously!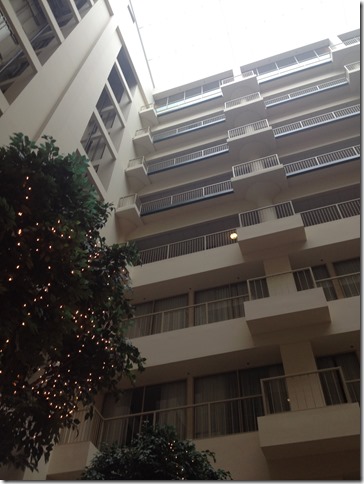 If I were staying in the hotel in one of those rooms overlooking the Atrium during a wedding I'd be tempted to do something really weird, like watch in my pajamas or something.
You're probably saying, well that's great, but what did you EAT?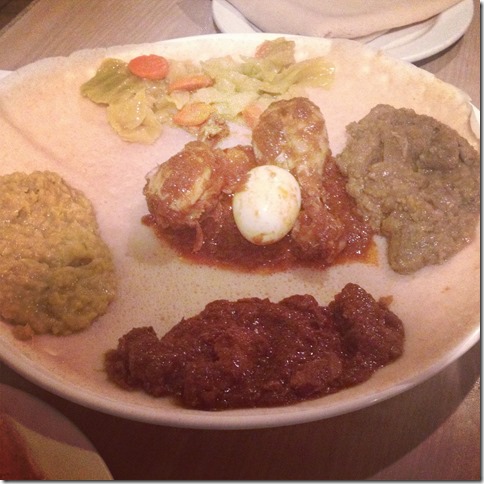 Dinner at Meskerem Ethiopian restaurant. I'd only had ethiopian food once before. It was great!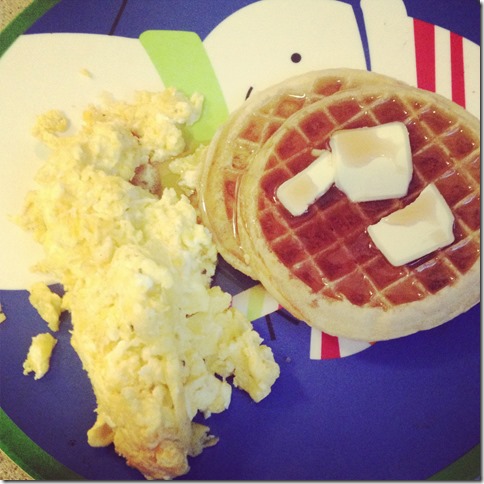 Breakfast one day. Eggs and waffles on my favorite snowman plate. Well, only snowman plate. I needed to run the dishwasher. It did make breakfast feel more festive.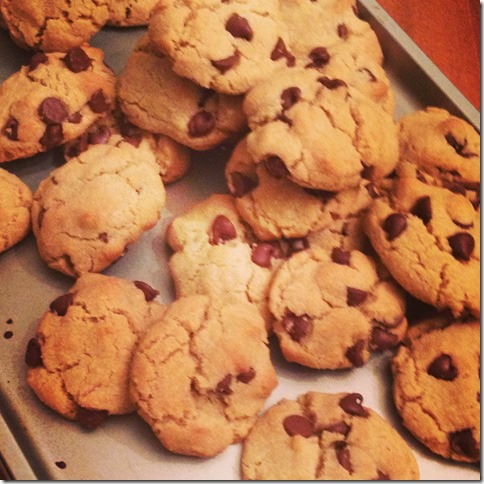 Cookies at a good friend's house. I did not eat all of them, nor did I eat as many as I wanted to. They were getting stale this morning so I figured two of them made a pretty good breakfast—they've got eggs in them, right?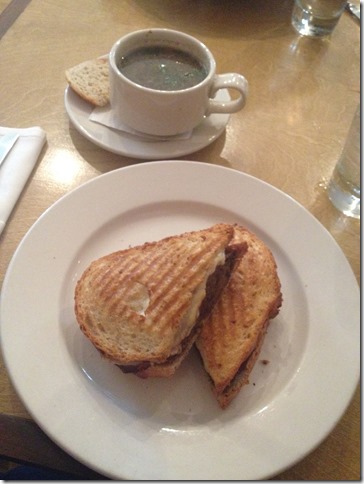 I've been quite sad because my good friend Melissa no longer lives here (well she lived here part time, but it was enough!) so I am thrilled that she is in town this week playing for the opera. We met for lunch at Stellina and it was great. I ordered the Il Capo sandwich, which had roast beef, prosciutto, something else, and an olive tapenade. The olive was a really unique part of the sandwich and I liked it, though it was perhaps a little heavy handed. The side of mushroom soup was really good too.
When I wasn't playing a wedding or rehearsing over the weekend I was watching various TV shows on Netflix. A friend and I are currently obsessed with True Blood, and are well into the third season. It seems to be going downhill, but I still want to see what happens to Sookie (as annoying as she is well…most of the time.) I'll tell you, I'm glad I don't live in the south with all those vampires! I also spent an evening watching a mini marathon of Chuck at my friend Sarah's house (where we ate the cookies and loads of popcorn)…I think we managed five episodes that night? Pretty impressive, if I do say so myself.
I tried to include a picture of me and the fatness, but it keeps being upside down and when I turn it it gets shorter and shorter. I'm still not loving Windows 8 but I'm learning to live with it, as it's my only option.
And now I'm off to practice. I have a "big" solo in the opera so I'm a little stressed about it. If you are local, come see the performances of Faust this weekend with Winter Opera St Louis! I'm in the pit, of course, as I'm a violinist, not a singer, but you'll know I'm there.
(Unrelated: I was going to run this morning but it was raining and my bed just seemed more appealing. Tomorrow, I promise!)