Lots of bloggers like to do year-end recaps. 2012 has been a pretty eventful year for me, and I could probably write a really long post about it and include tons of wedding pictures. But maybe I've already written about myself enough? Perhaps I'll be inspired.
But today I just want to share yesterday with you. I was active on social media (this is a shocker) and took a bunch of pictures, and you all know I enjoy re-sharing my pictures. (And I like doing journal-type entries the best, honestly. I don't know if you find them interesting, but I enjoy writing them.)
The day started with a blogger meet up. I belong to a facebook group made up of bloggers from the St Louis area. I hadn't made the past few meetings as they were on Friday nights and I work late and then usually am too tired to meet new people afterwards. This one was on a Saturday morning and involved coffee, so I was excited. It was kind of a meet up fail though, because it was just me and Lindsay.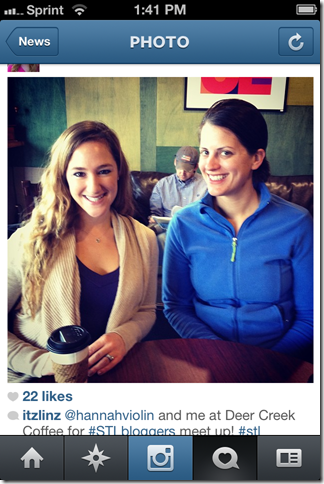 I was going to the gym afterwards, and figured that gym clothes, ponytail, and no makeup were totally appropriate for a blogger meet up.
We had a great time chatting and drinking coffee at Deer Creek Coffee in Clayton. We discussed everything from the tax implications of blogging to whether or not our husbands like to eat leftovers. I was inspired by Lindsay's energy and excitement about blogging and life in general!
Maybe my next blogger meet up will include more people?
Then it was time to hit the gym. I thought I felt fine but after I started working out I didn't really. Mike had originally planned a circuit of 1 minute sprint, front squats, and kettlebell swings (we squeezed in an extra workout because of my trip next week) but I almost passed out after the second sprint so he revised the workout. (He actually asked if I wanted to go home and we could reschedule but I felt like I should soldier through.) Oops. I made it through the workout though, and I'm sure felt better for it! That is, it was probably a huge waste and I should have taken him up on his "rescheduling" offer but I felt like a loser. In retrospect I think he really wanted to go home as well since I was his last client, and he was drinking water just as fast as I was.
Nonetheless. Shower and then work time. Rarely is there a Saturday I don't play a wedding and yesterday was no exception.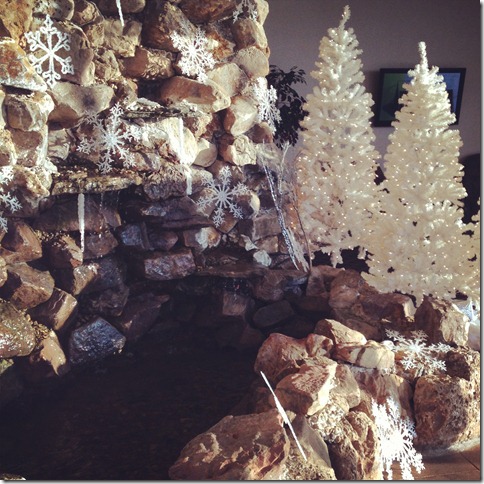 St Charles!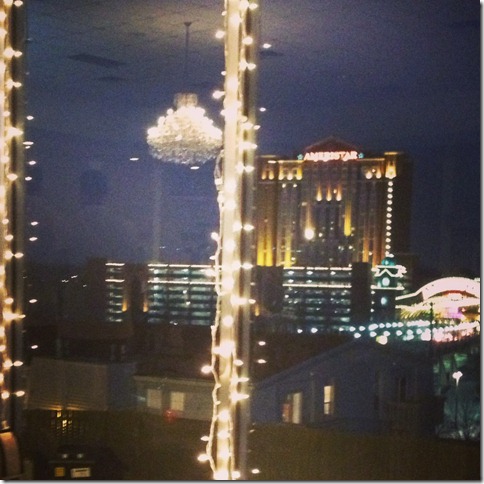 Gorgeous view of the…casino…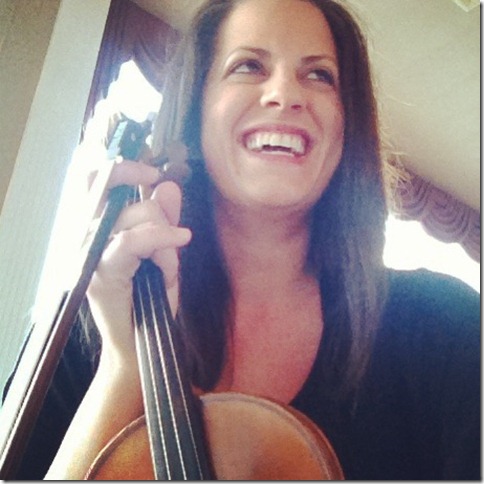 Me having fun with my timer camera app while waiting for a cue.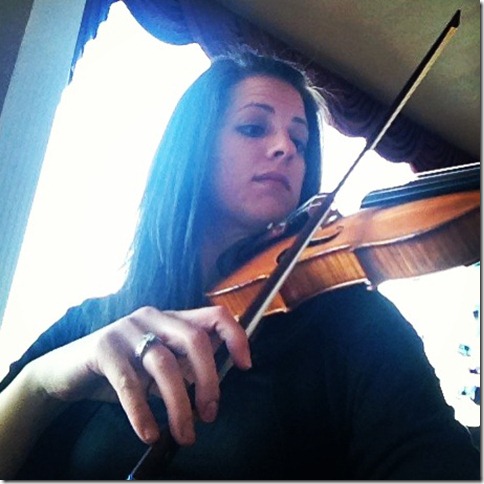 Leslie should appreciate my no ears hairstyle for the day.
After my gig, Chris and I decided to go out for Chinese food. Our favorite place to go in St Louis is Wei Hong Bakery and Restaurant. We discovered this place a few years ago and love it. It's very casual and fairly inexpensive and always delicious. They say it's pretty authentic too, but I have never been to China so I can't vouch for that. Maybe I should take my brother there next time he's in town!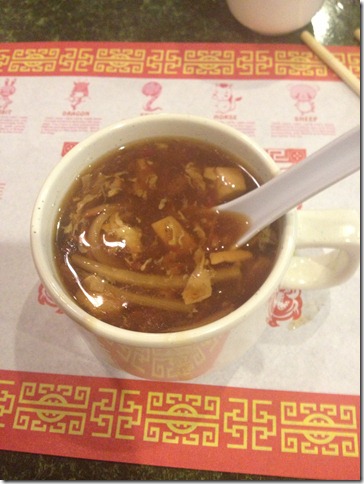 I had hot and sour soup to start.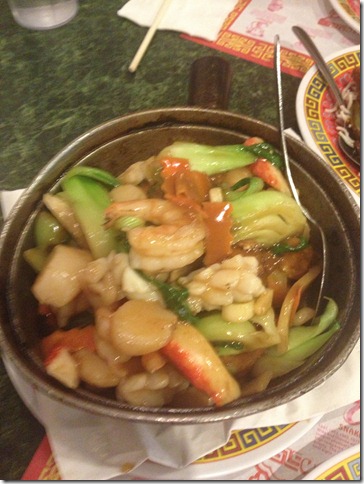 And then a seafood tofu casserole. They have this tofu that is called "egg tofu" on the menu—I suppose it has eggs in it (sorry Carrie and other vegans) but it is AMAZING. It has the consistency of a custard or flan, and I could probably eat it for every meal.
Naturally our meal ended with a fortune cookie.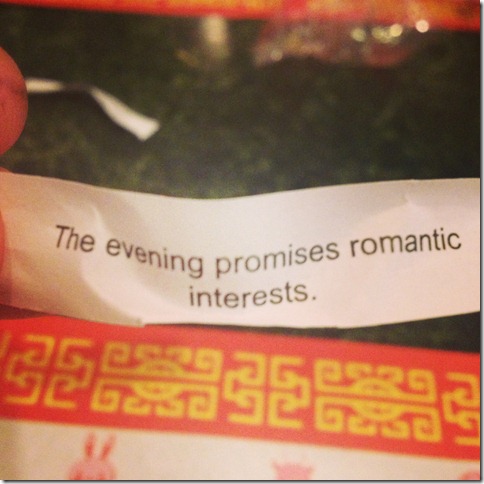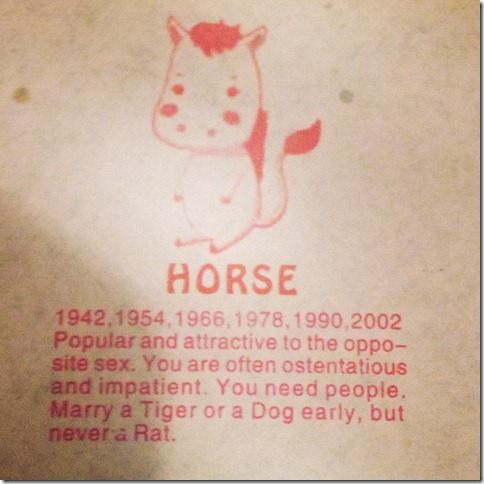 Me, impatient? Never!
Anyway, the last thing we were doing was meeting some friends who recently got engaged (!!) at Sasha's. But first I was lying on the couch watching TV and…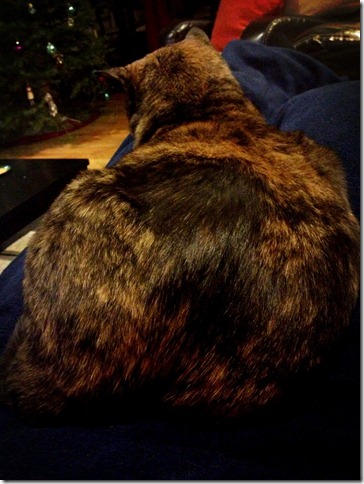 How could I go anywhere with this guy on my lap?
I decided to destroy her evening by flipping her over for a picture…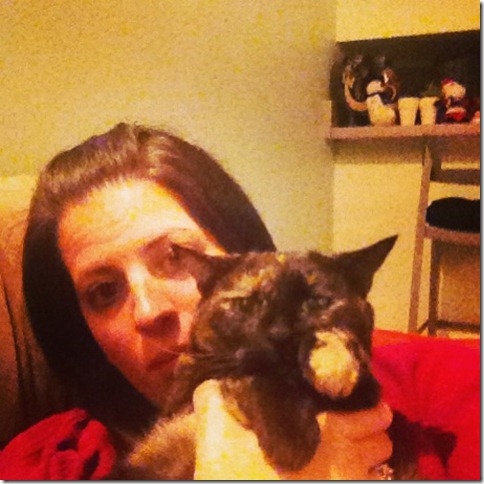 I wanted to get her belly in the picture, but my arms just aren't that long! I probably should have gotten Chris to take the picture but I didn't think ahead.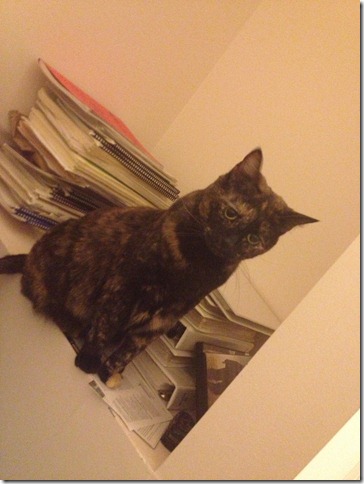 This picture is an example of how photography is all about angles. She doesn't look fat at all, does she?
And yet…