My weekend was filled with entirely too much activity. I'm still recovering. Oh, wait, that's from the cold I had…
Anyway, despite possibly better judgment I decided to be tough and get to the Celebrate Fitness Boot Camp I'd signed up for on Saturday morning.
The event was held at Washington University's Athletic Complex, and you can visit this link to read my preview of it. I did the Boot Camp, and it was TOUGH.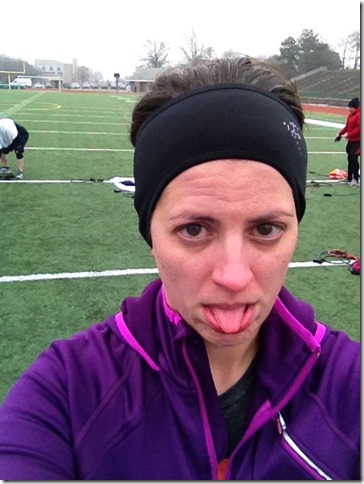 The class was held on the football field and lasted for 90 minutes, at least half of which was the instructors telling us to run to the end zone and back and the other half was them telling us that they were from Shark Fitness and that if we wanted to be working out properly we needed to be going to their classes three times a week and doing 1500 squats a day. Or something like that. Most of the time I was just trying not to pass out, which was a direct result of a) being somewhat out of shape still, b) the silly diet of no sugar, grains, or dairy that I'm on for another two weeks and probably mostly c) having a really bad cold but feeling like I should do what I said I would do.
Anyway, after completing the class I felt wonderful and accomplished and I was glad I went. Until a few hours later when I felt really lousy: seriously tired and terrible congestion from my cold, but honestly, that could have happened either way.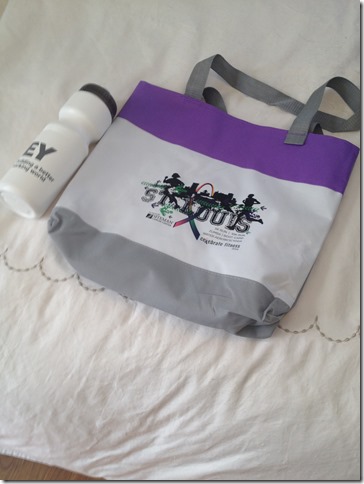 I got a goodie bag since I'd heard they were fantastic and I'm always glad for another tote bag…but the T shirts were cute and really soft and I was kind of jealous. If I do it next year, T shirt is my choice (probably they will change suppliers and have different shirts to spite me…don't do this! I beg of you!) Though the goodie bag also included a water bottle, some coupons, free samples, and a pair of socks.
Overall it was a really well run and fun event. I was given a free entry from my fellow blogger Katie from Mom's Little Running Buddy but all opinions are my own. One caveat would be that the class is kind of expensive for a class, but you do get a shirt or bag, and proceeds go to charity, so you feel good about that.
This weekend I'm running the annual St Patrick's Day race in downtown St Louis with my friend April. I'm excited because the weather looks to be AMAZING! I didn't run last year, but I did run the two previous years. This picture is from two years ago.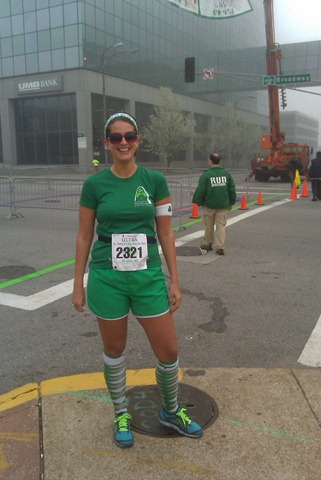 How cute was I two years ago??? I was all tan and skinny and whatnot. *sigh* This is why I'm working out regularly again and why I'm on a crazy diet, so I can look more like that lady. Well, maybe minus the tan, but mostly.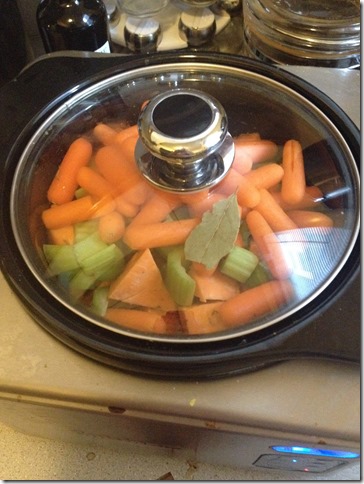 Sweet potatoes baking the the oven, beef stew (whole 30 compliant of course) in the crockpot. This is Day 17 of 30. Remember: whole 30 means no added sugar, no legumes, no dairy, no grains (no alcohol). So it's meat, fish, eggs, sweet potatoes (no white potatoes for fairly arbitrary reason), tons of veggies, some fruit, oils and nuts for fat, and that kind of thing. Sparkling water with 100 percent pomegranate juice seems to be a nice treat, and I'm getting very used to black coffee and hot tea. It's not so bad, especially now that I'm over my cold…and I'm more than halfway done. I plan to keep many aspects of the plan for awhile until I reach my goal weight, but don't want to be so strict (or feel that I have to avoid social situations in order to be able to eat) and I look forward to having a few things that I'm missing, at least on occasion. The name of the game moving forward is moderation in all things…and that, readers, should help me progress along the path that I find myself. I feel good right now.