You all know I'm obsessed with fitness and cats, right?  (Well, at least cats.) But I like running (well…not as of late, but that's due to being sick and extremely lazy) and working out (especially lifting weights and ANYTHING weight lifting that you do lying down is my favorite…I'm working out…and I'm lying down!).
My friend and fellow blogger Katie from Mom's Little Running Buddy runs an event called Celebrate Fitness on March 9th of this year.  She told us about it in the St Louis Bloggers Group I belong to and asked if anyone was interested in giving away a free entry.  I jumped on the chance, because I thought some of you might be interested– There's a race, but there's so much MORE than just a race—there's all kinds of other workouts you can do, and it would be a really fun event for families or group of friends!
(all pictures courtesy of Katie.)
I originally thought I'd be able to do it (I'd love to run the 10k with Chris! but it looks like I'm working that morning after all…) but I think you should all participate.
Have any readers done this event in the past?
Okay, here's all the basic information you need to know:
Date: March 9th, 2013
Location: Washington University Athletic Complex
Registration Fee:
$30
Junior Registration for ages 13 – 19 = $20
Day of Registration = $35; Junior $25
Time:
7:00 – 8:00 Check in
8:00 – Opening Ceremonies
8:30 – Run and workout
Event Options:
10K Competitive Run
5K competitive Run
5K Walk
1Mile Fun Walk
Boot Camp
Water Aerobics –Shallow
Water Aerobics – Deep
Yoga
Zumba
See the registration form for more details.
Participants get to choose between a shirt and a goodie bag.  Katie tells me the goodie bags are filled with great stuff and that that is one of her favorite parts of the event.  I have tons of shirts, so if I were able to sign up for this, that's what I'd want!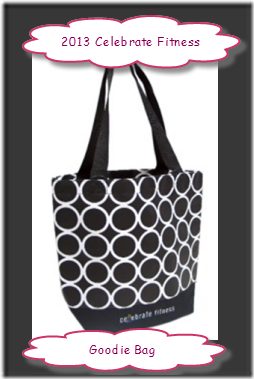 Katie has been generous enough to offer you guys a chance to win a free paid entry to Celebrate Fitness (Another blogger in the group, Angie, is also running a contest, so go over there and enter to double your chances to win!)  The winner will be notified by email after the contest ends so be sure to use a valid address you check. Contest runs through 11 pm CST on February 16.