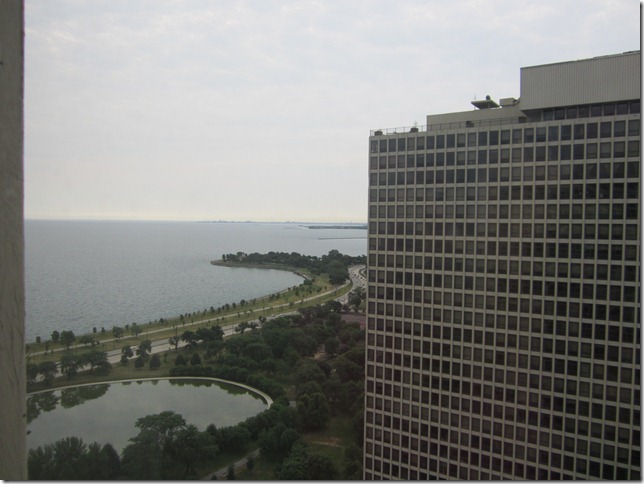 That's the view from Karen's apartment.  Except now the view is this.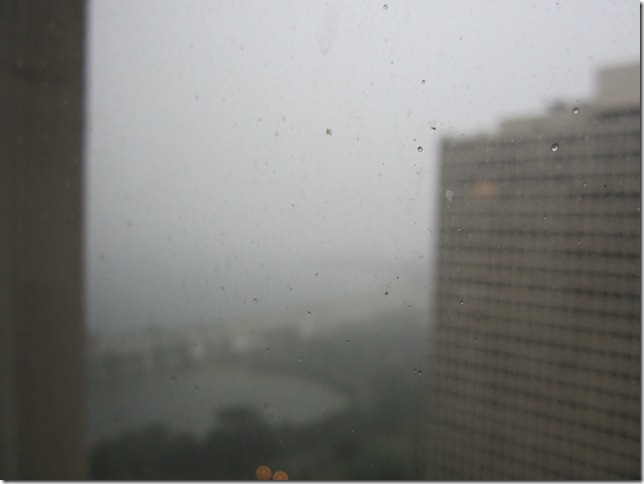 Yes, that's a storm coming through.  She is in rehearsal and I was hoping to go run around the lake.  (By the lake).  I still have plenty of time though—hoping it'll pass through.
Yesterday I drove in.  I got here around 1:30 and we had lunch then decided to go to the Aquarium.  We thought it would easiest for her to park at the Millennium Park Garage and then take a cab there rather than pay for parking.  We got a little "pick me up" at the Tavern on the Park first, to give us the nerve to fight through the throngs of children we would soon be dealing with ;)  It turned out that the cab ride to the Aquarium cost more than half of parking, so that was a disappointment. 
However, when we got in line at the place, an older woman came up to us and gave us "member" wristbands so that we didn't have to pay a thing—I guess she was a member and was leaving for the day.  Rock stars, that's us.  So we got into all the exhibits and shows for free.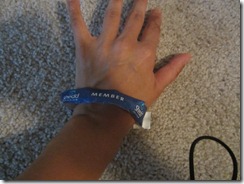 (Reenactment)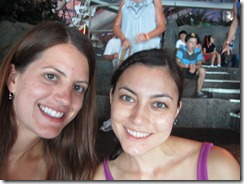 VERY hot and sweaty. 
In any case, the Aquarium was pretty cool.  My favorite part was this one tank where a bunch of the fish were hanging out in one corner, but WAY in the back there was this grumpy looking orange fish just hiding.  We left and came back to check on that fish later (maybe 1 hour later) and he was still there!  I hope he wasn't sick or something.  We decided he just didn't like the other fish.
The other thing that was really interesting was that I always think of fish as constantly moving around but it really seemed that a lot of them just sat still for a lot of the time.  I suppose that makes sense?  Weird though.
After the Aquarium closed we went to get ready for dinner.  Guess what we wanted to eat?
That's right.  Sushi.
Karen wanted to go to an Improv club later so we picked a sushi restaurant near that club.  It was called Itto Sushi and ended up being fantastic.  I had some rolls I'd never had before, one with plum paste and another with fermented soybeans. 
After dinner we went to the club.  It was a place that some little groups do Improv Comedy shows every Thursday night, near Wrigley Field.  The cover was only $5, and the show was a lot of fun!  There were three different groups, and they were all very funny, especially the first group—their name was something Pizza.  I can ask Karen where the place was if anybody is really curious.
Today I'm just waiting out the storm.  Tonight Karen has a concert and I'll go with her and then who knows.  Today is her busiest day while I'm here so I've also been doing some work-related stuff that came up (over 45 minutes of phone calls and busywork so far…).  Her apartment is on the 33rd floor, two blocks from the lake, so I definitely need to get out there.  Yesterday I didn't exercise at all, unless you count walking several miles (which you probably could count, and my darned blistered feet probably count it), but I don't ;)  It is starting to clear up outside and I'm worried it's going to be awful and muggy.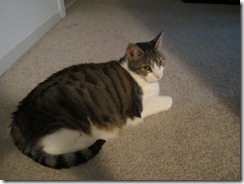 Oh, and this is Centipede.  She slept next to me a bit last night.