Let me tell you a little about some of the ornaments on my Christmas tree.  I have been collecting ornaments for a long time!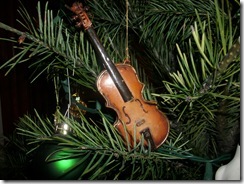 This was a gift from my very first violin teacher!  I saved this for a long time until I had my own tree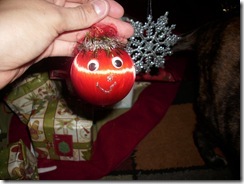 This one was a gift from my very first violin student (I was in high school!)  She decorated it herself.  I love it!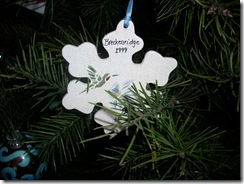 A gift from my "host mother" when I was at the National Repertory Orchestra in Breckenridge, Colorado for two summers.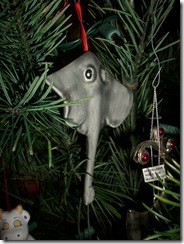 Got this in the Cayman Islands on my FIRST trip there.  I was fortunate enough to spend almost a week on Grand Cayman and just had to play a few orchestra rehearsals and a concert.  Wish I could have done that again! But I did return to the Caymans at least.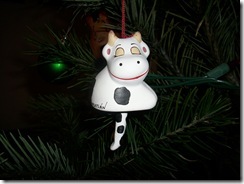 I got this one in Mazatlan, Mexico on my second cruise (with my sister Leslie and good friend Sarah).  Yes, it's an adorable cow.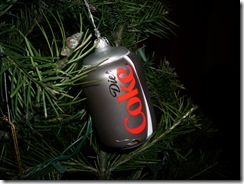 A gift from my sister Leslie.  Unfortunately it sustained some damage when the tree fell over last year.  I'm happy to report that so far this year the tree has remained standing!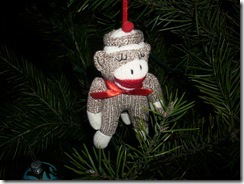 Another gift from my sister Leslie!  It's a sock monkey.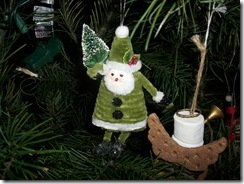 Got this cutie at World Market this year.  Or at least I think it's cute!
I'll do another round of ornaments soon—there are several violin ornaments from my mother along with some other sentimental type. 
I am QUITE nervous about tomorrow afternoon's concert at Metro East Lutheran School.  It's a joint concert with students from a variety of Lutheran schools in the area, and I wasn't able to attend the rehearsal today to see how my students did and meet the other teachers (due to my other gigs…I had thought the rehearsal was in the morning), so that means that tomorrow I will be doing that.  I always get nervous on behalf of my students (especially because technically they could have used more time on this music, even though they did work really hard!) plus I get nervous meeting new people.  Basically I'm afraid that my students are ill-prepared and it's my fault…you know, the usual

  (Wow, I sound like a basket case describing myself!)  I didn't hear any bad news from parents though so I'm hoping that means today went just fine.  Nonetheless I'll feel better when it's over.
Woke up this morning at 8:15 and it was pouring rain.  Figured if I was going to do a treadmill run, I'd do it on Sunday, the normal day.  So I hope it doesn't snow too much overnight to get to the gym!!  There is a treadmill with my name on it wanting 8 miles…
HBBC:  20 minutes weight-lifting: 1 point, 20 minutes stretching: 1 point, total: 2 points.