Today is my first day of Christmas Vacation!  It's earlier than most people's because I opted to take over a few more days of teaching—after the concerts it didn't make sense to have one more class. 
Yesterday was very busy, but ended really fun.  I ran a race (though since I messed up the tag thing there is no record of me…oh well, it wasn't my best time, in fact was my worst), played a wedding at the Jewel Box, played my last mass at St. Mary's in Madison, IL, and played a four hour holiday party in Sappington.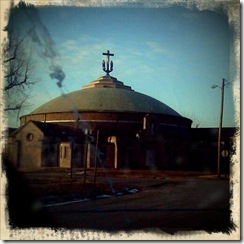 St. Mary's
I had been dreading the 4 hour party but it ended up being quite fun!  We were playing at a private home, which was super decked out for the holidays.  There was a themed Christmas tree in just about every run, and nutcrackers of all sizes (tiny to human sized) displayed throughout.  We were encouraged to eat and drink (yummy shrimp and sushi!) while we played, and we played tons of Christmas music, including selections from the Nutcracker (I love the holiday volume of "Music for Three" and need it for myself STAT! )  It was exhausting, but the people I played with were easy going, good musicians and the evening was very enjoyable.  I should have taken some pictures of the house, but didn't have my camera and didn't want to be weird and creepy either.  Maybe I'll be asked to play again next year, and I"ll remember my camera and not care about weird and creepy!  At the end, the host told us if we played one more rousing finale we would each get $50 cash on the spot.  Well, we couldn't' pass that up, and played a rousing "Trepak" from the aforementioned Music for Three.  FYI to other musicians:  the audience really loved hearing the Nutcracker tunes.  
I was utterly exhausted by the time I got home and just read a bit and went to sleep. 
Today:  I did my long run—8.5 miles I believe (or so) in the park.  It was manageable, icy in spots but fine overall.  I am loving my new running tights (though I should probably get another, slightly warmer pair, also to switch out for laundry purposes) and felt like a real runner going around the park 2 1/2 times. 
Then I did the first step of the Tres Leches Eggnog cake…though I decided to just use a box mix.  (First step is to make the regular cake and let it cool).  I had a box mix on hand, okay?  It was taking up room in the cupboard!  (Second step is to pour milks/eggnog over cooled cake and let sit overnight).  Besides, after I add the Tres Leches, will it really matter if the cake was from a box or homemade?  NO!
Tonight we are going to a Holiday Party at a friend's house.  I am looking forward to seeing people—I haven't seen several of my friends for a few weeks as we have all been so busy!  The next few days are for relaxing, seeing friends, and preparing to go to Long Island for the holidays. 
HBBC:   8.5 mile run: 8.5 points, 20 minutes stretching: 1 point, Total:  9.5 points (will edit if I eat 7 f/v)