What a cold day!  I woke up this morning and wanted to go for a short run (3 to 4 miles).  Well, firstly, my hamstrings were incredibly sore from a lot of dead lift type exercises the day before, so running was TOUGH/nearly impossible.  Secondly it was freezing…I don't know if my long run tomorrow is going to happen.  We'll see how my legs feel in the morning.
I played a wedding then at the Piper Palm House.  It was all decked out for Christmas and was very beautiful!  I love Christmas decorations, especially poinsettias.
Even the busts were decorated!  Here's Mozart wearing a red bow.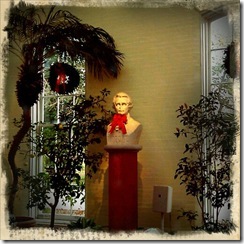 The bridesmaids were also wearing red, all in all it was a beautiful wedding.
Next was an Advent Mass in Madison, Illinois at St. Mary's Church.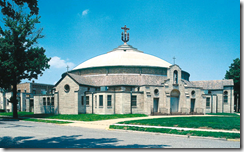 It is a totally round church!  The people of the church had evidently never had strings play at their church before (had gotten a donation for this) and they were very appreciative.  We are playing there the next three weeks (well, I'm only doing two more.)  I'll try to get a good picture of the inside before then.  It's really unique and beautiful.
I went to dinner with my friend Melissa at Mai Lee in Brentwood.  We split a couple of appetizers (bbq pork spring rolls and papaya salad w/pork & shrimp) and I got the Sliced pork cooked w/mixed vegetables in a black bean hot pot.  I was hoping it would have crunchy rice on the sides like at Lemongrass, but it didn't.  However, the food was still delicious!  I would definitely go back. 
Last on the menu for the day was a quick jaunt to the Royale.  I was pretty tired so we didn't stay long.
HBBC:  3 mile run/walk :  3 points, 7 f/v: 1 point, total: 4 points