Note to readers:  I just learned that today I was featured on healthylivingblogs.com as the Friday featured blog.  Welcome if you are new!  And welcome back if you aren't!! 
Oh, and if you want to vote for me for "best personal blog" at the Riverfront Times (local paper here—you don't need to be local to vote though, I do!) poll, I will be your best blog friend!  I'd love your support!
I haven't been blogging quite as regularly recently.  I've been much busier, and I've also been concerned that I blog too much about the mundane minutiae of my life.
Haha!
I'm just kidding about that.
I've simply been busier with work.  But I've got some time now—let me catch you up on what I've been doing!
I've been busy with a few blog related activities.  I'm participating in the Great Food Blogger Cookie Swap 2011, the Great Blog Sweet Swap, a couple of blog Christmas Card Exchanges, a Secret Santa, and December's Foodie Pen Pals.  It sounds like a lot, but it's been fun.  Plus it's easier as my family is not exchanging Christmas gifts this year due to somebody's wedding…(oh yes, that would be me!).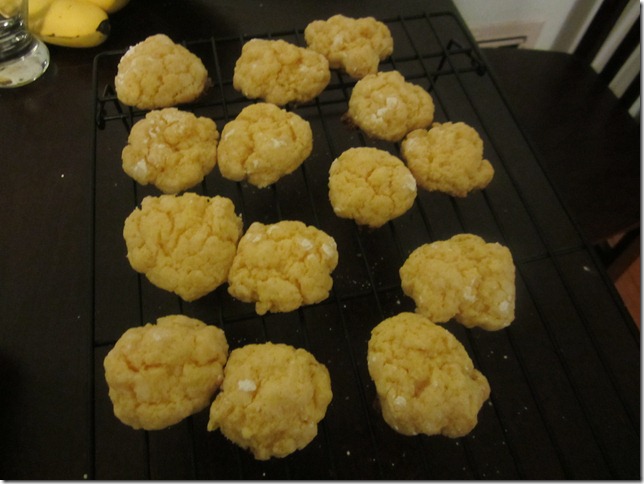 Gooey Butter Cookies!  I made these last night.  There are a ton of similar for recipes for them.  Here's what I used–
Gooey Butter Cookies
Ingredients:
1/2 cup (1 stick) Butter/Margarine
1/4 Teaspoon Vanilla
1 Egg
1 8 oz. Cream Cheese (1 bar)
1 Box Yellow Cake Mix
Powdered Sugar for dipping
Non-stick cooking spray
1. Beat butter, vanilla, egg and cream cheese until light and fluffy
2. Mix in dry cake mix.
3. Chill for at least 30 minutes.  Dough remains very sticky.
4.  Preheat oven to 350 degrees.
5.  Lightly coat cookie sheet with cooking spray.
6.  Drop down teaspoonfuls of dough in a bowl of powdered sugar and roll into balls.  Place on cookie sheet.
7.  Bake for 12 minutes or until golden brown.  Yields four dozen.
That wasn't all I made, but that's all I'll mention right now.  Be sure to read all of step 6:  originally I didn't read the "roll into balls" part of the sentence.
You can see the difference.  And yes, I need to clean my oven!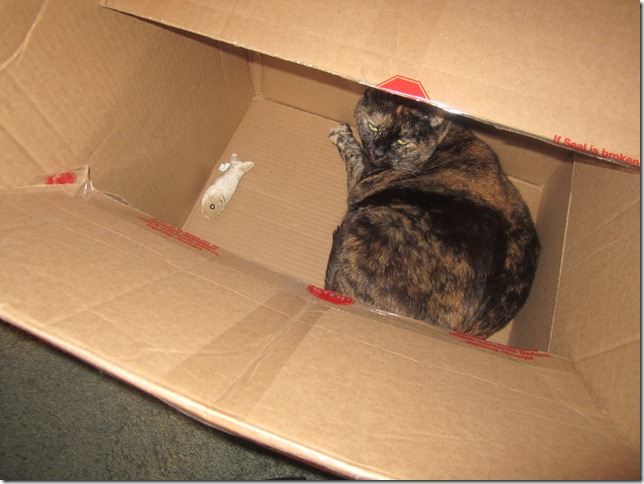 We've been getting a bunch of boxes!  The cat loves them.  This one seems too big though…
What general things have I been up to?  Well, it's been cold, so I decided running outside twice a week was enough.  This means hill repeats and sprints on the treadmill, which is probably great for me!  I've been playing a couple choral concerts, teaching (of course!  one more week), and (naturally) wedding planning like crazy.  It's getting down to the wire here…three weeks from Monday!!!
Week in review:
I was videorecorded playing cowbell for an upcoming youtube video with the ocarina trio.  (Oh yes, this really happened!!)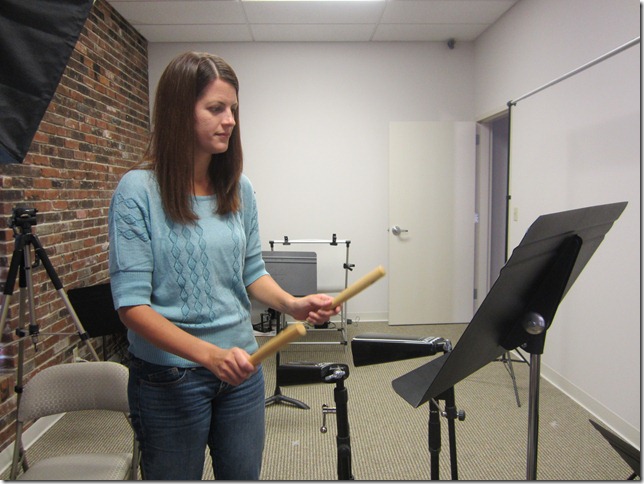 I opened a ton of boxes of cookies and wedding presents!
I played a variety of rehearsals for concerts.
I taught a ton of violin students.
I was disappointed by Albert Pujols and was yet again reminded that most people in the world make all their decisions in life based on money first and everything else second, and was saddened by this.
I ate too many cookies.
I had another facial.
I wrote some thank you notes.
I started putting together our wedding program.
I stalked our wedding registry.
I ate more cookies.
I ran, hoping to counteract the cookies.
I went to Frazer's and Franco with friends.   I'm in love with Franco's Caesar salad with white anchovies.  So worth the extra $3 for the white anchovies.
I booked a shore excursion for our cruise.  Hard to believe that is coming up soon also!
I emailed/messaged several people trying to track down the remaining RSVP's.
I panicked.  I freaked out.  I had a few mini-breakdowns due to stress.
I didn't eat enough vegetables.
I ate some delicious trout.
I had several glasses of red wine.
I bought new workout capris.
I bought chocolate to give to my students next week.
I froze a bunch of cookies to have later.
I think that sums it up!  In a nutshell, cookies, stress, fish, wedding.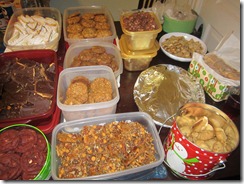 cookies
stress
fish
wedding
Happy Friday night, readers!  (Or whenever you are reading this…might be another day—)
How is your weekend going so far?