Winners:  Rose, comment #2 by Random Number Generator (which was funny because I liked her comment best, but decided I should pick somebody else then…) so I picked Anna who would use it with venison to make jerky, since I've been on a jerky kick lately.  Anna, you should send me the jerky ;)  Thanks to all for entering and congratulations to the winners!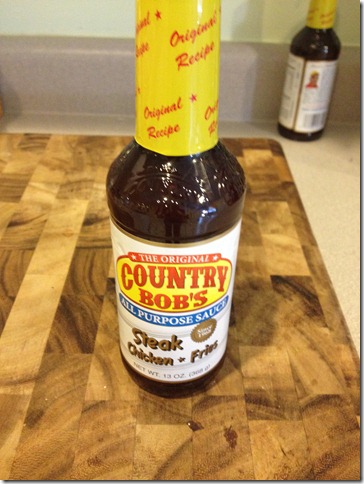 Recently I was sent two bottles of Country Bob's All-Purpose Sauce to try out and review for my blog.  (You can see lonely bottle two hiding in the background there.)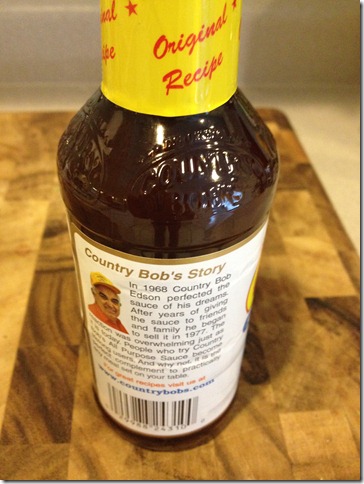 Now, contrary to popular belief, I am actually an inherently lazy person.  So my first thought was naturally, let's take this sauce and use it with some chicken in the crockpot.  So I took a couple of chicken breasts, dumped a bottle of sauce on it, and let it cook slowly all day. (This is my go-to crockpot recipe.  I've used different kinds of BBQ sauce, this sauce, salsa, various condensed soups.  You can also add vegetables to it, like carrots which cook really nicely in the crockpot.)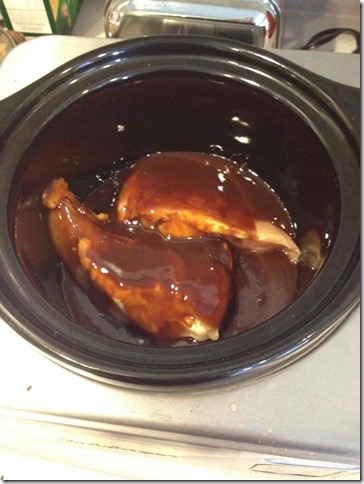 When you do this, if you really want the chicken to be flavorful, you have to take two forks and really shred the chicken up into small bits, and then let it cook some more.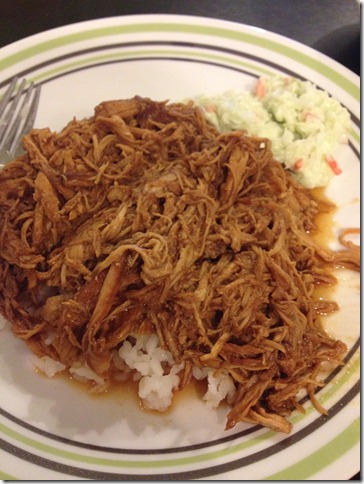 SO good!  The sauce had a really good flavor, not too spicy, but not too sweet either. Chris and I have been brainstorming a couple ways to use the other bottle, and what I think we'll do is use it for chicken wings, but we just haven't had a chance with all of his travels.  The website also has a bunch of recipe ideas.  Now, it's a processed sauce, so it's got sugar and all that, but let's be honest with ourselves.  Sometimes convenience and taste win out, and this sauce definitely tastes good.  When you get home from work at 10 pm and want dinner, a crockpot meal is genius.
I received the bottles for free to try out, but I would buy them again, or maybe try one of the other sauces they have.
If you want to win two bottles to try out for yourself—two ways to win, leave a separate comment for the second part if you do it: (GIVEAWAY IS NOW CLOSED)
1. Just leave a comment below and tell me how YOU would use the sauce if you win.
2. Follow Country Bob's on Facebook or Twitter (or both).
I get to have two winners for this contest, so I'll choose one using a random number generator and the other based on the most interesting comment, in my own opinion, so have fun with it! 
This contest/giveaway runs only until Wednesday, September 5 at 10 pm CST. US Residents only. NOW CLOSED, thanks for entering!  Winners announced tomorrow morning.