This is not my original recipe idea. I don't know where I got the idea for putting salsa over chicken in the crockpot, but I have given the idea to lots of friends…so I'll just call it mine—that's the internet way, right?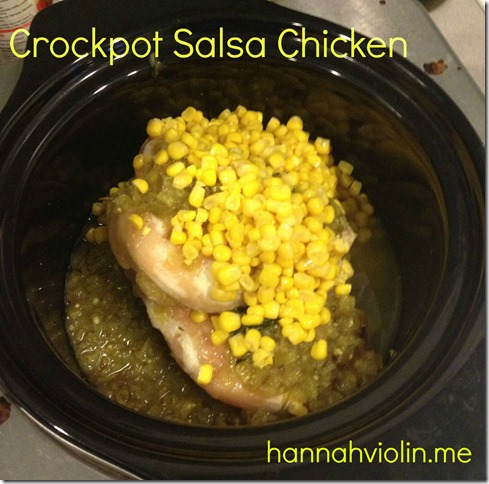 I took a picture that you can "pin" to your recipe boards and share with your friends! Mmmmm…raw chicken. (Honestly, the finished product doesn't look much better, but I am telling you, this is delicious AND healthy!)
Here's the basic "recipe":
Make this in a crockpot or slow cooker.
Take a jar of your choice of salsa (remember the salsa will greatly influence the flavor so use something that you like!). Pour it on top of three to four frozen chicken breasts.
Cook for 4 hours on high or 8 hours on low. Shred chicken and serve over rice, vegetables, or on a tortilla.
Optional add ins: Corn, lime juice, cilantro, black beans, the possibilities are endless!
For the above picture I used a jar of Market Pantry green salsa (the Target store brand). I really enjoy Trader Joe's green salsa (I guess I like my green salsas) but really any salsa will work.