As you all know I've been "selling out," or at least, "selling", on my blog a bit lately.  I'd make the argument that everybody else is doing it, but as a violinist, you know I don't care what everybody else is doing.  The fact is, I love blogging and I love having people read my blog, and doing product reviews seems like something that will help bring more people to my awesome blog, and hopefully a few of them will stay and comment and return again to see what I'm up to later.  Plus it's the season for shopping and trying to get the best bang for your buck, right?
Anyway, no giveaways today (you can still enter yesterday's) but there's a great deal for a company I learned about recently: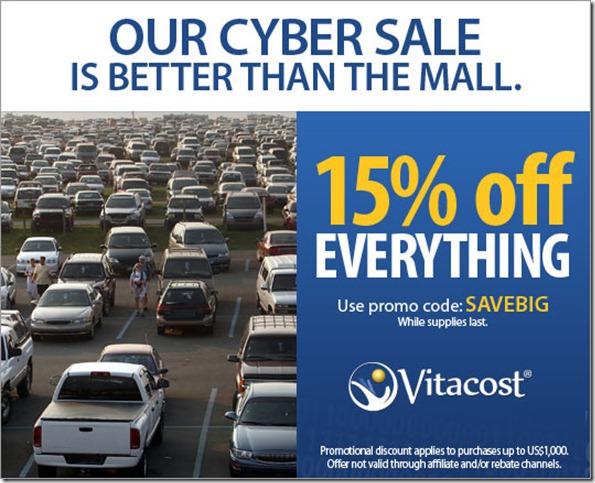 Vitacost.com:
I recently learned from another local blogger about a pretty cool online store that sells a bunch of different health, beauty, and wellness products.  In the words from the store–
"With Vitacost.com, you don't have to choose between stores that sell products you don't really want at super-low prices, and stores that sell the better health and wellness products you want at crazy-high prices. We offer over 2,000 of the top, most-trusted natural brands, diet foods and healthy living essentials-the very best nutritional supplements, whole foods and sports nutrition-at discount prices, up to 50% off. And we'll deliver them right to your door for FREE if your order totals $49 or more. Otherwise, shipping is just a small, flat-rate fee of $4.99, no matter how big the box."
Now here's the fun part.  In addition to the regular savings (I looked at  a few products I use, like protein powder, and the prices seem really good) there is a great sale happening NOW (Today, 11/24 8 am CST through 11/26 10:59 CST)
15 percent off EVERYTHING!  So go check it out.  'Tis the season to spend a lot of money, right?
And there will be a giveaway coming soon, so stay tuned–if 15% off isn't quite enough for you, perhaps free will work better?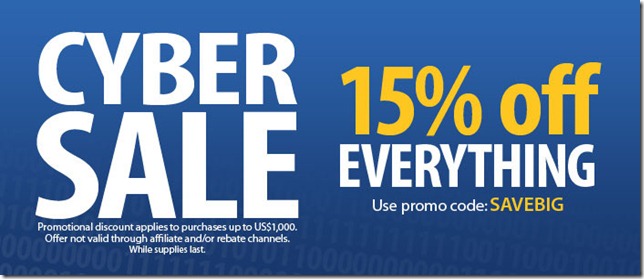 Do you like shopping online or in stores more?