The ship tenders off of Grand Cayman, which means it stops a little ways away and you get onto a smaller boat to go to shore.  We had to meet at 9:20 am ship time for our transportation to the excursion, so we allowed about 45 minutes (the ship recommended this).
Room service showed up promptly this morning (going to be a great day!)–coffee, muffin, bread, fruit, smoked salmon, etc.  We left our room and got on the tender in practically no time.  About five minutes later we were on Grand Cayman Island.  Like I said before, we booked an excursion with a local company.  The excursion was called Stingray City Waverunner Tour.  We would go to a resort, get waverunners (jetskis, whatever), jetski to stingray city, play with the rays, jetski to Rum Point, hang out a bit, jetski back.  Chris and I were going to share one jetski.
We walked over to the area we were to meet our transportation.  On the way we got some coffee (very expensive in Caymans!  Close to $3 each) and stopped in at the rum cake factory, since I recalled that from before.  It was an hour earlier than ship time, barely 8 am at this point, and folks were just setting up souvenir stands and such.  Not too many people had gotten off the ship yet, it seemed.
We were to meet our transportation to the resort at a church by a store called the Blue Iguana.  It was actually a little harder to find than the email made it seem, and I got a little nervous.  Out front of the church there was a man who did not look like a person who was waiting to drive people, he just looked like he was hanging out there, possibly all day.  He was also not terribly friendly.  Since I had planned this, I was concerned, and Chris was giving me a look like, what are we DOING?  We got into his van (still, I was thinking perhaps if we needed to escape and run away that was possible).  Ultimately we ended up at a hotel next to the beach (not seven mile, but an interior beach)…where we met our guide PLUS ten or other people who were from our ship also.  So we immediately felt much more at ease, and the tour started.
I took along a waterproof camera for pictures of the tour, and had to send it off for developing, so unfortunately I don't have pictures of the trip yet.  I'll edit some in when I do!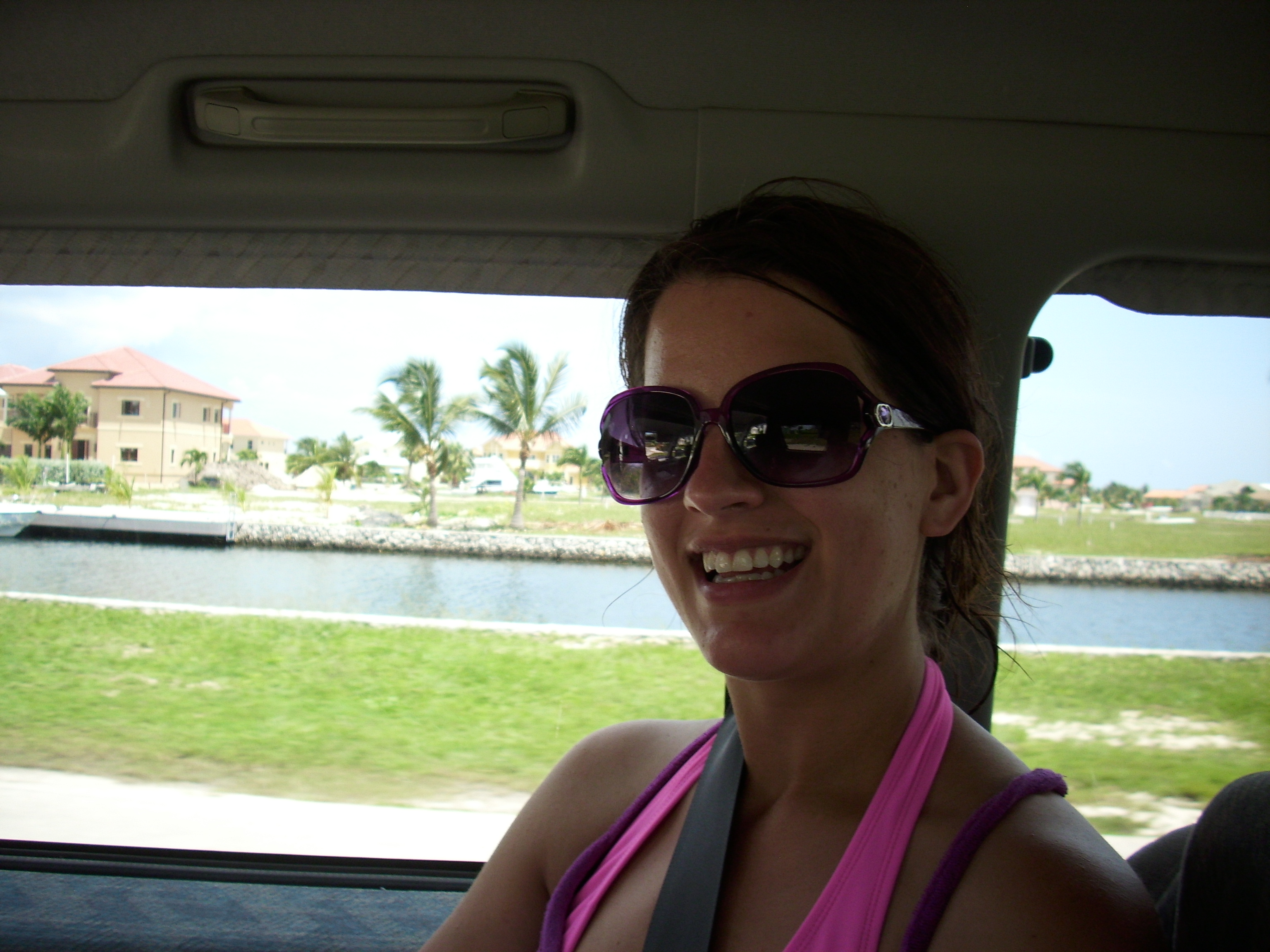 So, like I said, we got fitted with lifejackets, and got on the jetski.  Two disclaimers:  I researched this tour beforehand and knew people had enjoyed it.  Also, it was Chris's idea to do the jetski–he thought he seemed fun, so I was perfectly willing to let him drive.  I simply sat behind him and held on for dear life!
We started out across the ocean.  WOW!  The waves were pretty calm, and after Chris got the hang of it, we went FAST.  We were all spread out but following the guide.  The first stop was to be Stingray City.  Now, let me explain.  I had been here before, on a boat.  There is a place in the ocean, not too far away, where the water is really shallow and lots of stingrays congregate.  Tourists go out to get in the water with them, pet them, feed them, and supposedly giving them a kiss is good luck. When I first mentioned this to Chris he thought it sounded like a terrible idea, but I couldn't find a decent sounded tour that DIDN'T visit Stingray City.
We got there, and the guide tied up the boats, and we all got into the water.  Stingrays are fairly harmless, but you need to shuffle your feet when you walk (yes, it's that shallow) as to not accidentally step on one.  We were given squid to feed them and soon a bunch were circling our group.  Our guide picked one up (arms straight ahead) and one by one, we each were encouraged to hold it ourselves, give it a kiss, and of course, get our picture taken with it.  The funny thing was that Chris absolutely LOVED this!  Goes to show, I need to just plan things that I think he'll like, and he will.  He said he imagined it much differently and more weird/creepy than it actually was.
After awhile we all got going again.  Next stop was Rum Point, a more secluded beach around the other end of the island (feel free to google a map!).  I had been there before also, but it's a long car ride.  Jetskiing (and probably boat) is much faster than driving, because the route is more direct.  Chris again went very fast, and after awhile (ten minutes?  more?  no idea!) we got there, and again, tied up the boats.  There was a restaurant/bar, but it was early for lunch so they were just opening up.  We just had some water and sat watching the ocean for awhile.  It was a gorgeous day, though in the distance, storm clouds threatened.
Finally we were to jetski back to the starting place.  We went just aways and stopped, where our guide picked up some starfish and brought them around to us to hold for…photo ops!  (you get used to lots of photo ops on a cruise).  They were pretty neat though, but compared to the stingrays, not so much.  Then we headed off again.  This time the waves were rough and a bit choppy, and it was tough going.  I thought I was going to fall off the waverunner several times, and Chris was struggling.  We were relieved to get back to land!  All in all it was a fantastic tour and we would both do it again and recommend it to others–Stingray City Adventure.
After the tour we were pretty tired and hungry.  We got a ride back to the cruise ship terminal.  We debated eating lunch on the island (the ship wasn't leaving until 4:00, last tender at 3:00) but since the prices were high, and basically it was all touristy stuff around anyway, we just did a little shopping (Chris wanted some cuban cigars!) and went back to the ship.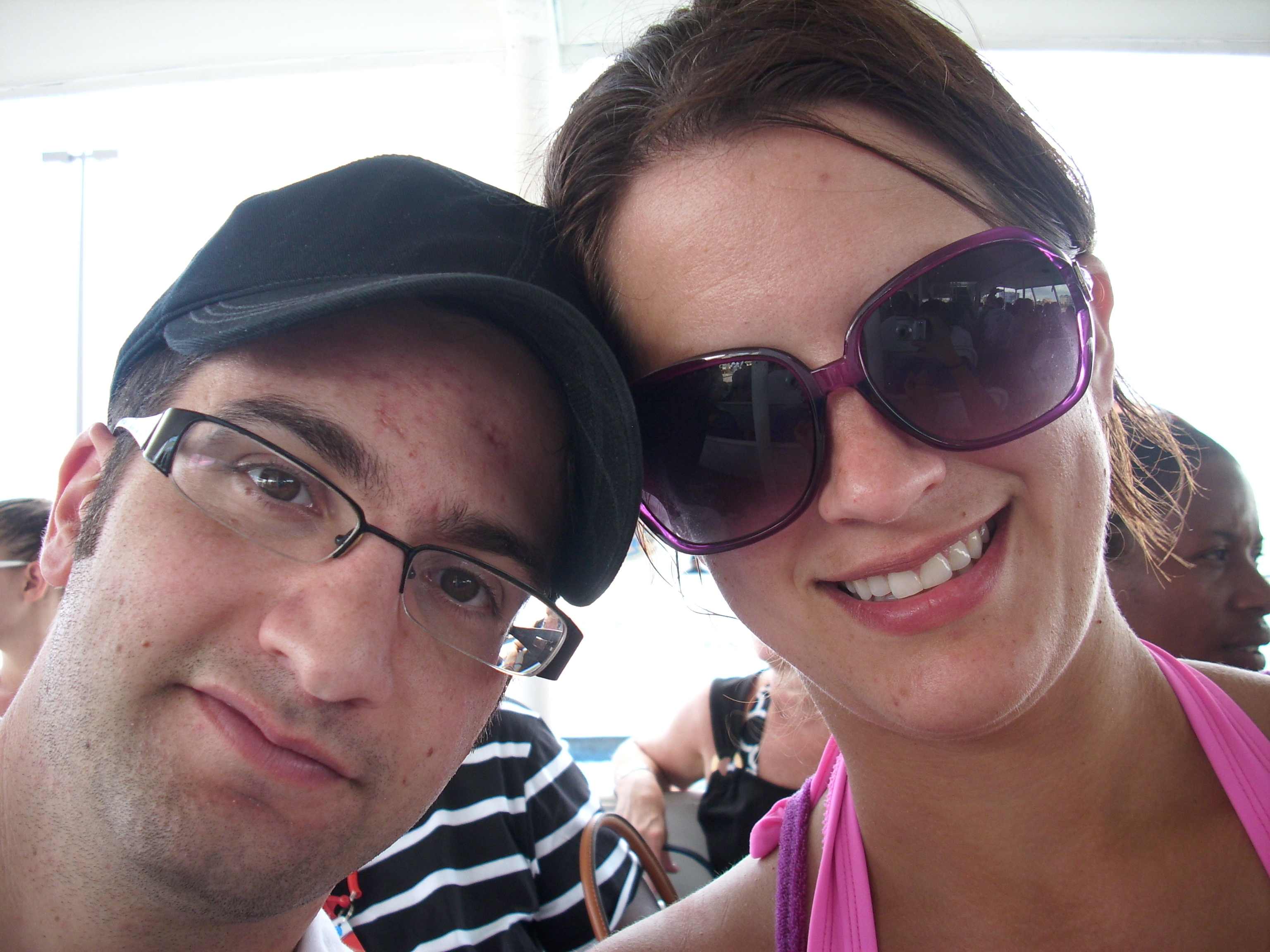 We ate lunch at the lido (Taste of Nations: Southwest) and then went to the gym for a bit.  We wanted to do cardio as we were feeling QUITE fat, and the gym was pretty empty.  However the treadmills were in the sun, and were ridiculously hot.  I did my best, but I felt like I was trying to run in a sauna.  Then Chris took a nap and I read on the balcony and watched the ship sailaway again!
Dinner was to be at the Golden Fleece Steakhouse!  I had made reservations beforehand, but it didn't seem to have been at all necessary.  Since we were enjoying the company of our dinner companions and they expressed an interest in the steakhouse, we invited them to join us.   It was not a problem to change our reservation to four people.  We planned to meet for a drink at 7:45 and then go up to the top of the ship.
The service was impeccable from the beginning.  The bread was delicious, and I ordered the escargot, caesar salad, and surf and turf.  Chris and I split a bottle of red wine.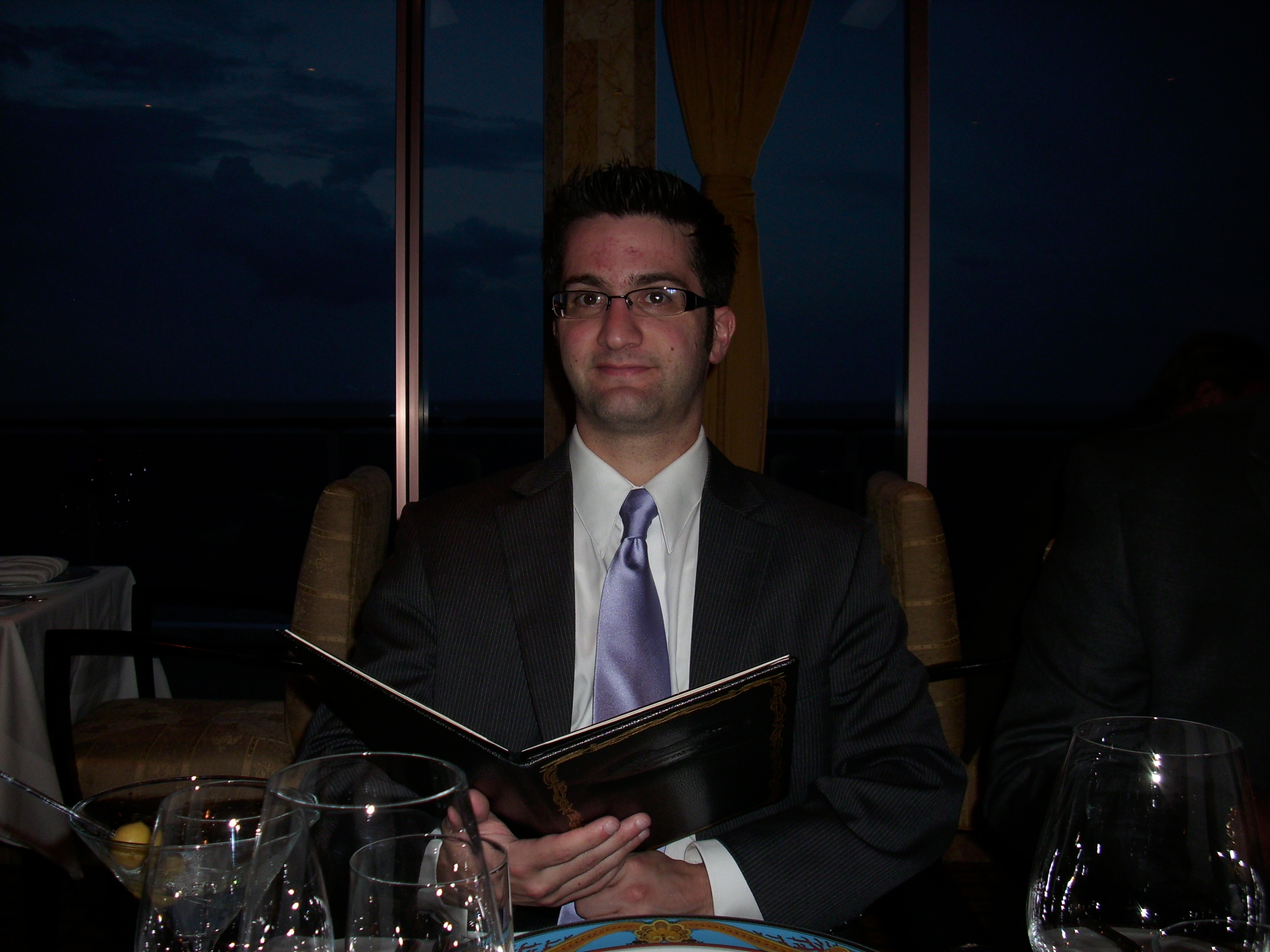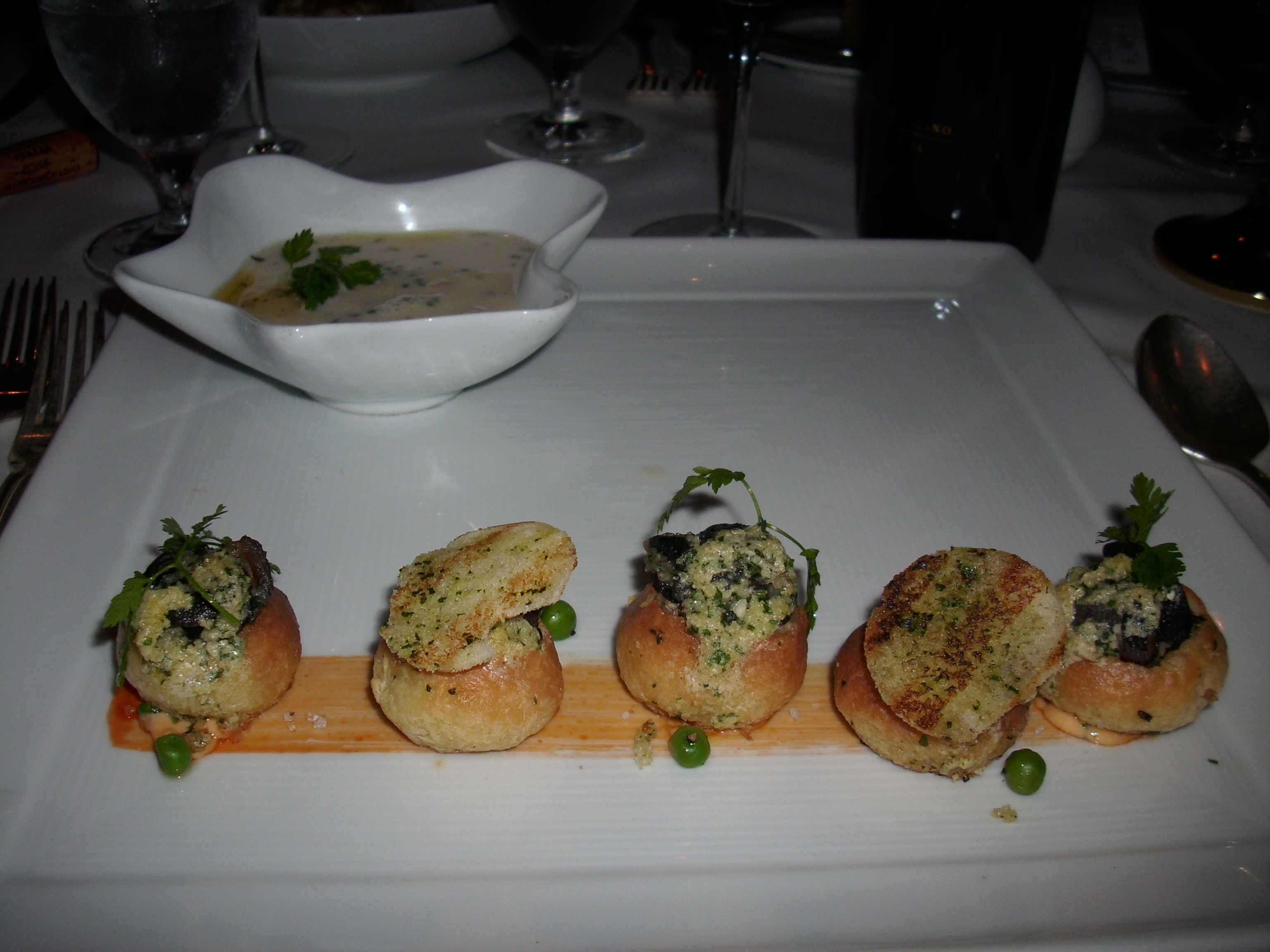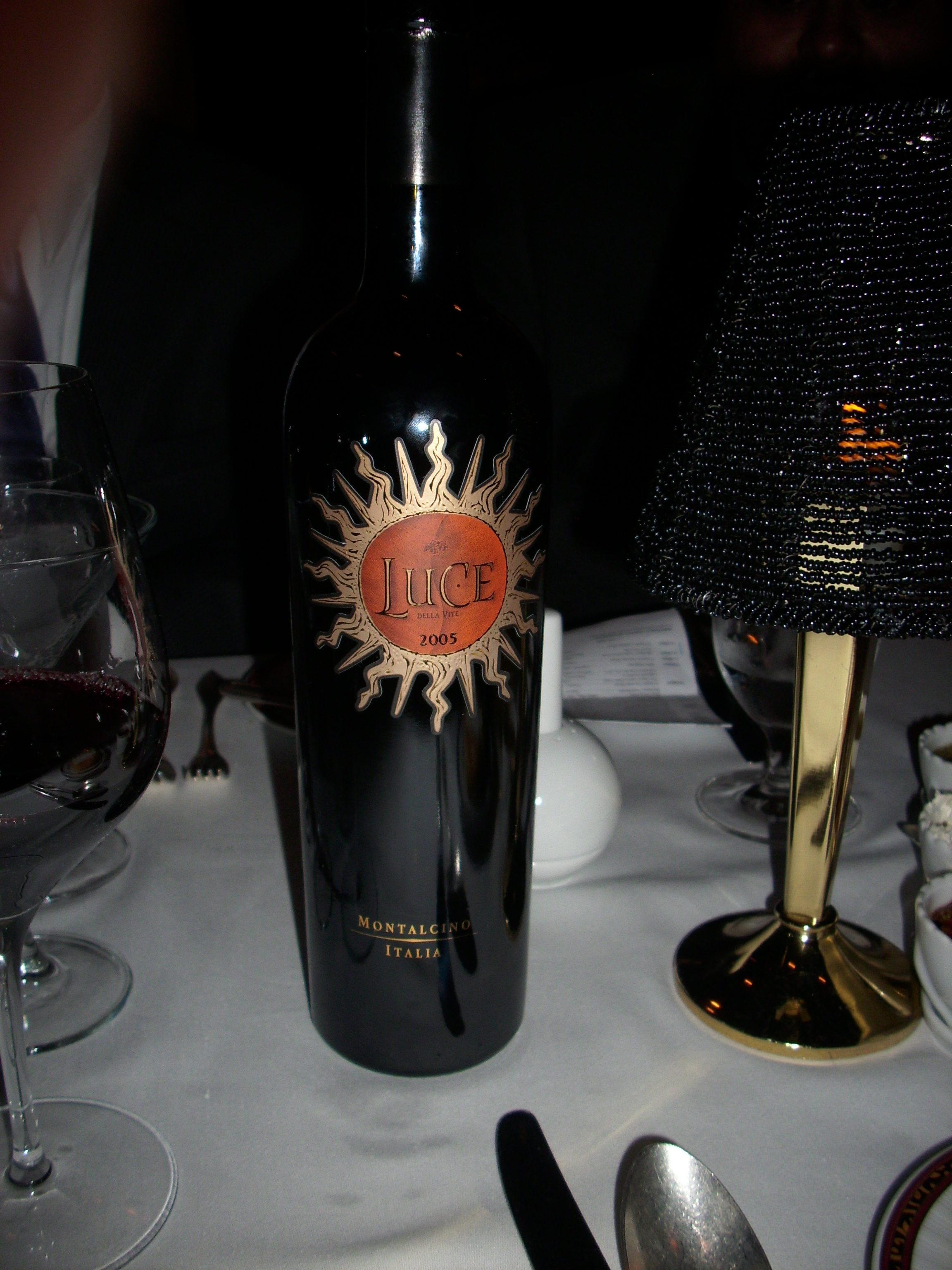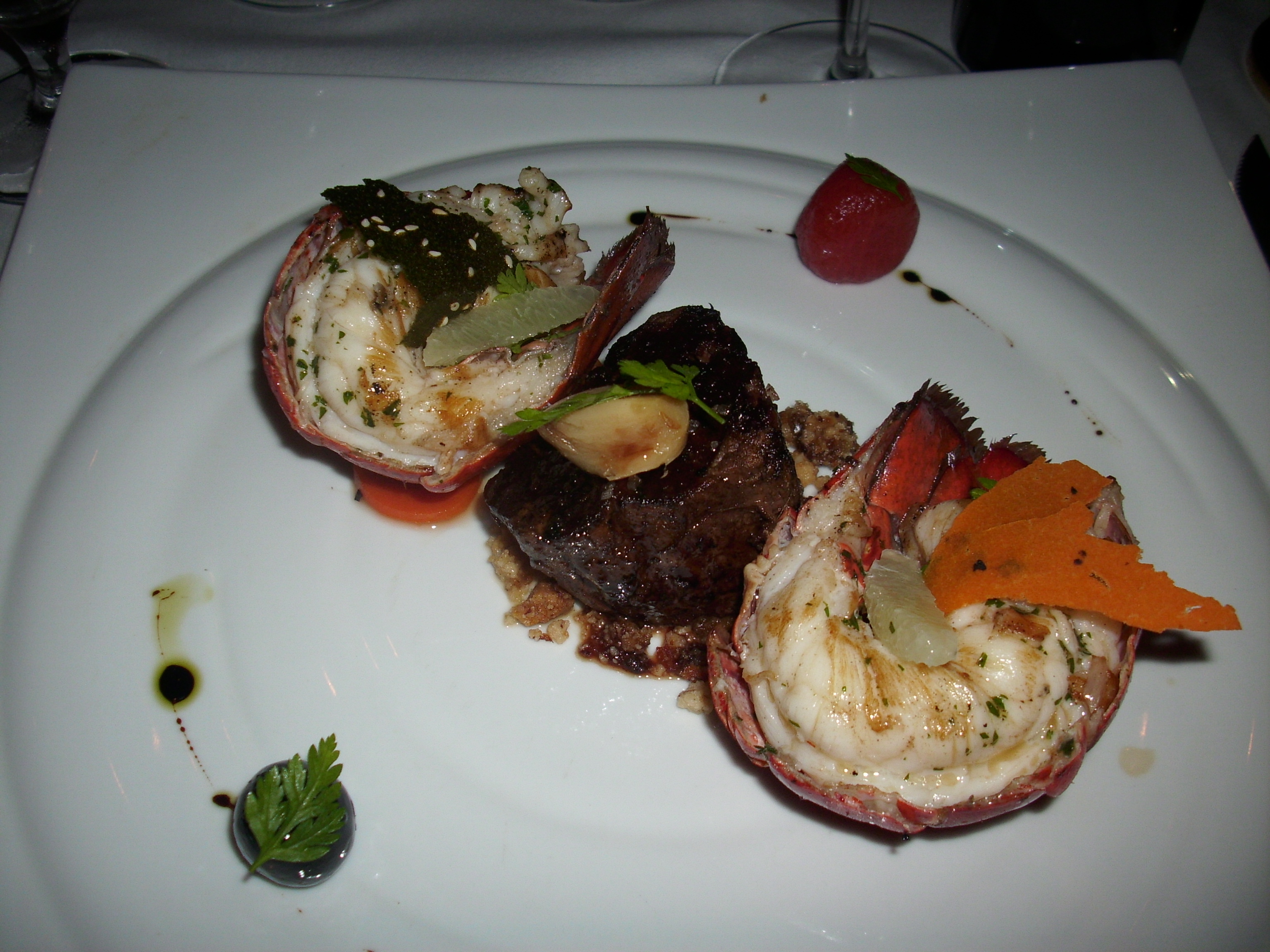 We were all pretty stuffed at this point, but since dessert was included…we had to order!  Plus coffee of course.  Overall the experience was not-to-be-missed and was the perfect ending to a wonderful day of fun and adventure (not to be too cheesy, but seriously!)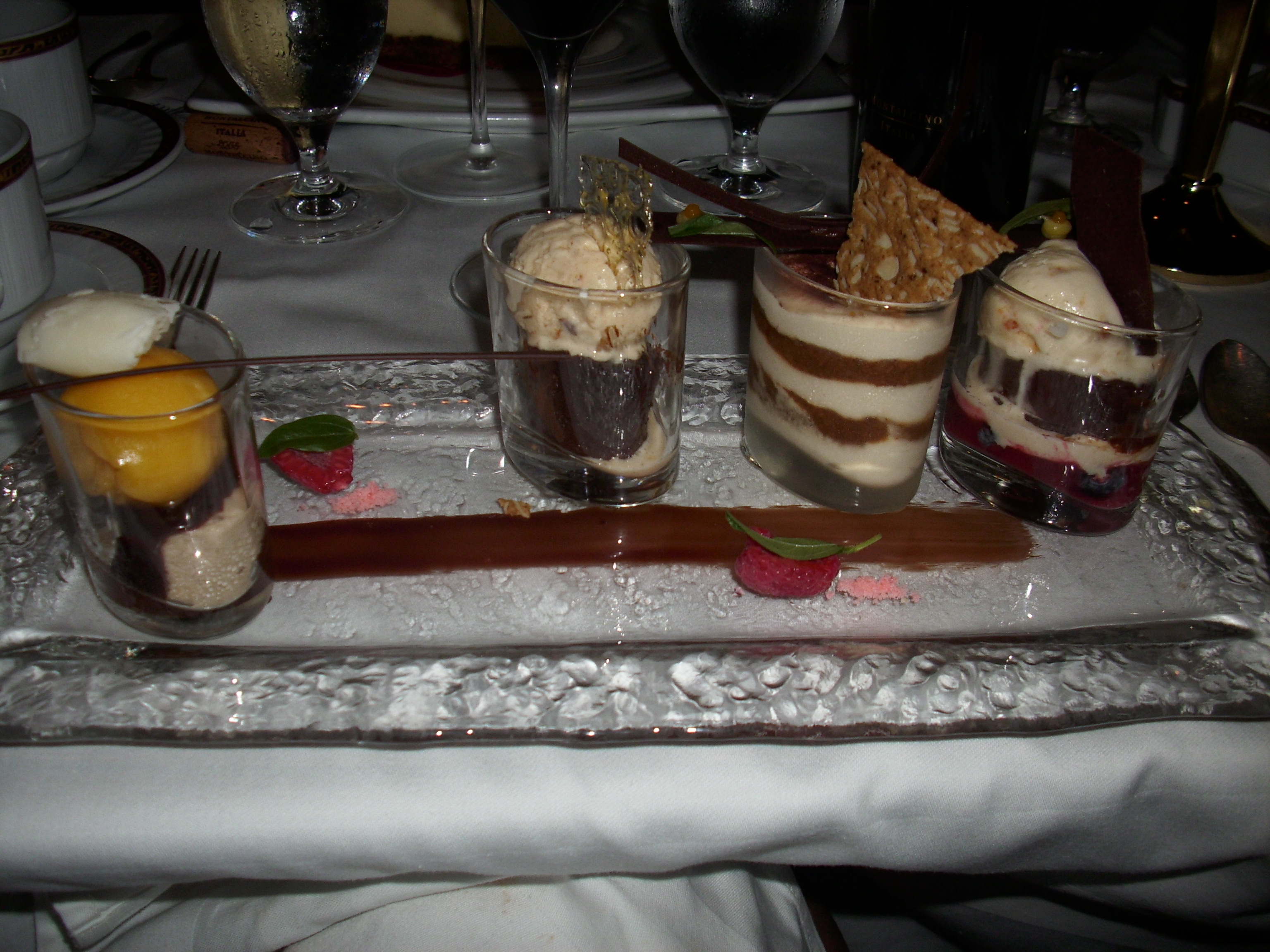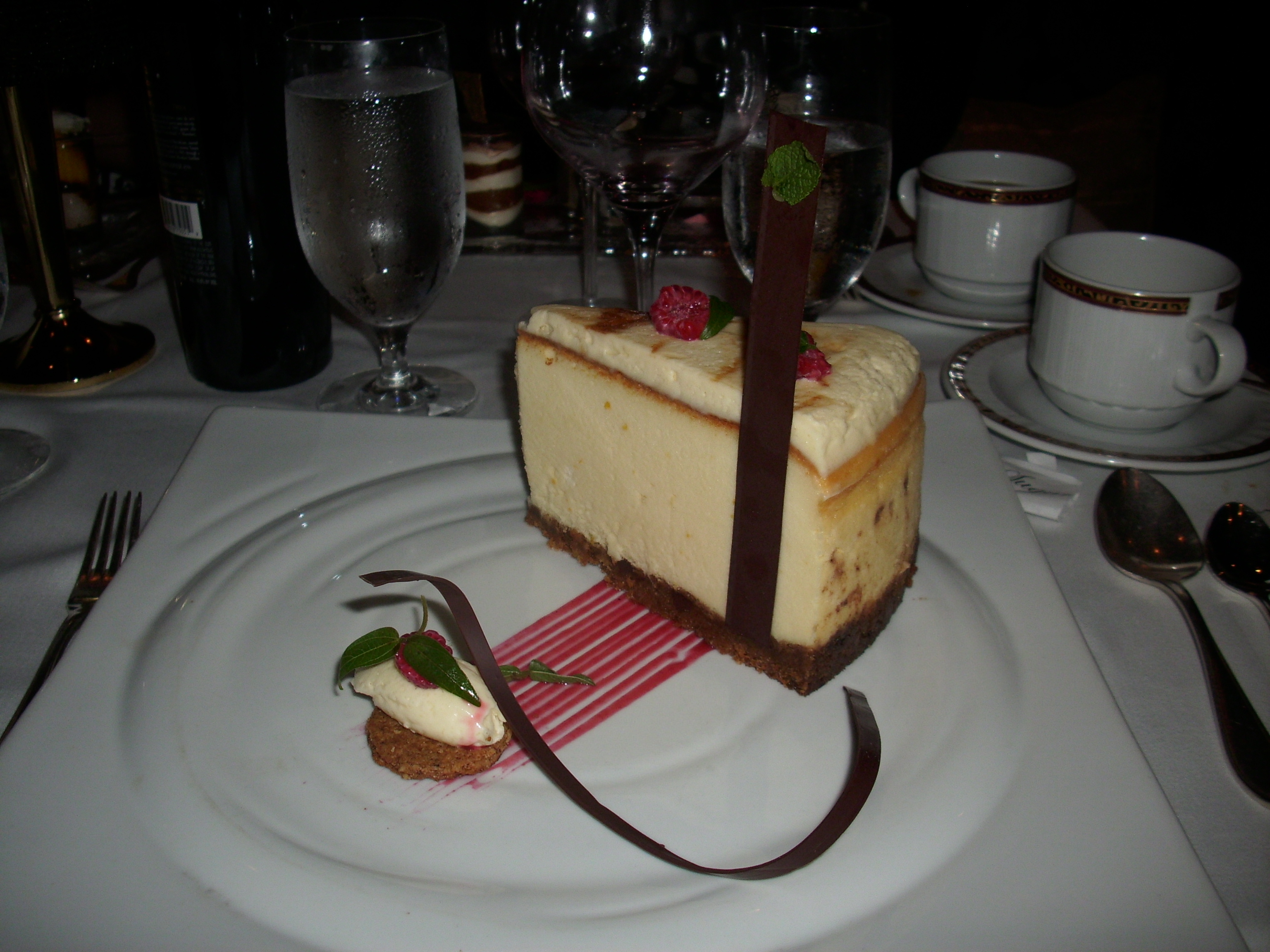 It was the sort of meal where at the end you can't believe you managed to eat so much and then keep eating.  I was really uncomfortably full, to the point where all I wanted to do was lie down.  So we bid our dinnermates adieu and went back to the room to purge.  Or you know, read or watch tv.  Whatever.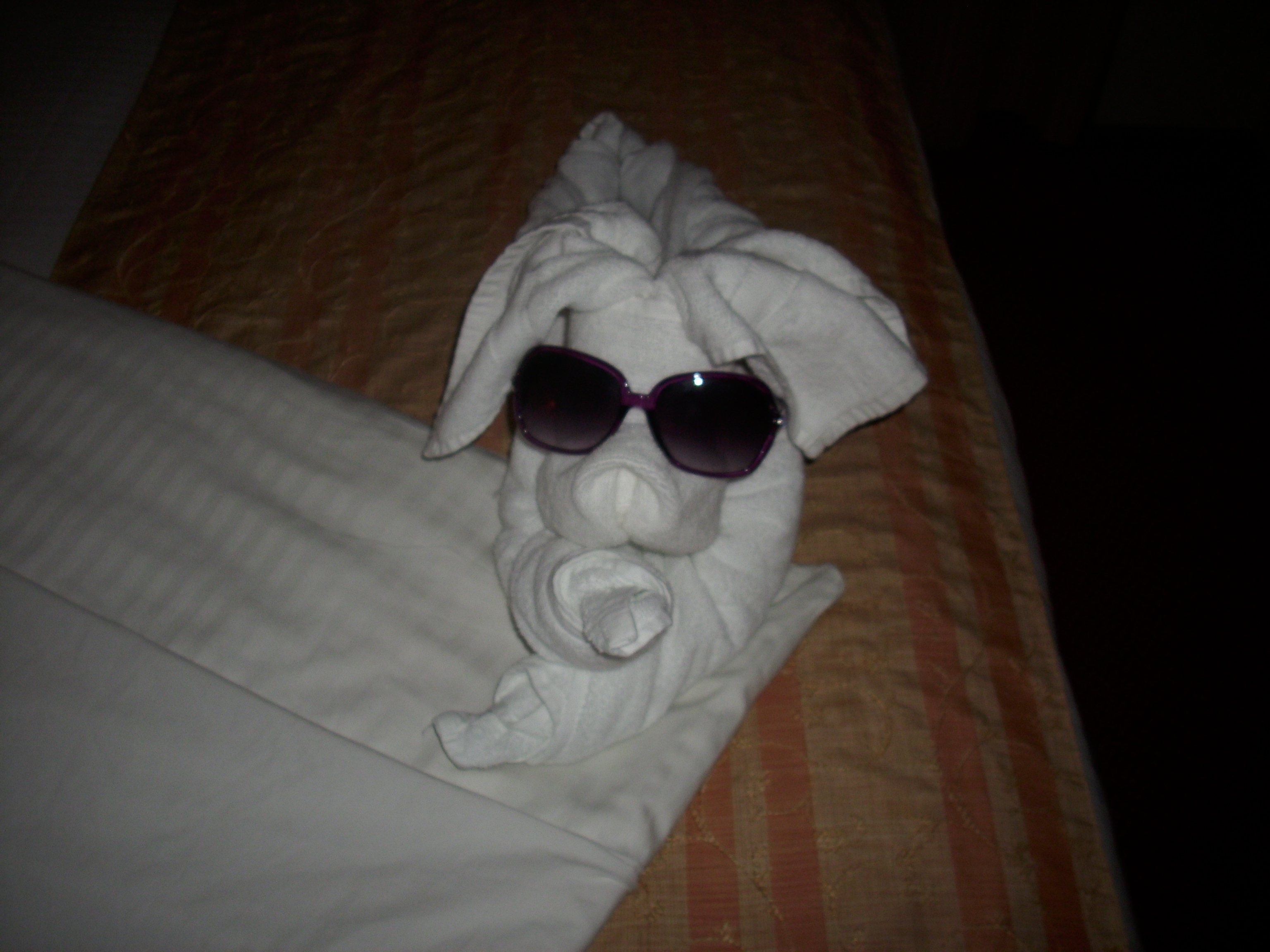 Tomorrow:  Cozumel, Mexico.  I had reserved spots for us at an exclusive beach club called Nachi Cocum-all you can eat and drink for one price.