Well, finally our cruise was nearing its conclusion (sad!).  I slept it quite a bit, ordered room service, and read outside on the balcony for awhile.  I had still managed to finish about 7 paperbacks during my week!  There were a few interesting activities happening through the day, but we didn't really make it to any of them!  We went to the gym and then decided to try lunch in the Dining Room (never done before!).
Just fyi:  when you go to the dining room they ask you if you want to sit with others.  We were confused by the question, but quickly learned this meant they seat you at a table with other random people.  It was fine, but in the future I would probably say "no."  Lunch was fine–I had antipasto and a tuna sandwich.  Chris had a burger that he didn't think was very good.
After lunch I did a little souvenir shopping and then we wanted to go to the sun deck.  We relaxed in the sun for an hour or so, and then went back inside.  I insisted that we do some packing (our suitcases needed to be outside the room by midnight, and I knew we wouldn't want to pack it all later) and Chris wanted to smoke one of his cigars.
After that, we didn't really do much at all.  It was great!
The FunTimes (daily paper) said there would be live music with the Legend showband before dinner, so we got ready early and headed down to listen.  They played some jazz, and it was very nice.  We went to dinner for the last time 🙁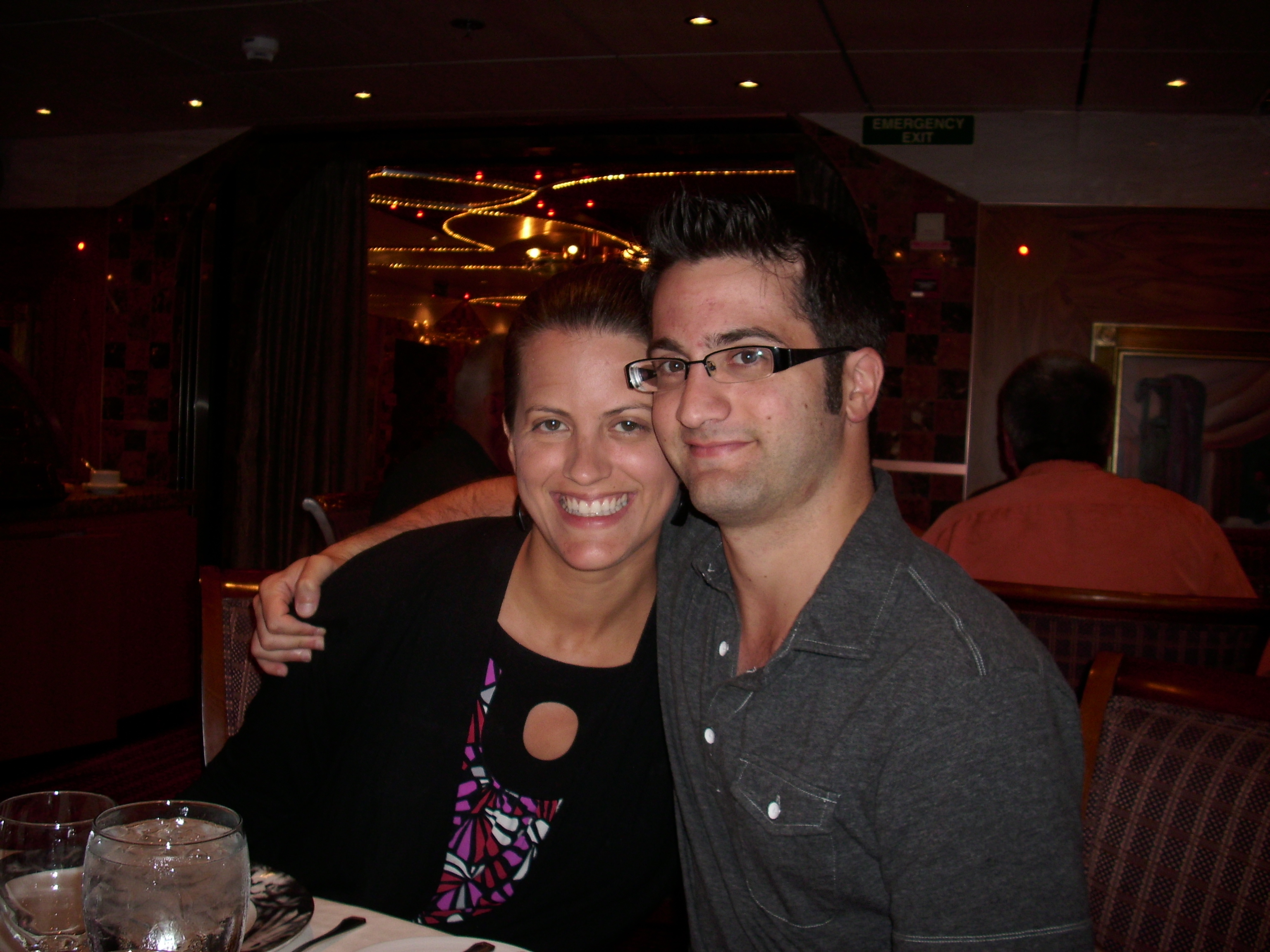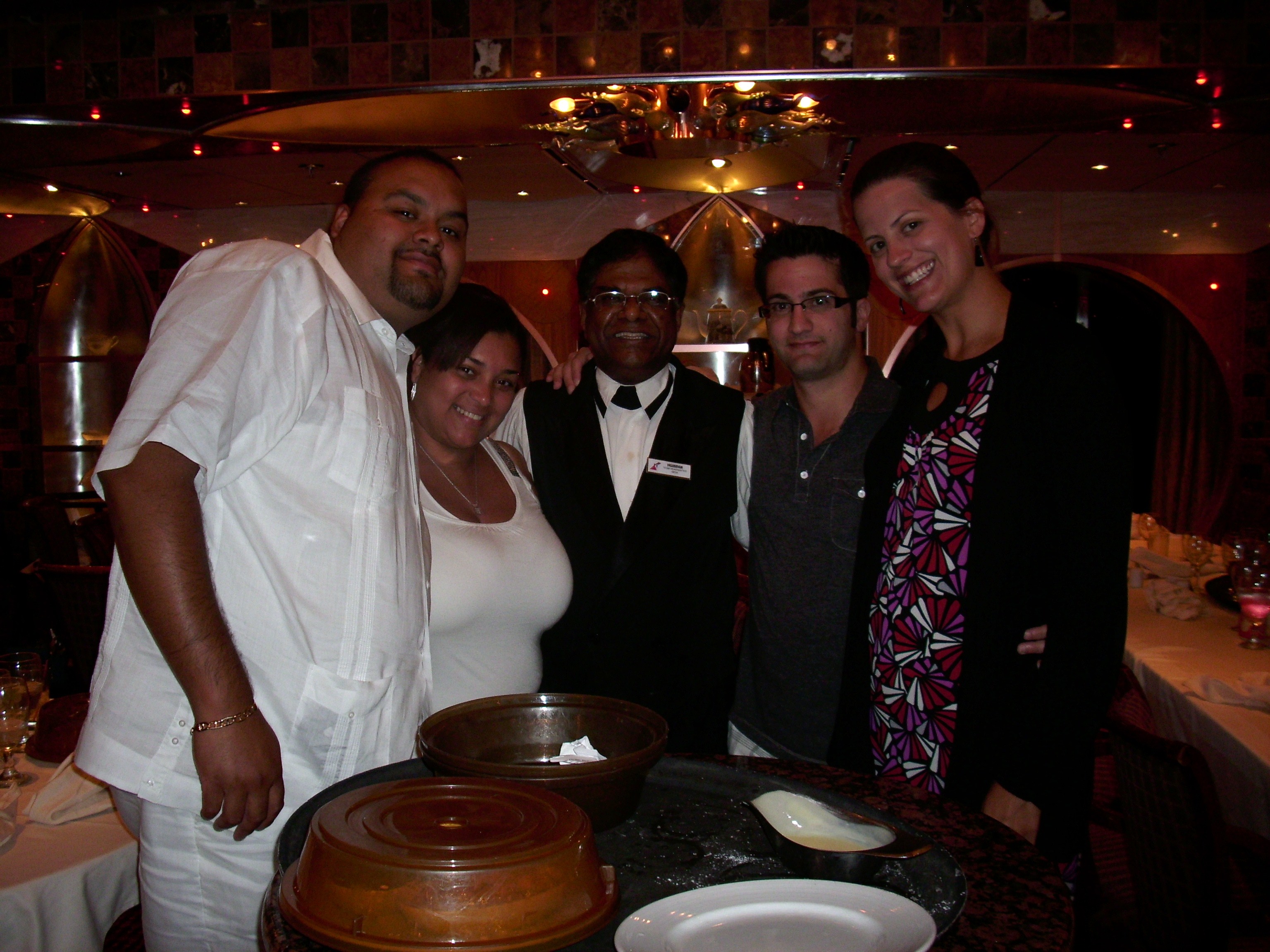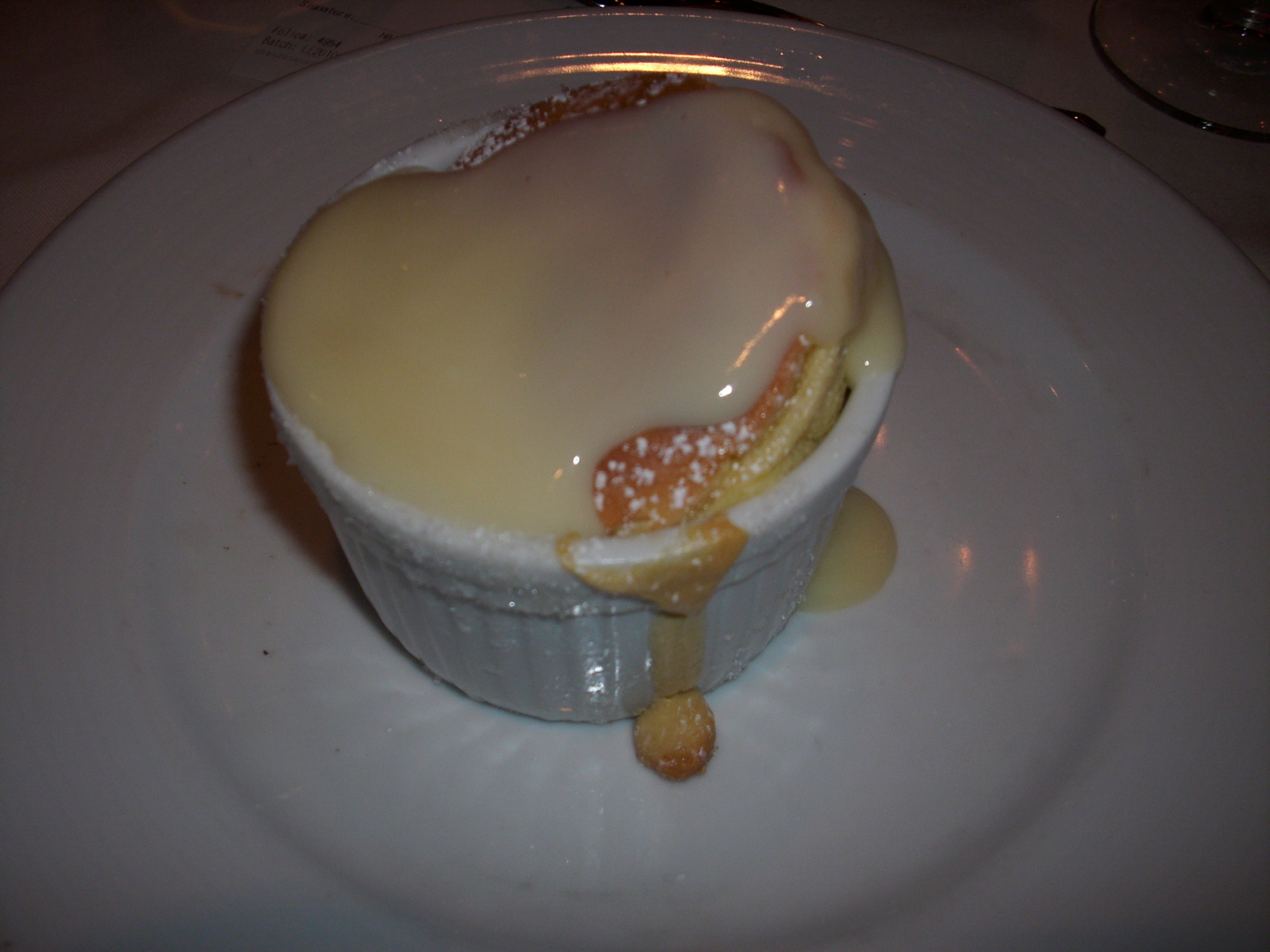 After dinner the whole table went to the Casino to try blackjack again.  I am not much of a gambler, so I just hung out.  Chris didn't do very well, so then we all played some other games, including the penny slots, where I turned $20 into $80.  So that was fun!
We stayed up pretty late, but finally did need to get to bed.  The next day would be early and long.
Day 8:  Disembarkation
We were in zone 14.  This meant we had to put our bags out in the hall the night before except what we needed.  We needed to vacate our stateroom by 8:30 and when our zone was called, we could leave the ship.  We actually had a late afternoon flight so we were in no rush.  We decided to eat breakfast in the Dining Room (eggs benedict!) which was again something we hadn't done.  Then it was only a little time until our zone was called.  It went very smoothly, and soon we were on dry land…
We got home safely later that night.
Okay, so wrap-up:  I currently have a bad cold, I wonder if I got it on the ship?  I don't remember anyone being sick, but who knows.  We had a fantastic time overall, and definitely want to cruise again, but we might want to try another line.  We would have preferred more classical music or jazz and perhaps more "upscale" activities like the wine tasting.  However it was overall a fantastic vacation, and we enjoyed the wide variety of activities.  Chris was happy with all the excursions I planned, and I was happy they all turned out to be as good as I'd hoped while planning them!
I wrote a brief review for the website that helped me so much, cruisecritic.com.  Here's the link to that if you want.
Thanks for reading!  I hope to go on another cruise next summer.  If I do more teaching during the year, I should be able to better afford it 🙂