Saturday was a pretty busy day for me.  I had three weddings that day.  If you aren't a wedding musician, you probably wonder how that all worked. (If you are, I'd scroll down for the cat pictures and then for the wine.)
Here's a day in life of Hannah.
Saturday morning:  Woke up around 8 am.  Had my overnight oatmeal.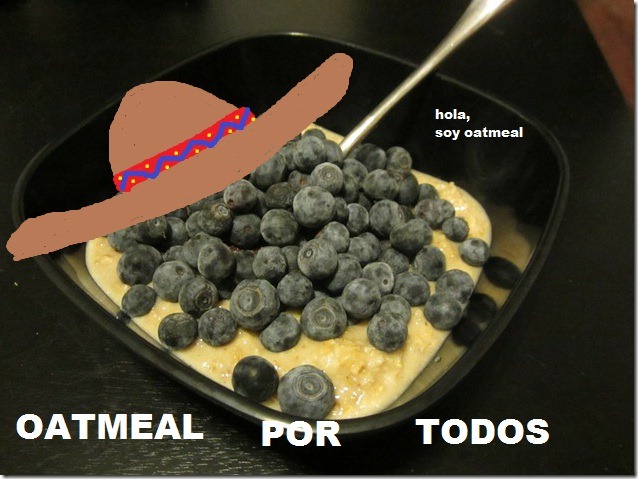 (stock photo)
Around 9:15 I left the house to head to pick up my friend Laura on the way to Lafayette Park United Methodist Church.  We started prelude at 9:40 for a 10:00 ceremony.  I was playing with a string quartet.  We did the usual stuff:  Jesu, Joy of Man's Desiring, Pachelbel's Canon, Wedding March, etc. 
The organ was BEAUTIFUL.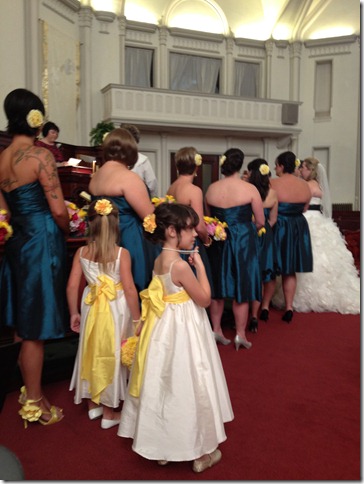 I liked the color scheme of this wedding a lot.  We were up close and personal with the party.  I was thinking to myself, I wonder what time they had to get up to get their hair and makeup done?  I got married at 5:30 pm and still had to wake up around 8 am…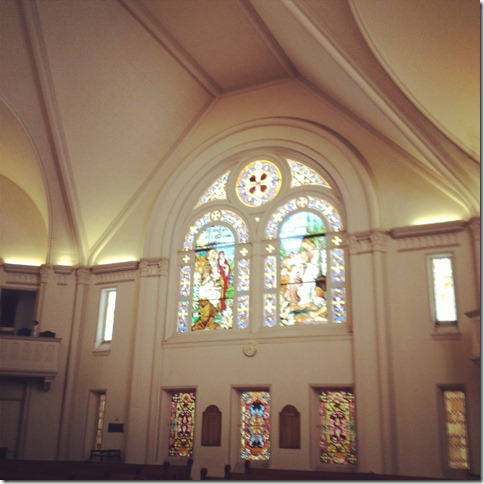 The back of the church.  It was definitely an old church, very cool.
We finished around 10:45 or 10:50.  I went back home and did a few things around the house and ate a quick lunch.  Then I was off to Belleville, Illinois, for the next wedding.  This one was with organ (and trumpet and singers, which I didn't know until I got there.)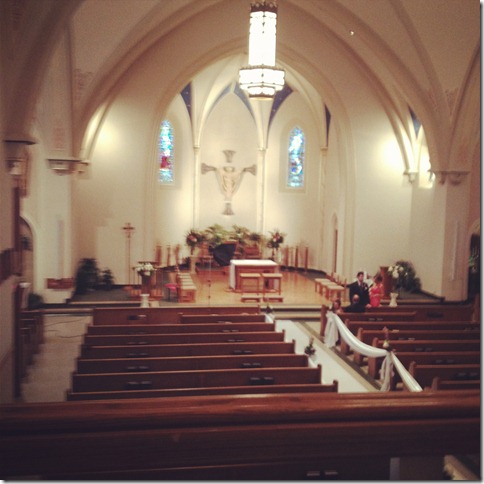 St Mary's Catholic Church.  I was up in the organ loft for this one, which meant I had time to kill in between songs.  I may have done a little texting during it.
Another cool organ, though not quite as awesome as the first one.
The mass started at 2 pm.  I played a few prelude pieces, but wasn't in all of them.  Then I was also playing some of the processional and various parts of the mass.
Like I said, I had some time to kill.  I tried a few self portraits: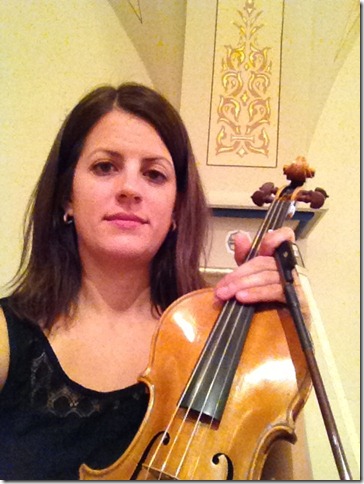 I should mention I woke up with my eyelid swollen like that.  I don't know why.  It didn't hurt, but it was puffy.  I'm guessing either lack of sleep or allergies, or perhaps some combination.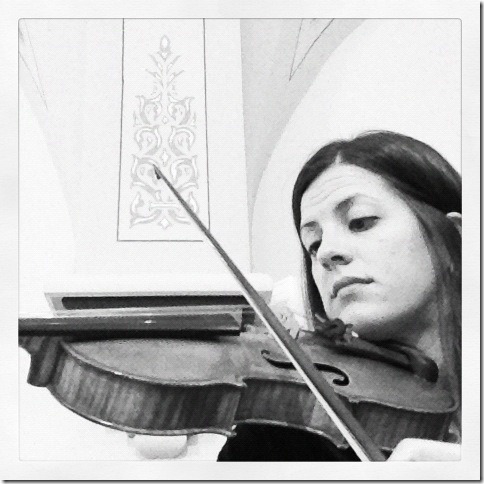 Self Instagram Portrait.  I like it, but it's mirror image and totally weird!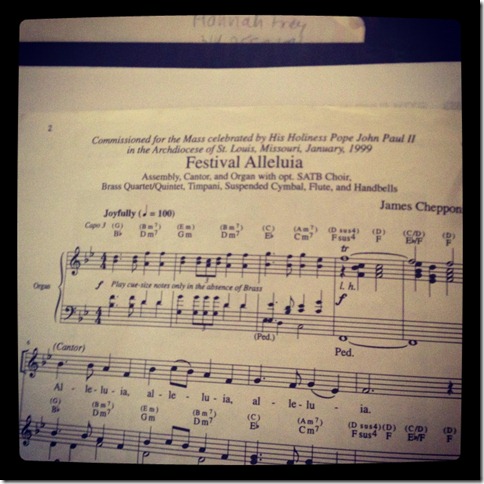 Then I noticed I was playing a piece written for the Pope's visit to St Louis.  I sent this picture to Sarah because she loves everything about the Pope.
In return she sent me these (well, she sent them and then I instagrammed them for her.)
The mass ended around 3 pm, and after a bit of chatting I got on my way. 
As I drove away from the church the guests were releasing balloons into the air.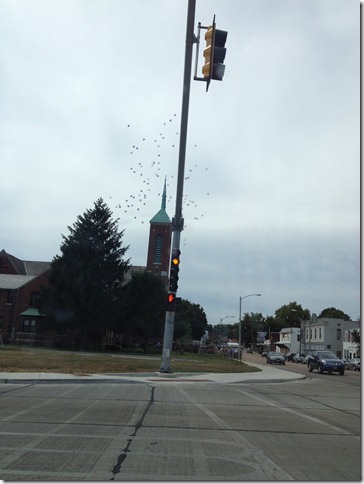 So then I made an slight error in judgment.  I knew there was some traffic back into the city, but I just didn't want to take the southern route:  it takes about 50 minutes, versus 30 the regular way.  I just didn't think the traffic would be that bad, but it was.  One of the interstates was closed and everybody had to merge from 4 lanes to two and it added about 40 minutes to my drive.  I was totally annoyed, but luckily I wasn't cutting it too close on time, and I was chatting on the phone with a friend so it wasn't all bad.  I got home around 4:15, and had a snack.  Laura was picking me up at 5:15 for our last gig of the day.
Lesson learned:  if there is any doubt about traffic, just take the southern route. 
My last wedding was another quartet gig (both quartet gigs were with a group I play with often called Serenade Strings), this one at Oliva on the Hill, a venue I hadn't played at before.  I didn't know what to expect, and I was surprised by a) the fact that it was outdoors, though a courtyard rather than completely open and b) how cute it was!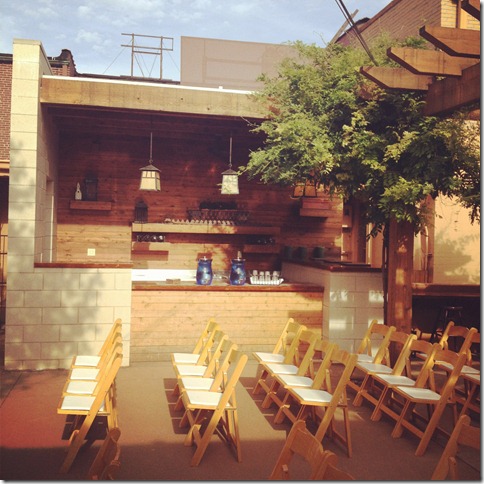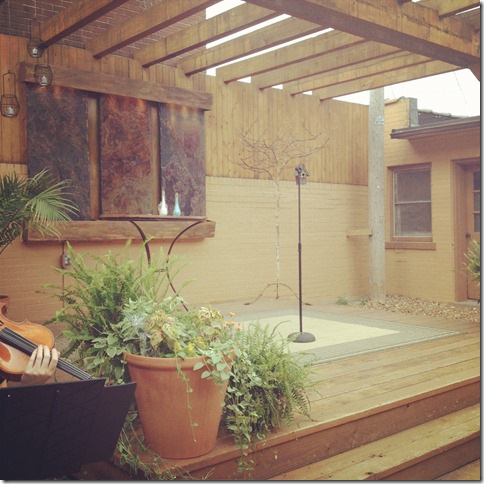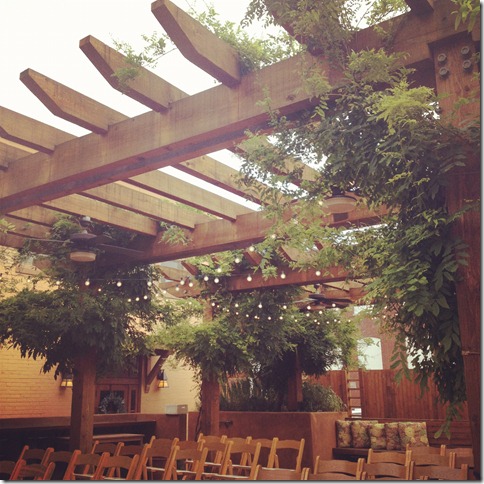 We played some more "contemporary" music for this wedding, like Clocks by Coldplay and Love Story by Taylor Swift.  It was short and sweet:  prelude at 5:45, ceremony at 6, on our way home by 6:30. 
(Side bar:  Leslie's intended, Peter, sent me this picture of Leslie on top of the "Royal Arch."  I assume that's in Colorado somewhere.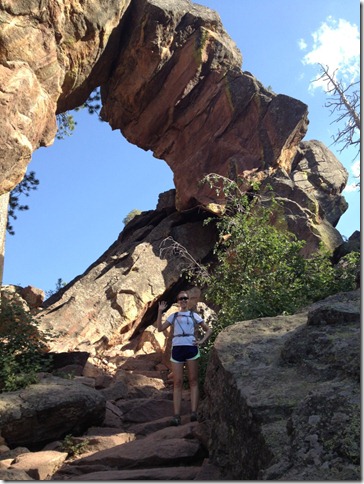 Side bar ends)
I got home by 6:45.  Chris had an opera performance that night, and I had dinner plans with Laura, Jon and Benny (the baby).  Chris was meeting us after his performance.
I got this in the mail from Leslie: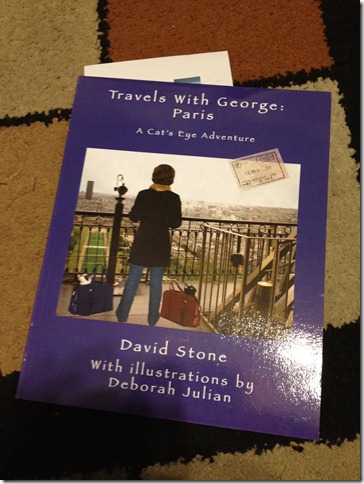 I haven't read it yet, but I'm guessing it will convince me to take my cat with us to Paris in September…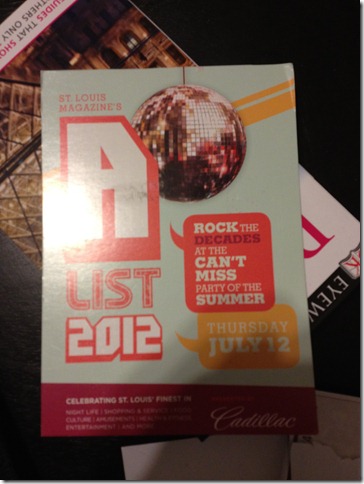 Also got this in the mail.  St Louis Magazine, I think I should get free tickets to the party since you know I'll blog about it!  Plus, I'm totally hip and fashionable…okay, maybe not, but I am an interesting character and would add a certain something to the party. 
Okay, so around 7:30 pm I headed over to Jon and Laura's for pizza, wine, and baby.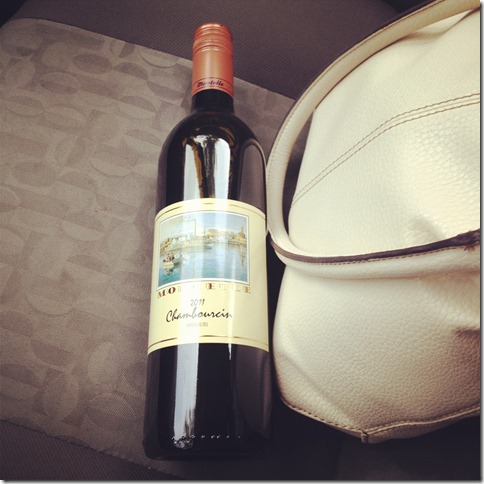 I brought a bottle from a local winery, Montelle Winery.  Chris played a concert there a few weeks ago and then stayed for a several course food and wine dinner.  He was pleasantly surprised by the quality of the wines, so he bought a few bottles.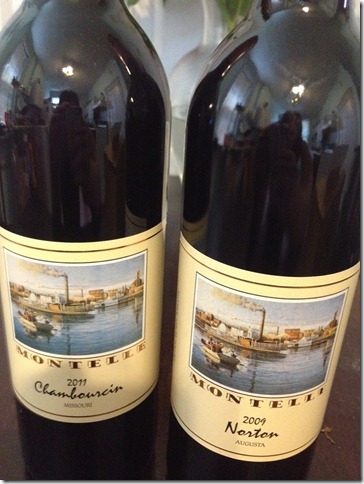 We had pizza and salad with our wine, and then tried some ice cream Laura had made in their new ice cream maker.  It wasn't quite right—I think ice cream making must have a bit of a learning curve.  I have no doubt she will figure out how to make it amazing soon enough, and frankly, did I really need much ice cream?  No.
Then we headed outside to relax.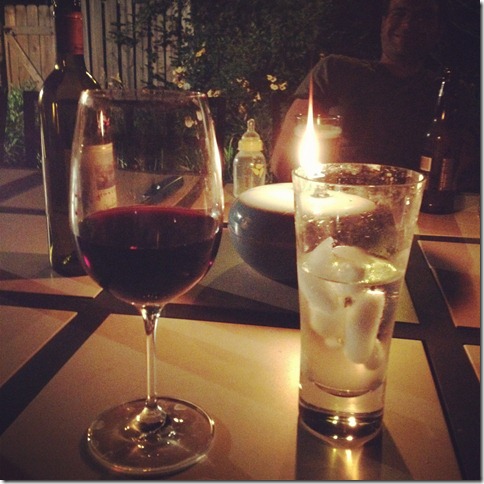 Chris showed up after the opera, plus this little fellow finally woke up.
Don't you just want to tickle those feet?  I'm going to assume YES.  Sadly, he doesn't seem to be ticklish yet.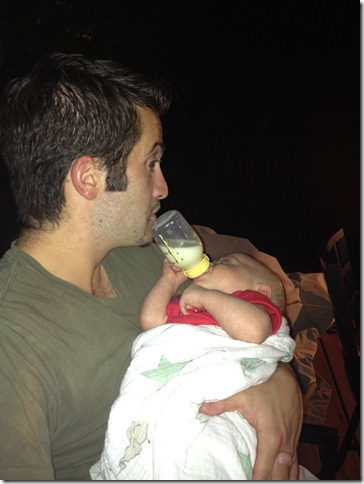 So after we finished off the wine, it was late and I was exhausted.  So we headed home and went to bed.
The end!