Today's post is about being sick, running, and my cat.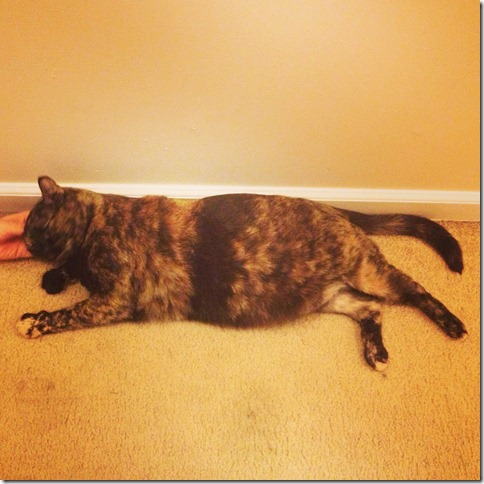 Yesterday was my first day back to my gym this year. I'd thought it might be busier but I think it was in fact, emptier than usual. Then again it was 9 am on a Tuesday. It was lower body workout day with Mike (my trainer), so we did front squats, rear squats, one legged squats (which I remember being a disaster in the past but worked just fine), and kettlebell swings. It seems like that wasn't that much stuff but we were doing a lot of sets of each thing.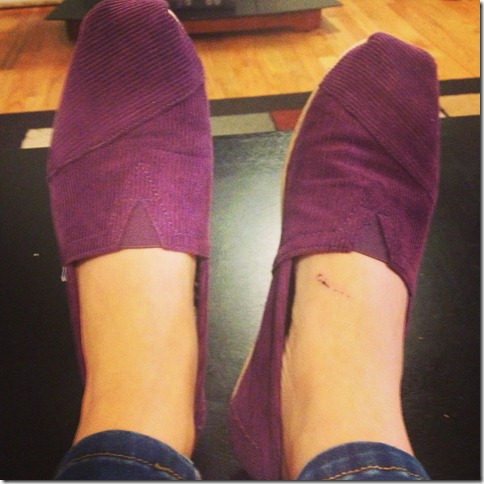 (See that red mark—that's from New Year's Eve when I cut my foot on my own shoe! Thanks to Leslie for the purple Toms, which are not slippers, they are actually shoes.)
Stuff we talked about at the gym yesterday:
He said, oh, you have that half marathon coming up, have you been doing any running? I just looked at him.
We also discussed getting food poisoning as a diet method. He had food poisoning or a stomach bug (who knows, we are not doctors) the other week and lost ten pounds in one day (so he says). He was proud that he hadn't gained all of that back. We decided that perhaps getting the stomach flu right after the holidays was the perfect timing, at least for him. (He had said before that he lost ten pounds leading up to Christmas so he could overindulge.) I can't decide if I hate him for being able to lose ten pounds in the blink of an eye or if he's my disordered fitness inspiration.
I told him I was excited that was going to live longer (according to the most recent study) because I was overweight. He said, looking incredulous, who said you were overweight? I said, um, BMI charts. He got really angry then at BMI charts and starting muttering under his breath about this, and then said, well, I'm probably overweight too according to the BMI charts. We high-fived for living longer. (We do a fair amount of high-fiving at the gym.)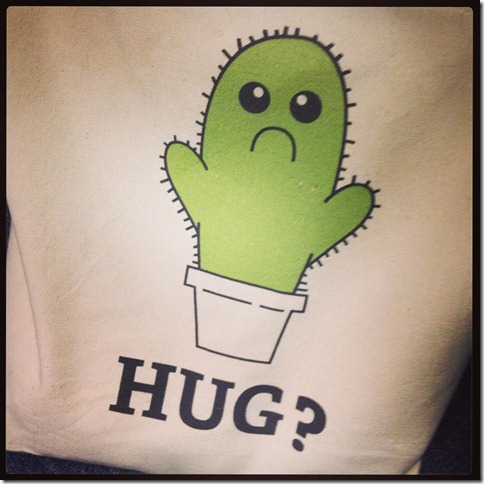 (This is from a tote bag Leslie gave me for being her matron of honor.)
So when you are sick, do you like to work out? I hate it. It makes me feel like crap and I am of the opinion that when I'm sick I should take it easy and rest so I can get better as fast as possible. But then the internet says if it's in your head you can workout, in your chest, stay home (I often think of it as "in your head" aka you aren't actually sick you just think you are). My current cold is in my head (with perhaps some stomach issues as well which I won't discuss here and have the potential to change the outcome of this discussion) so that means I should run.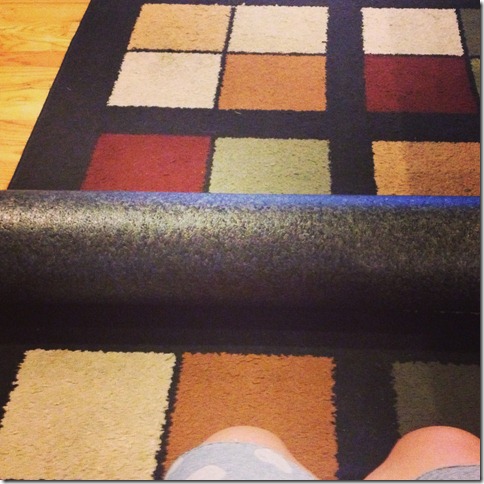 (And foam roll. I got out of the habit whilst we were in Chicago and I can feel the difference.)
A friend suggested, if you are sick enough that you don't feel guilty skipping your workout then it's okay to skip. Otherwise, suck it up.
All of this to say: I canceled going to lunch with a friend so I could sleep a little longer and still get my run in before I go to teach. I can't figure out if that is dedication or really messed up priorities.