A few weeks ago I mentioned I would be up for any races my friends asked me for (within reason).  After that various friends asked me to do a couple of races.   Jennedy asked if I wanted to run the Truffle Shuffle, I said sure!  (The other was last week's Chocolate 5k and also the St Patrick's Day 5 mile race coming up in March.)
Truffle Shuffle:  a 4 mile race in Cottleville, Missouri.  I liked the idea of a 4 mile race—not as "fast" as a 5k and a good amount for a workout.  The perks were great too—long sleeve technical shirt, finishers mug, and plenty of chocolate.  (Like I need more, but still, fun.)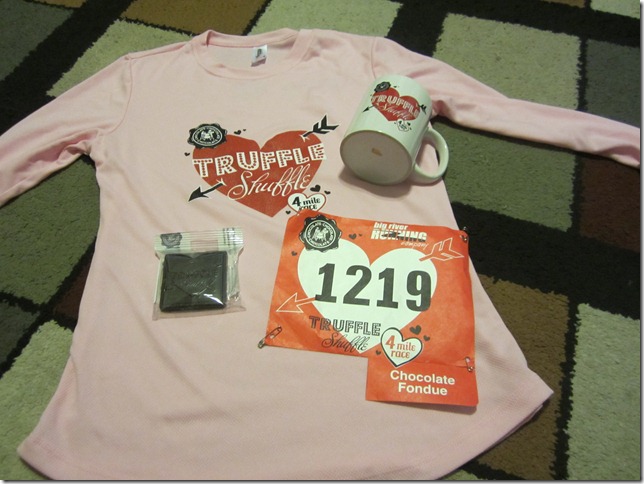 So early Saturday morning I woke up (I only wake up early for races and traveling…never for work or any other sort of recreation) and met Jennedy to go to Cottleville.  It was cold enough to want to bundle up but not as cold as the week before…basically the temps were such that it was tough to decide what to wear—near 35 degrees, sort of windy, and sunny.  I ended up wearing a long sleeve shirt with a fleece vest, gloves, and my headband.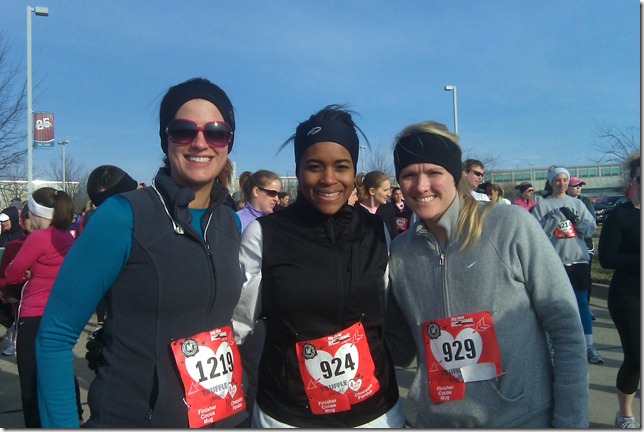 Me, Jennedy, and her friend Katie.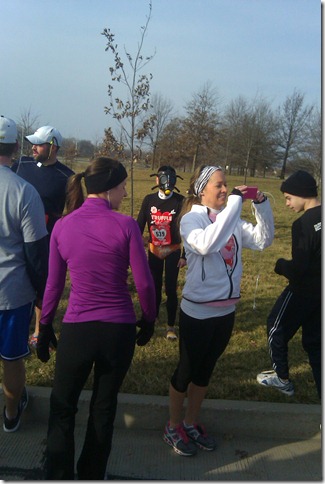 I couldn't resist photographing this guy…but I was trying to be sneaky about it so he didn't feel weird…yet…he chose to wear what seemed to be orange underwear over running tights and a gas mask?  Hmm.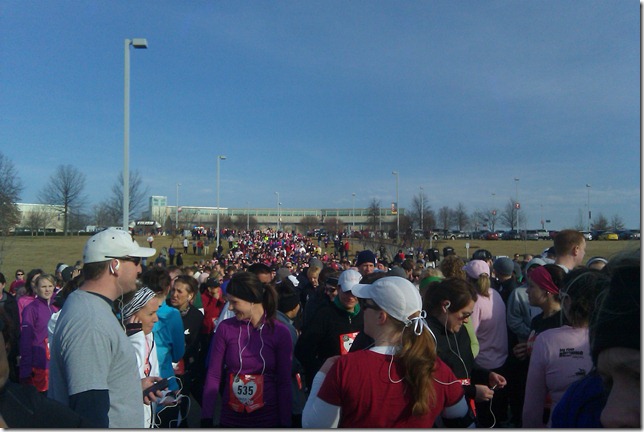 It was a pretty big race!  We were lined up towards what we thought was the middle, but I think it was towards the front.  It seemed that there were about 1300 people who ran it.
Public Service Announcement and major pet peeve:  if you are in a RACE and you are WALKING the whole time, don't start in the front.  Just don't.  This was the second race in a row where I started towards the middle of the front and had to dodge around (read, almost fell several times) walkers, two and three abreast sometimes…honestly I don't care if you are walking or not, but just don't start in the front.  It's a race, and you obviously aren't going to win if you aren't running really fast.
I had hoped to keep up 10 minute miles, but it just wasn't possible for me.  The route was a bit narrow and really congested.  Nonetheless, it was a nice race.  Miles 1 and 2 went by quickly, and then Mile 3 was almost completely uphill—really tough, but I tried to push through.  Mile 4 was basically all downhill and I decided to let the momentum carry me through.  And then the last .2 to .3 miles (estimating) was a steep uphill to the finish line.  I wanted to sprint it, of course, and I just reminded myself of how I had been practicing treadmill hill sprinting and this was the same.  I passed a bunch of people right at the end and I felt pretty darned proud of myself for that.  Then I almost collapsed past the finish line, where they gave us our "chocolate finishers medal."  Which I was hoping would be wrapped in shiny foil like the one from last week, but wasn't.  Oh well!
Final time:  42:03.  Not quite the ten minute miles I was hoping for (I ran watch-less, by perceived effort rather than looking at my watch) but not bad for the congestion!  I have been trying to figure out my goal time for April's half marathon.
Sunday morning I ran 9 miles with Jen.  We decided to do the outer loop of Forest Park, run 4.5 miles one way, and then turn around and run back.  Mentally it seemed easier since we never had to pass our starting place.  It went surprisingly well.  Next weekend is the Castlewood Cup, 15k trail race.  Though I haven't really trained on trails, at least I know I can cover the mileage.
Sunday night Chris and I went to Bailey's Range with Kyle and Jennedy.  It's a burger and ice cream restaurant owned by the same folks who own the Chocolate Bar and Rooster (where we had breakfast after our wedding.)  I had heard the "boozy shakes" were fantastic so I ordered one called "Sweet sweet bacon."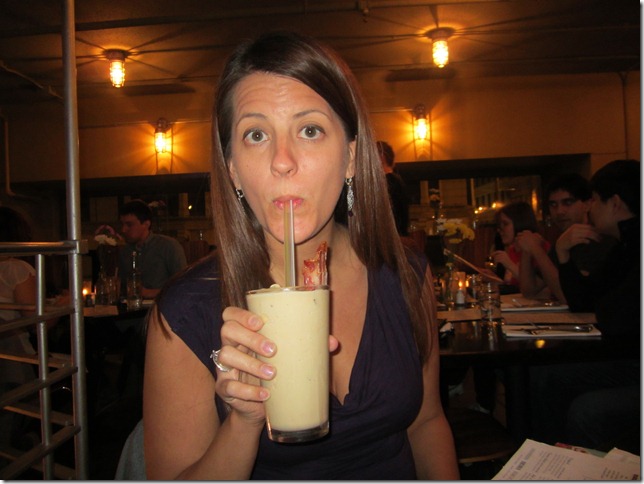 Yes, that is a piece of candied bacon IN the shake.  No, I am not allowed to complain about my weight for at least a few days.  Yes, it was absolutely delicious.
The burgers were okay—honestly I am not a huge fan of burgers, and the initial fries they brought out were cold.  Kyle asked them to bring hot fries and they agreed so quickly it seemed they knew our fries were cold, which put a bad taste in my mouth—why serve cold fries to begin with?  But the shakes were fantastic.  I think I would return for dessert only, maybe after a concert.  Or I would go for dessert and simply order two shakes rather than one and a burger.
Anyway, that was my weekend.  13 miles of running, lots of great eats, and now it's Monday.  I baked a coconut pie to take to Jon and Laura's tonight—they just got two new kittens and I can't wait to see them.  KITTIE!!!
How was your weekend?  Did you do any races or eat any ice cream?