I finally had a quick urge to come tell you guys how I'm doing, and then Windows Live Writer (the program I use to write my blog posts) wouldn't OPEN! I briefly panicked, and tried to open it a whole bunch of times, and kept getting error messages, then I started to do a Google search, realized I didn't have time to get into a fancy computer problem because I'm already an hour late on my practice schedule (which is fine, it just means I HAVE to, absolutely HAVE to practice tonight after teaching)…anyway, then magically about three windows opened up, so here we are.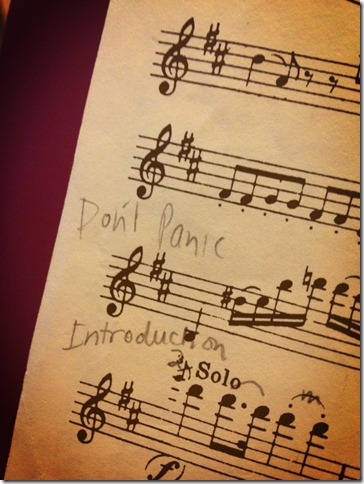 My teacher once (or more than once) said, the most important things at an orchestral audition are rhythm, intonation, rhythm, and rhythm. Others have argued for more intonations. But yesterday I think I actually started to get the whole "something special" idea…
If you're not a musician, you've probably already stopped reading. But in a nutshell, I'm trying to get everything on my list (which includes a couple of solo concertos and then a whole bunch of excerpts from the orchestra literature, i.e. Brahms Symphony no. 4, 1st violin part, measure 392 to the end) in tip top shape. I'm practicing with a drone, I'm practicing ever so slowly, I've broken everything down to get the precise rhythm, bowing, and sound that I want…and now I'm putting it back together.
The trick is to put it back together so that it doesn't sound like you are worried about rhythm or intonation. To play in a way that makes it sound as if you are absolutely throwing caution to the wind WHILE playing with wonderful sound and intonation and rhythm. And while you are absolutely focused on the tiniest of details, you must make it sound like you are just thinking about the long lines and the long phrasing…something that I do much more naturally outside of audition preparation because I am actually less focused on the details (maybe that's a major fault of mine in other performances, but I can't worry about that right now).
Plus there's the audition scene—it's like the Olympics. you have to be in the zone, you have to focus, you have to do the whole Michael Phelps, have your headphones in, ignore everybody and just do your thing that you've been training for…and then in a couple of minutes you're done.
This post probably doesn't even make any sense because I'm just rambling, and I'm overwhelmed, and I should already be practicing. I'll be okay in a few more days though, that's all. The other day I was having a minor breakdown from the stress, and I asked Chris if it had been like this in the past—he said he didn't remember. Musicians do this sort of thing all the time, but I think as I've gotten older I am putting more pressure on myself. Or I was too young to know better. Or I've just forgotten how being under intense stress all the time felt? Anyone want to weigh in on that?