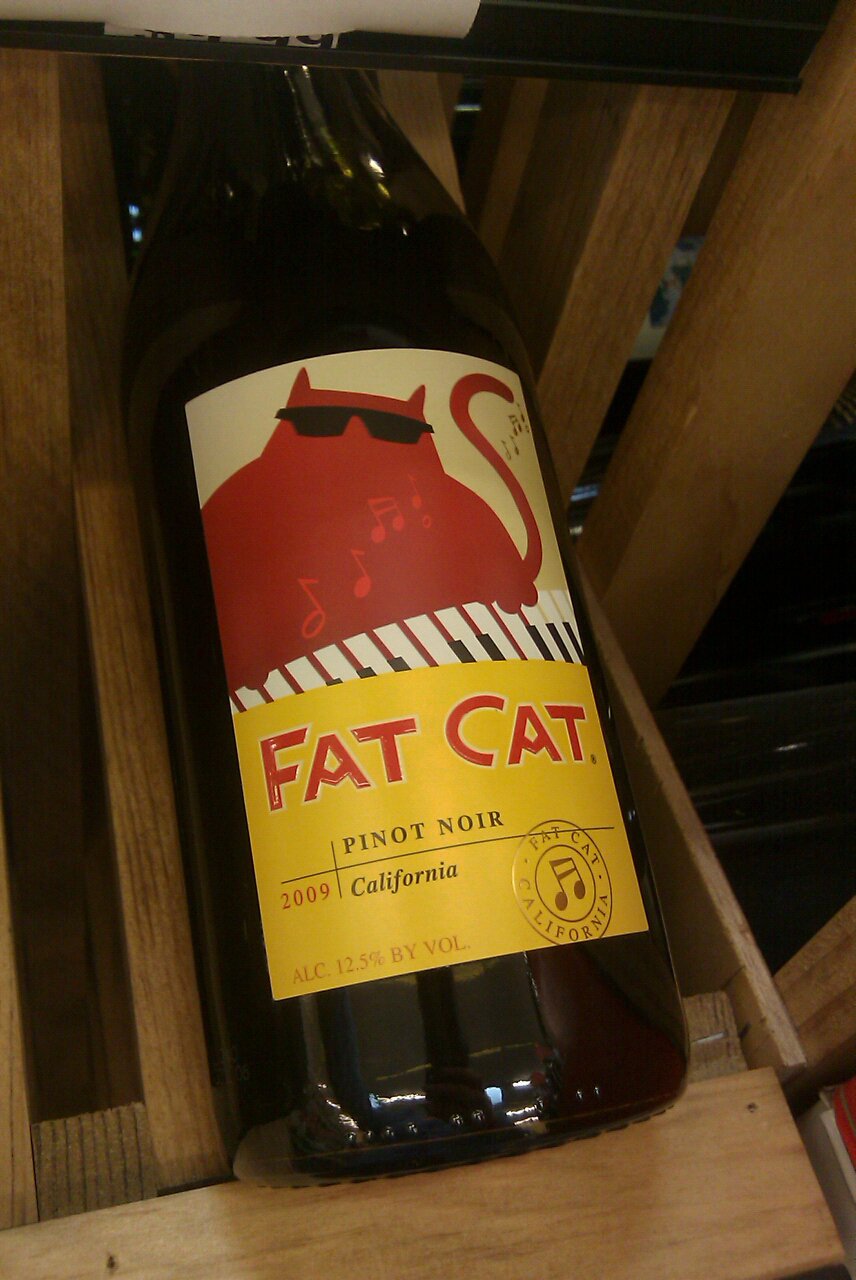 I miss my computer.
I miss windows live writer.  It took WAY too long to put this picture up.
Speaking of, how great IS this picture?  Fat cat wine.  My friend Sarah posted it on my facebook wall to try to cheer me up yesterday.
It sort of worked.  I did pretty well until last night when I just broke down.  I was in the middle of a book on my kindle.  BASTARDS stole my stuff.
Today is better.  It's just stuff.  My computer files are online even.  I can rebuild.  I also think the books I had on my kindle can be moved to a new kindle.  I will find out about insurance tomorrow.
They took my ALARM CLOCK.  Seriously.  Who does that?  Why take a decade old alarm clock that doesn't even light up anymore?
How glad am I that most of my electronics are super old and crappy?  Evidently nobody wants CD's anymore–remember when everybody was getting their CD's stolen from their cars?  Not anymore!
How glad am I that I had my digital camera with me (diligent attempt at blogging) instead of sitting out somewhere?
How glad am I that the thieves didn't know that instruments are worth money?  Then again, you can't just get rid of them…you have to know how to do that.  And these people were evidently NOT smart.
Grr.
I may download live writer to this computer, but not yet.  I also will wait to upload some pictures from my real camera, so here's one from the phone of this morning's Easter service.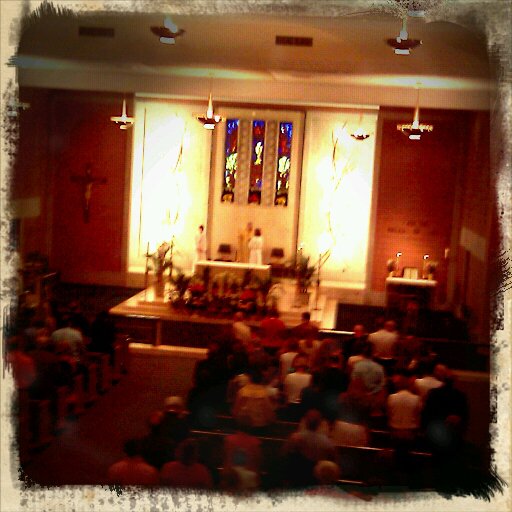 I played mass at St. Theresa's in Belleville. It was a nice service and we played a rousing Hallelujah Chorus, among other things.
Yesterday:  we got robbed, then we went to the Cardinals game.  They lost.  There was a one hour rain delay.  We sat near some of the most obnoxious men you have ever met.  Basically it sucked.  Oddly one of the trainers at our gym (not my trainer) was sitting right behind us.  Odd.  I guess it's a small world.
Today:  church gig followed by a fantastic brunch!  We went to Eau at the Chase Park Plaza for a brunch buffet.  Unlimited mimosas (light on the champagne though…), shrimp and crab, eggs, delicious quinoa salad, meats, cheese, bacon, biscuits and gravy, sausage, potatoes, salad, fruits, and a ridiculous dessert table.  I ate a ton.  Now I am attempting to digest.  It was delicious though, and will last me the rest of the day, most likely.
Tonight:  relax, watch a movie.  I'm actually NOT working out today, which is unusual.  In that I haven't taken a day off in awhile.  Probably for the best.  I've gotten used to feeling sore somewhere on my body at all times.  Is that normal?
Tomorrow:  part holiday (no teaching until evening).  Some phone calls to make about the "incident".  Probably shopping.  Running.  Cleaning?  The CSI guy said I need to dust more often, that it's too hard to get fingerprints when it's dusty.  He was just trying to be helpful, but it made me feel terrible.
Then back to work.  It's almost May.  Concerts are coming up!