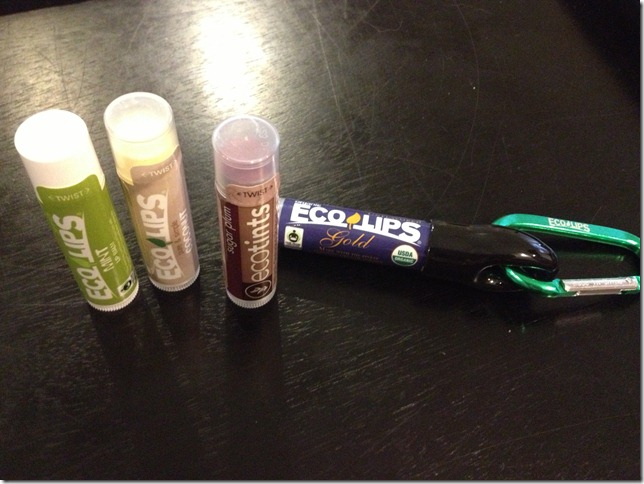 It's getting to be chapped lips season, isn't it?  Personally I use lip balm all year round, but as the weather gets colder and the air gets drier, I need more than usual.  So when Eco Lips offered to give me a few free tubes of balm in exchange for a review, I said "absolutely!"
I picked a few different flavors.  I LOVE LOVE LOVE the coconut one.  I lent Chris the mint and he is a big fan of that one as well.  I haven't actually tried all the kinds yet because I didn't want to have a whole bunch of opened tubes (is that weird, does lip balm go stale?) but I know I will get to them eventually, and I imagine they are good too.
(If you're asking, huh, what sort of review is this, she didn't try all the tubes? Get over yourself.  THE COCONUT IS REALLY GOOD.)
What makes Eco Lips different than other companies?  Well…
I loved that from the website!  Anyway, their products are organic and not tested on animals, if that's important to you (as I know it is to many people.)  And did I mention I love the coconut flavor so much!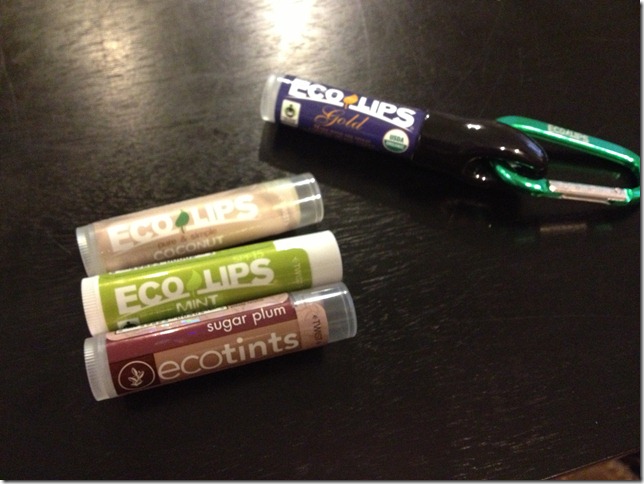 Okay, giveaway time!  One lucky reader, chosen at random, will win an EcoLips Gold Balm (this is the most serious balm, for the most serious of chapped lips, think Cleveland winters, and yeah, sorry it's not the coconut but I'm sure you'll like it too!) on an Eco Clip (similar to what is pictured above, I believe.)  U.S. and Canada addresses only.
How to enter:
First: Like "Eco Lips" on Facebook or Follow them on Twitter (you can do both but you don't get bonus entries for this giveaway.)  Second: leave a comment telling me you did this AND tell me your favorite flavor of lip balm.
That's it!  Super easy, one chance per person.  I'm making this a one and done giveaway to keep it simple. Contest ends Monday night, November 5 (around 10 pm CST, but I'll close the comments when it's over so you'll know!)
(sorry, had to close it early–my blog is moving to be self hosted in a few hours and I needed to get this closed and figure out the winner in case everything goes wrong!!)
(To Clarify, ONE comment is all you need/can have—one chance per person 🙂 )
Good luck!