I think I've finally got most of my itunes music back on my computer.  I had been using an online backup (dell datasafe online, since I had a dell before), and since getting my new computer a few weeks ago, I was having a ton of issues getting my backed up files restored.  I finally realized it just wasn't going to work to do them all at once, and I needed to break them up into smaller parts, and voila! gradually I am restoring my music, my pictures, and all of the other important things I need.  I'm sure my itunes library will be a mess of duplicates though, since it seems every piece is listed two or three different ways. I guess that will be my next computer project.  I don't even have a full size ipod!
That reminds me, a lot of times at wedding venues, they tell you, oh, you can even just plug in your ipod and play your music!  That makes me giggle.  I'm sure people would really enjoy listening to episodes of Car Talk and This American Life, Brahms Violin Concerto by a variety of artists, or perhaps a variety of violin orchestral excerpts, while trying to dance or talk with their friends.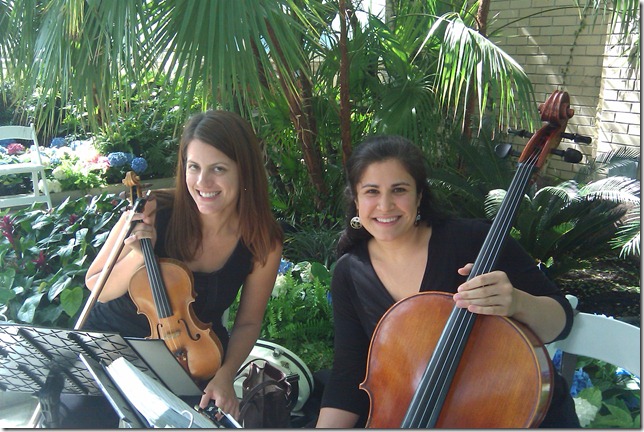 This is a picture from inside the Jewel Box in Forest Park.  I have played two weddings there this month, and I have at least 4 more lined up for the summer.  I think it would be a great idea to simply be the resident musicians for the Jewel Box, and perhaps move in downstairs.  That would save on gas.