At least for now. I just finished quartet rehearsal and I have the rest of the day off. I'm thinking I should start teaching some students on Friday but that means having 1) more students 2) those that want to come on Fridays. I don't want to teach late on Fridays though, as it's nice to occasionally have a social life.
Oh hey! I just dove right in there, and forgot to say Hi and welcome to my blog. It feels new, doesn't it, since I have barely blogged recently. You are all probably wondering what on earth I have been doing.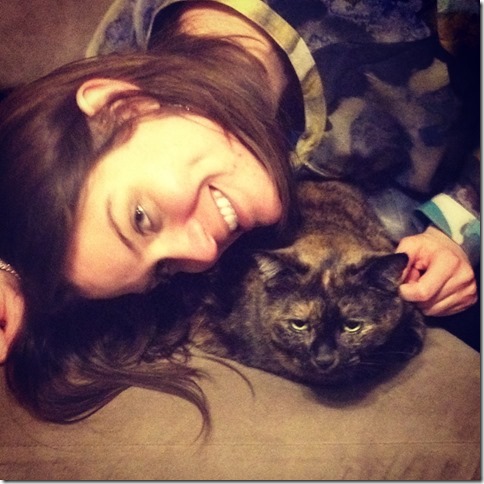 (That's not me, that's my friend April)
The main thing I've been doing (besides teaching, of course) is getting ready for my quartet's upcoming concert. Here's the link to the facebook event page. We are playing Beethoven and Grieg at the Tavern of Fine Arts on January 31 at 8 pm. If you can make it, I'd love to see you there! If you can't, we will be having more performances as the year goes by (we are busy making plans). 2014 is shaping up to be a great year of chamber music, between my quartet, playing sonatas with my friend Jennifer on piano, and who knows what other opportunities will come up!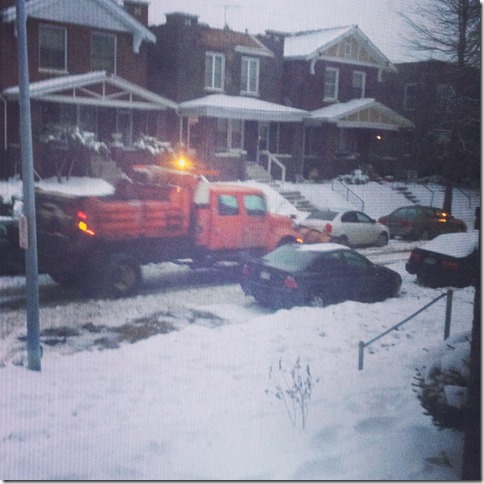 We've been dealing with crazy weather here, like everywhere else. Extreme cold, tons of snow, oddly warm weather, extreme cold…January is hitting hard and flying by, and I'm happy about one of those. I've been doing some running, but it is just SO hard to get out the door when the wind chill is 5 degrees. I'm running fairly regularly these days, (albeit slow, I'm slow, I know, forgive me) as I've signed up for a couple races, some with friends. The soonest one is going to be a lot of fun: it's the Stan Musial Veterans Memorial Bridge Run on February 8. The race goes over a brand new bridge they have been building here, and it's a 6k so for me, automatic PR (ha!). I'll DEFINITELY be there—I signed up with a friend and we have decided we are taking no excuses—we will run in the rain, cold, sleet, what have you– (Barring broken legs and that sort of injury of course)—so I've got that looming, and a half marathon in April, and all of that is getting me out the door. Well, mostly. I've been skipping the gym for a few months, but I've gotten back into home workouts as well, and have been enjoying a ton of body weight exercises in addition to whatever I can come up with with the hand weights I own. I'm feeling pretty good!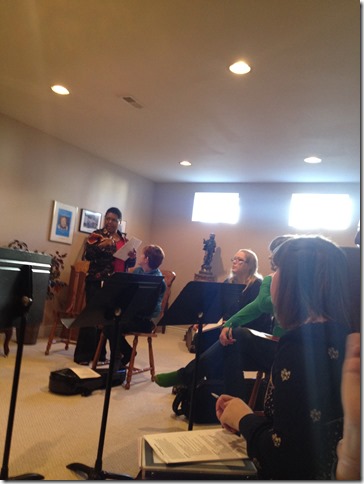 Last weekend was really busy with a few work things, including a Suzuki Teacher Workshop on Sunday covering all kinds of scale and advanced technique ideas for students. I love getting ideas on how to be an even better teacher. Teaching is such a solitary activity (well, just me and the students) so it's wonderful when teachers gather together to learn from each other and bounce ideas around, or when a more experienced teacher gives a workshop. I try to attend as many of this sort of thing as I can, but my schedule doesn't always permit.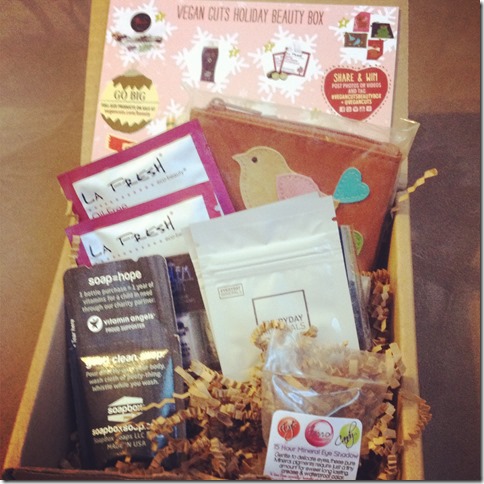 I got this fun little Vegan Cuts Holiday Beauty Box in the mail as part of being a Girls Gone Sporty Ambassador and was asked to write a short review. I thought I'd share it with you guys too, in case you are into little subscription boxes.
I was really excited to open the box, because I love these kinds of boxes. I don't always love paying for them (ha!) as I have to be careful what products I spend my money on and often end up with tons of stuff I don't use much of. I really liked the collection of products. The variety is really nice: nail polish, lip balm, cleanser, soap, face powder, eye shadow, and a cute little change purse. I also love the concept that no animals were harmed and that makes me feel good about the products, even though I'm not a vegan.
I would consider subscribing to the service for a reasonable rate ($10 or so, and unfortunately the subscription is twice that…) but wouldn't want to get so many nail polishes again! I like the colors, but I generally only paint my toenails once a month or so (and not my fingernails at all) so it will take me a long time to even try them all. I love the face products and they are the perfect amount, or perhaps even more of the powders would be great. The change purse is adorable, like I said, and I enjoy getting a little something that you hang onto after trying the products.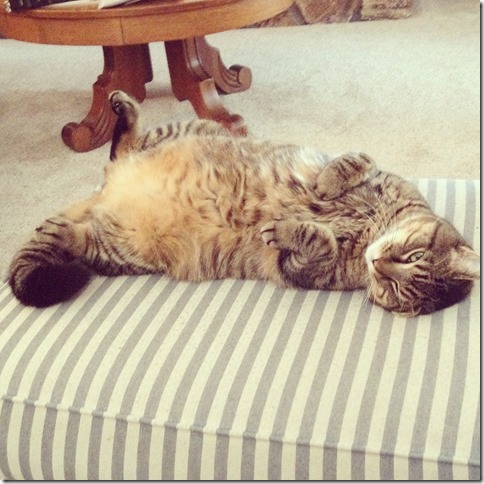 This cat tricked me. I thought he was indicating that he wanted me to pet his belly, but I was incorrect. I did not correctly determine if there was empathy or murder in his eyes. I managed to escape unscathed, but it could have gone very wrong.