Chris and I wanted to go out for a nice dinner last night.  We were trying to decide between Eleven Eleven and Franco (two of our favorites) and since I had just seen Tom (owner of Franco) at the gym that morning, I figured that was a sign.  (He works out with another trainer, and we seem to have similar hours.)
I wanted to wear that dress, since I bought it a few weeks ago but it had just been too hot.  Since it was actually UNDER 80 degrees last night, it seemed like the perfect night to wear it. 
I didn't take too many pictures though—I should have asked Chris to take a full body shot of my dress to show you, but oh well, next time.  We enjoyed some Beef Tartare, and I had the Caesar Salad and Grilled Trout.  I always feel a bit lower class ordering the Caesar Salad (I order it a lot) but I just love it.  At Franco you can get it with anchovies, which is really good!  Though, when the waitress asked if I would like it with anchovies, she didn't tell me it would cost extra.  Oh well, they were really very good.  Chris had the NY Strip Steak, though he requested something other than fries as a side (I believe he got a saffron risotto which was phenomenal.)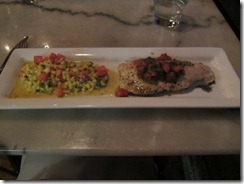 (Trout.  I should have retaken this as the lighting is terrible)
After our dinner we went to the International Tap House in Soulard to meet some friends.  I was a little overdressed, but I think everybody appreciated it.  Since I had already been drinking wine, I was hesitant to start drinking beer, but I decided a peach lambic was the ideal compromise.
So here's where it gets really ODD.  In the background of the second picture (Kyle—I believe he's been on the blog before.) you can see a BUNNY.  And that's Will in the red shirt.  I like to tease him for being a redneck since he is from NC.  I find it ironic because I am from SC (and a smaller town to boot, I'm SURE) but he is never terribly amused.  Sorry, Will!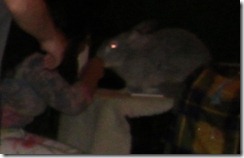 Evidently the bunny's owner was deaf, and this was a companion bunny.  Seriously weird.  People would stop by to pet the animal or write on a paper to converse with the woman, and then she would sign at the bunny, or just generally.  It was…a bit odd. 
I didn't even realize I had a picture of the bunny until this morning.  So pleased.  And disturbed.  St Louis people, have you seen this woman before?