So my wedding ceremony was at 5:30 pm.  If you thought that meant I got to sleep in, you'd be wrong.  The bridesmaids were told to meet in my suite at 9:00 am for hair and makeup.  They were to be dressed by 12:30, and we were to meet the limo at 2:00 pm to go for pictures at Powell Hall.  So that meant I got up at 8:00 am to eat breakfast.  The Omni had a nice breakfast that was included with the room price—a good variety of hot and cold food.  I was ravenous (stress eating!) but tried to choose stuff that would give me good energy.  I was up in the room before 9 am in case the hairdressers got there early. 
I had two hairdressers meeting us and one lady to do makeup.  All the bridesmaids were getting their hair done, and Leslie and I were doing our makeup.  Additionally Chris's mom was getting her hair done, and we convinced Mom to get her makeup done!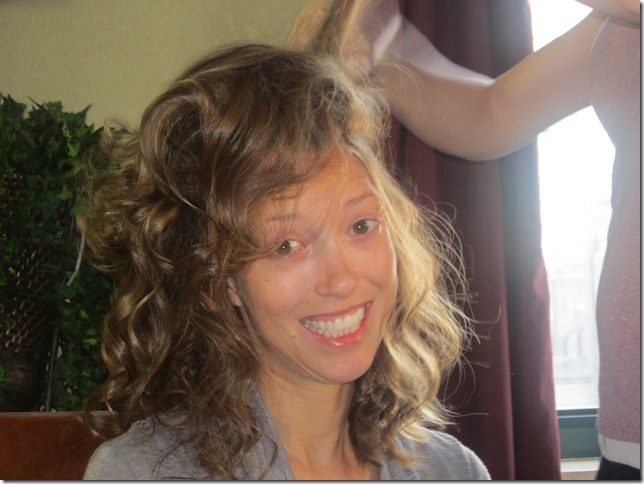 Before an updo, you have to curl all the hair, evidently!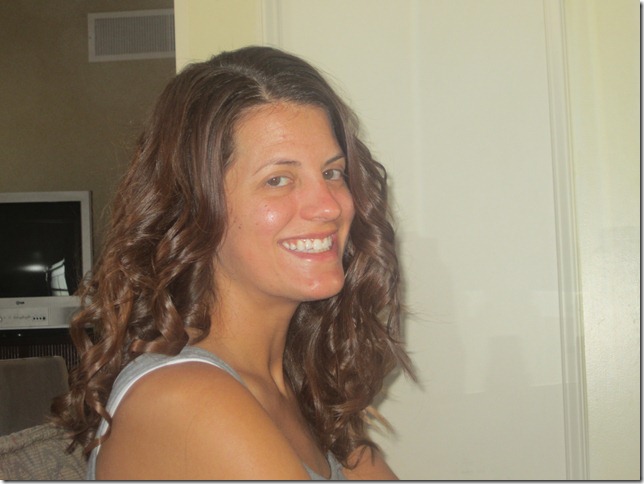 What a beautiful bride!  Oh wait, thank goodness this wasn't the finished product…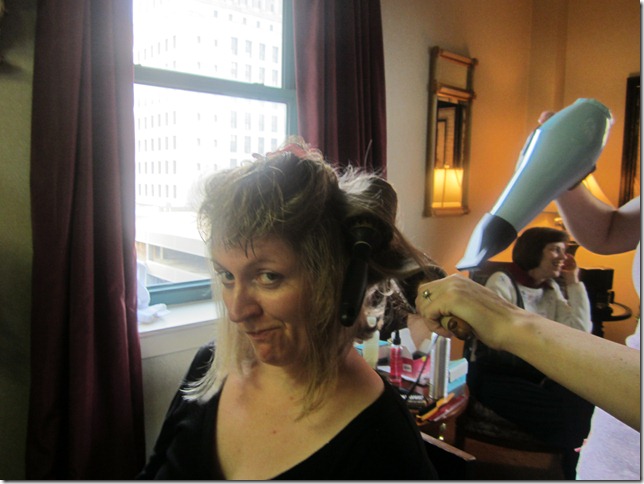 I am not sure if Sarah's hairdresser knew she left a brush in there.  I really liked this look…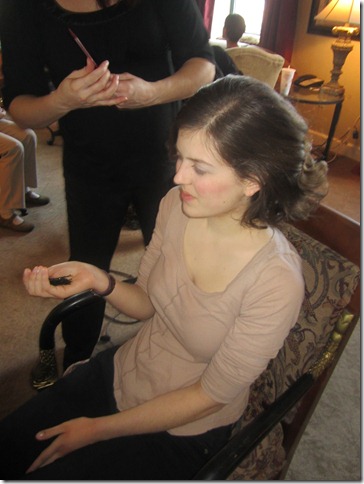 After hair came makeup!  Our photographer, Sarah Crowder, arrived around 10 am with three assistants in tow.  They took a few pictures of us getting ready and also started taking pictures of my dress and accessories all alone. 
The final hair product, and getting my makeup done!
After we were all done with hair and makeup, it was time to order lunch.  Our photographer was in and out, and she went down to take pictures of Chris (I think) and said she'd be back after lunch to start taking pictures of me getting dressed.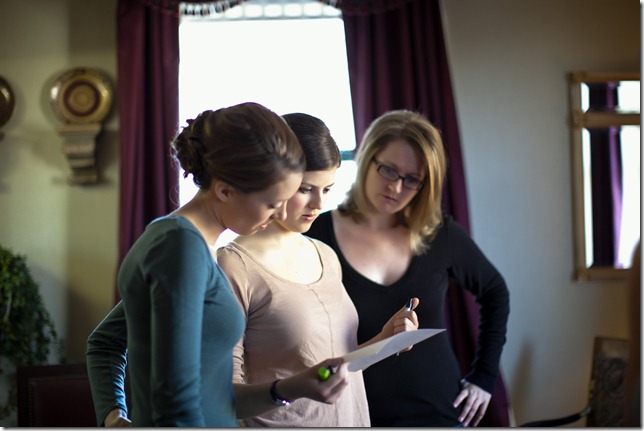 Those girls have some fancy hair and makeup for those casual tops.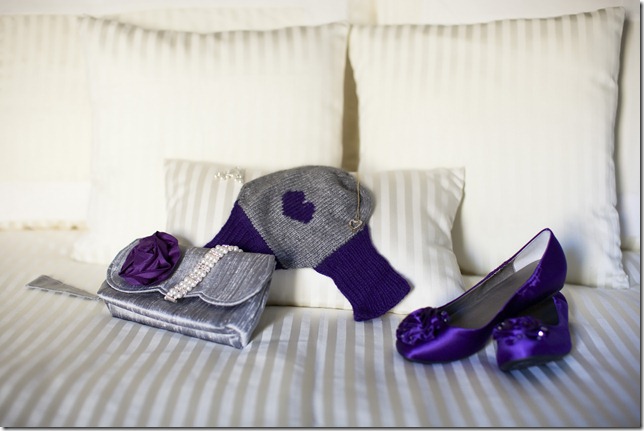 My accessories:  purple shoes, clutch, smitten mitten, bracelet that I ended up not wearing, necklace, and earrings!  (The smitten mitten was a surprise for Chris—if you don't know what it is, it's a mitten that two people can wear holding hands.  I love it.)  The clutch, bracelet and earrings, and smitten mitten were all from various sellers on Etsy.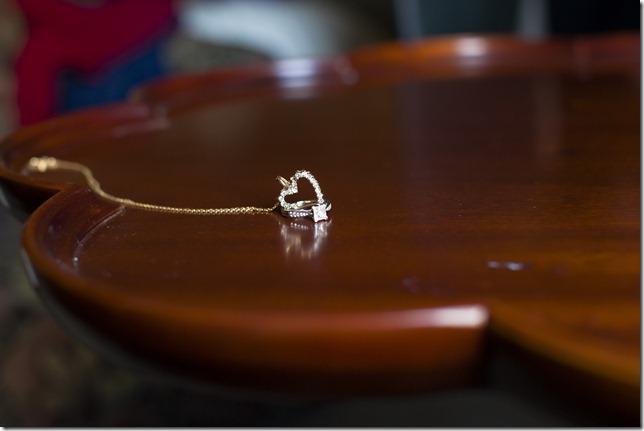 My necklace with my engagement ring.  The necklace was a gift from Chris for our first anniversary.  I used to wear it a lot and I rarely do these days, just because I don't wear necklaces—but I thought he'd be tickled if I wore it.  He was!
My dress…oh how I love my dress!!  I love it so much.  (I wish I could wear it again for another event…)
We got our lunch, ate a bit, and then the bridesmaids got their dresses on.  Then it was time for me to get dressed!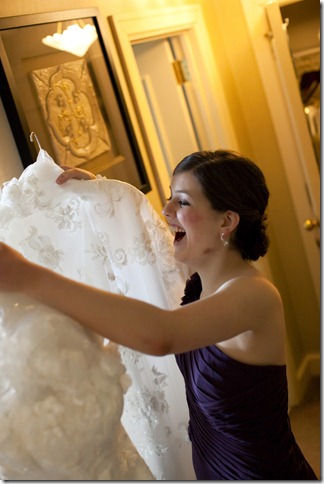 Carrie was very excited to get the dress off the hanger.
It was a getting ready party!  Though a bit stressful.  Note to everybody:  corset backs are way harder to lace up than it seems when the professionals do it for your fitting.  Luckily Sarah Crowder was able to help us out a bit…otherwise we might have taken even longer! 
In the meantime the florist had brought by all the bouquets.  Our florist was Becky Huffman and she did an amazing job!  She dropped off the bouquets and boutonnieres before heading over to Moulin to put together the centerpieces.  
Finally I was ready.  From left to right:  Sarah, Leslie, my mom, Carrie.  For the record, Sarah is drinking Diet Coke.
Next it was time for pictures of me alone in the suite.  I ended up not wearing the bracelet because the clasp wasn't working.  Oh, and the veil was ALSO from Etsy.  I guess I was an etsy bride!
(And yes, we had a really tough time getting those bumps out of the side of the dress.  One of the problems that day!)
Next: time to go downstairs for the "first look" with Chris, and then into the limo for pictures at Powell Hall!