I'm not an amazing cook or an amazing baker.  I have my skills—I'm really good at cookies, because you get so many chances to get it right, and I'm a patient person.  I have amazing pie recipes and genetic tendencies towards making pie (not crusts, mind you, I'm talking about the filling.)  Cake on the other hand…not really my strong point.  Granted I haven't had a whole lot of practice, which arguably is the biggest problem, but still.
A few weeks ago I found this recipe for Gingerbread Cake which looked really good and "Christmas-y", and I emailed it to my friend Laura.  She responded that I should absolutely make it for Christmas.  Okay, except I've never had a huge amount of success with the Smitten Kitchen's recipes.  That doesn't mean I can't try again, right?  To be fair, my only non-success was the Raspberry Buttermilk Cake I tried and the whole thing fell apart as I flipped the pan, and the second time I made it it was great.  But that was a scarring experience.  (I'm aware that all cooks and bakers have disasters.  I just prefer not to.  Remember what I said the other day, failed perfectionist.)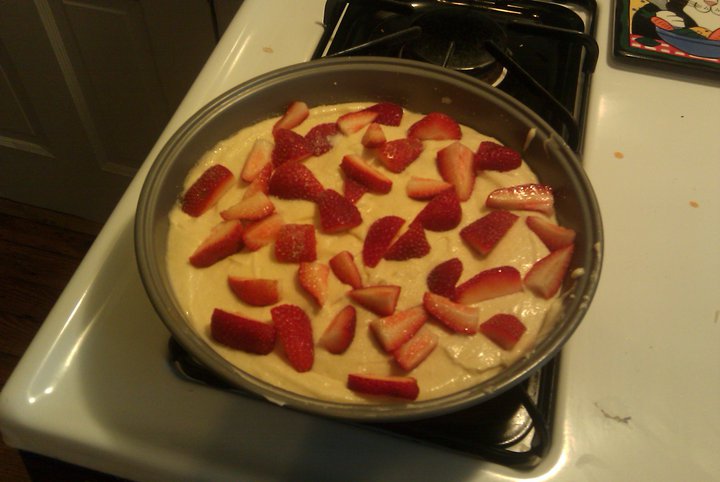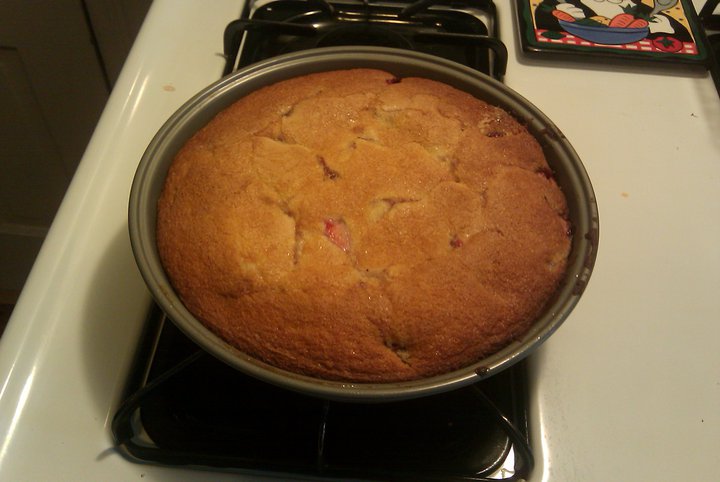 (Raspberry Buttermilk Cake, back in the day.  I love that I can reference my life via a search box on my blog.)
The next issue was that I needed a bundt pan and didn't have one.  This is an easily remedied solution in the US, but even easier than buying one is borrowing one from Laura.  Later she asked to borrow my apple peeler/corer (we have this awesome contraption) and a springform pan for a recipe she was making so it was perfect (or frankly, the opposite of perfect, because we were making absolutely the wrong recipes.)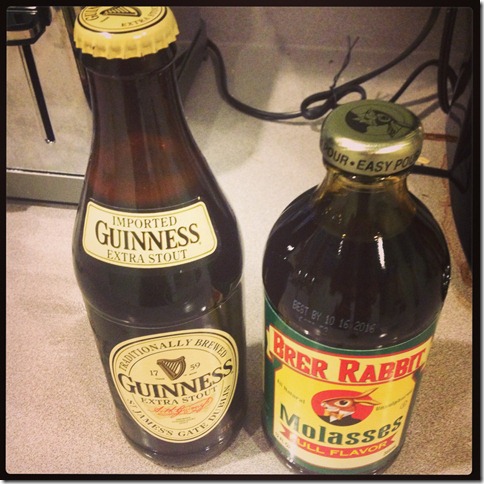 (This is how the cake starts.  Beer and Molasses. )
Did I mention grocery shopping yesterday?  I have three church services to play today so I wanted to get my grocery shopping done yesterday.  I've been tasked with bringing corn pudding and a green vegetable to Christmas as well as the cake.  We are also planning a cooked breakfast in the morning with pancakes, sausage, hash browns, and coffee cake (basically all the stuff we don't allow ourselves to eat ordinarily, isn't that what the holidays are for? Don't ask me about what has happened to the cookie party cookies or how my weight loss plans are doing, this too shall pass and at least we are keeping up our running and working out—also please ignore my switching between we and I, because half the time I'm referring to Chris and the other half it's the royal We.)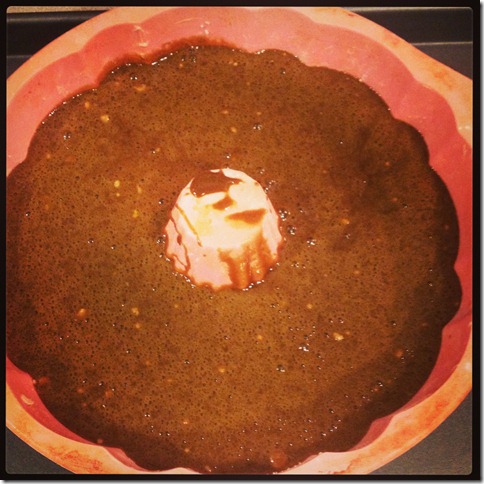 (I was worried because it was so liquidy compared to other, non-cake recipes, but it turned out good.  Took at least 15 minutes longer than the recipe said, which always freaks me out.)
Anyway, the grocery store was pretty busy, and then I couldn't find the cardamom I needed.  They were all out.  I did a google search and determined it could be substituted with something else, and twitter told me the same (well, some on twitter said otherwise but I figured I'd go with the people who agreed with me)—then Laura said she had cardamom seeds and could grind some for me…well, it turned out the recipe said "a pinch of cardamom" so I figured, this is not even worth it.  And I believe I was correct, because the cake tastes great.  I know this because when I went to flip the bundt pan plenty of it stuck in the pan.  So the cake will taste wonderful though it is perhaps NOT the most attractive baked good.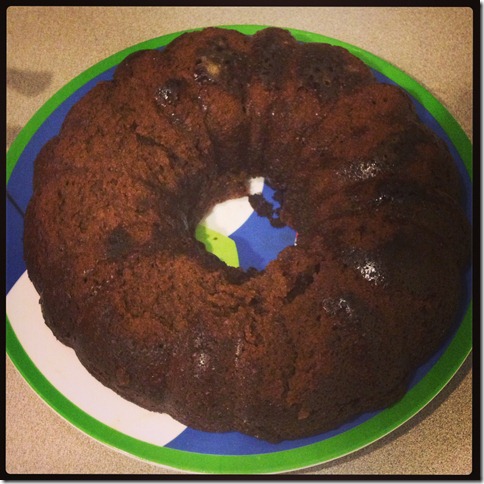 But I'll put some powdered sugar on top, and like I said, it'll taste great.  I'm not trying again.  I have other stuff to make.