A month or two ago I was chatting with a friend, neighbor, and most importantly (ha!) BLOG READER, Mandy, about various upcoming events and possibilities.  We decided to "run" the Glo Run to do something different, and to do something together.  These "gimmick" runs have been popping up everywhere—glow runs (at night, you wear light up gear), color runs (you get sprayed with color), zombie runs (you are chased by supposedly fake zombies) and so we thought it would be fun to try. 
We decided to primarily walk the "race."  It wasn't a timed run so we figured there was no real incentive to be heroes, and Mandy was dealing with a knee problem anyway.  We figured maybe we'd run some or not, depending on how many people were there (we didn't want to be the only walkers, for instance.) 
They did change the time of the race a few days beforehand.  It was originally at 7:30 but in the email the organizers sent out a few days before we were told it was changed to 6:30.  Luckily I was still free (seriously, some of us actually work on Saturdays and plan this stuff around our work schedules) but I would have been pretty ticked off.  Mandy never even got the email so that was strange as well. 
We met up and drove to Forest Park about an hour beforehand.  We (correctly) assumed that packet pickup would be pretty easy.  We got our numbers, a bright yellow shirt, two glo-sticks, and glow-in-the-dark glasses.  The most challenging thing was putting the glasses together.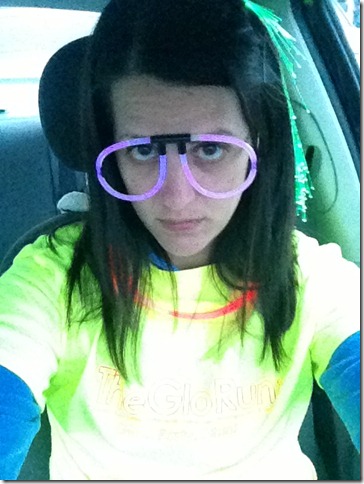 It was chilly so we headed back to the car to put our stuff on and figure out our "outfits."  Mandy had gotten each of us a light up barrette thing so we were trying to figure out the best way to put the "ensemble" together.  You can tell the priorities here.
They had a stage and a DJ encouraging people to dance—there were a lot of teenage girls there who were having a wonderful time.  We also heard the DJ talking about paint so after we got our glasses ready (which were way too small for my giant head, so I wasn't planning to wear them) we went in search of the paint.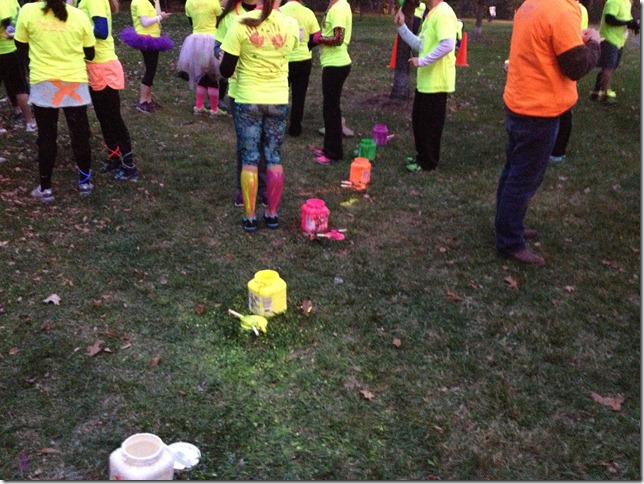 I didn't really know what to do so I just went with some face paint.  After that we spent some time wandering around trying to take a good picture of ourselves, or have somebody do it.  After a few false starts I think we did okay.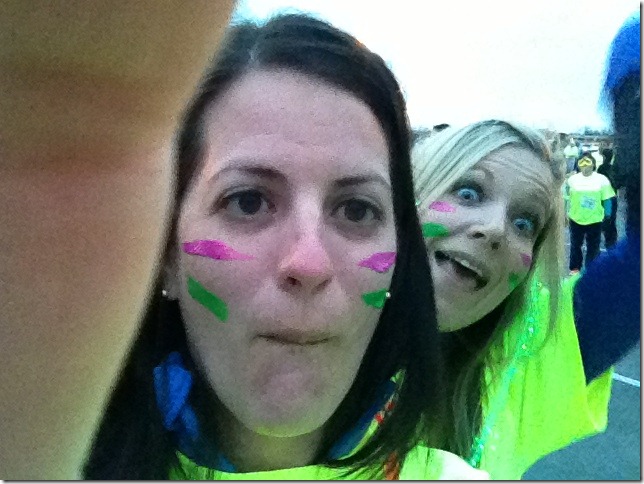 That's Mandy, photo bombing my self-portrait.  She understood the importance of taking pictures to a blogger like me.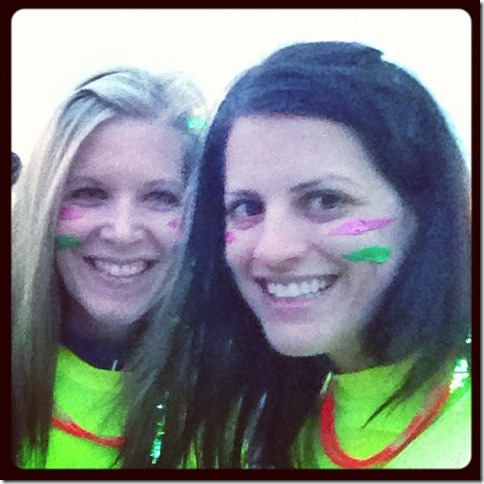 We quickly learned that my head appeared particularly gigantic compared to hers.
I'm actually standing two feet behind her.  Evidently my head is really quite huge.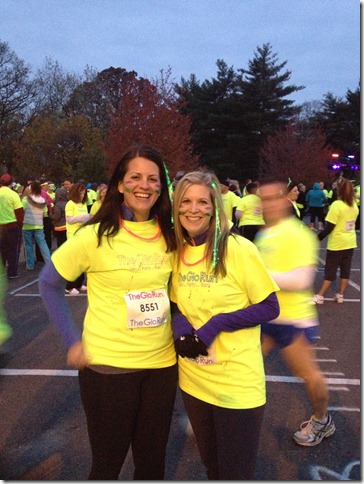 Wearing a shift over a fleece jacket is a surefire way to look thinner.
You can see in these pictures it was still pretty light.  We thought the race time change was weird, because it was just getting dark.  I guess it was dark enough by the time the race started but I thought it was odd that they moved the time up. 
The "race" itself was fine.  It was a well marked course that went on some of the roads and some of the trails.  There were three "light obstacles" to go through—on the map they are labeled "Black Lights and Bubbles," "Strobe Lights," and "Party Lights."  Basically they were little tents set up with lights inside.  I didn't care for the strobe lights at all—it was really disorienting.  Oh, and the course was well marked, but it seemed that in places the organizers had thrown down glo sticks to help light the way…and some guy passed us who was obviously an idiot and was picking up all the glo sticks—he had a huge handful and picked them ALL up.  So if those were supposed to help out, um, well, it's hard dealing with idiots.  
We ran for about 1/2 mile to a mile, but Mandy's knee was hurting, and frankly, I wasn't dressed for running so I was FINE walking.  (I walk faster anyway, right?) I think we kept up a pretty good speed walking pace and we even passed a couple runners (I kid you not, we did.)  I think we finished the "race" in about 45 minutes or so.
At the end they had a nice spread of bottled water, chips, granola bars, and fruit snacks.  There was plenty of water, which is always nice.
So that was the Glo Run.  Would I run it again?  Probably not.  It was FINE, but it wasn't super fun or a great race.  It was just fine.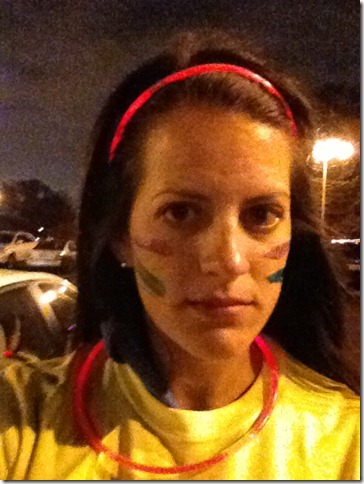 What's the number of pictures of myself I can put in one blog post without looking too narcissistic?  Did I reach it?
Have you ever done a Glow or Glo Run?  What are your thoughts on gimmicky runs? 
Is it wrong to end a post with so many questions?