Sunday I ran in the Go! St Louis Halloween 10k.   When I signed up, I thought I would be running with a friend or two, but people were too focused on next week's race.  Oh well, I don't mind running alone, it's character building!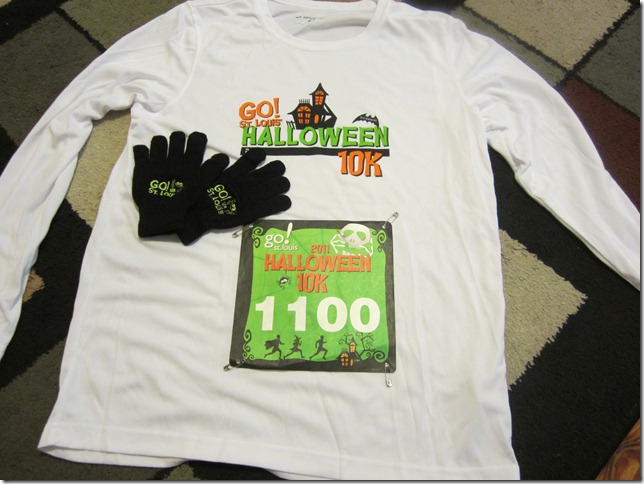 I love the gloves!  And another long sleeve technical fabric shirt.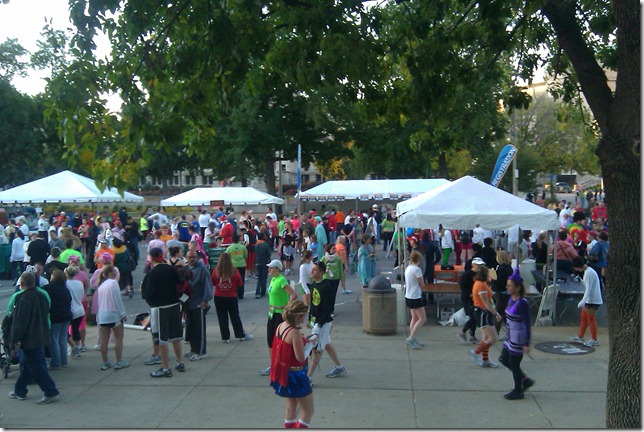 I got there pretty early because I always worry about parking downtown.  It was easy so I had plenty of time for people watching.  Honestly I didn't see any really cool costumes—I saw better ones for the 80's race.  It might have been that the people with awesome costumes just weren't nearby.  Alternately, it is harder to run a 10k than a 5k.  (10k is 6.2 miles, 5k is 3.1 miles.)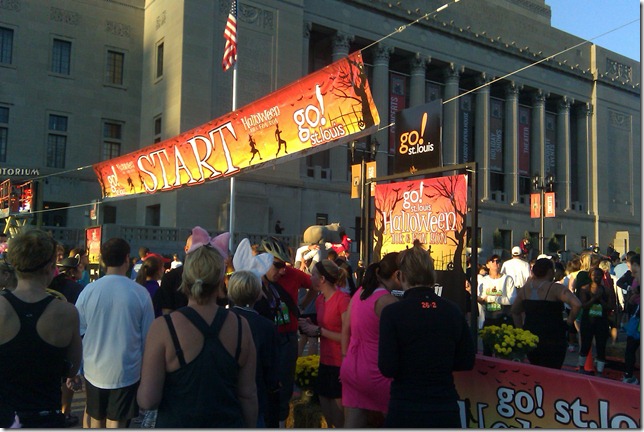 The starting line.  Madness, of course.  I considered starting in the very front but decided it would be a better idea to go further back.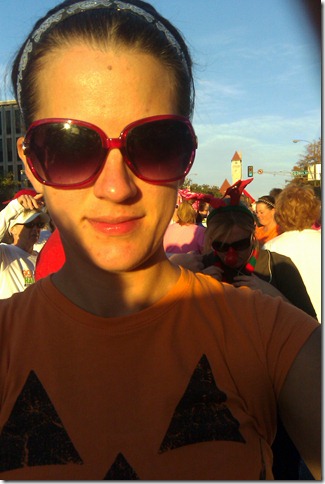 A self-portrait!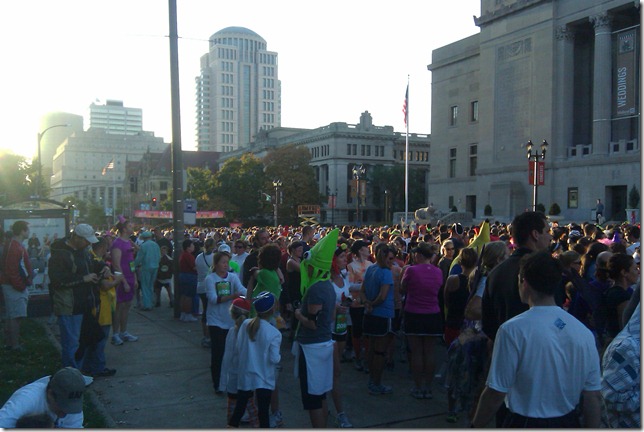 There were lots of people!  I should also tell you I went to the symphony concert the night before and then out with friends, so I was functioning on about 5 hours of sleep.  When my alarm went off, I seriously debated not going.  I'm glad I did!
The race was great.  It went through Soulard and then back.  It was hilly but nothing I couldn't handle.  (It seems everywhere in St Louis is hilly.)  There were a couple rough spots in the race.  First, my shoes came untied…twice!  I was really annoyed by that.  Second, my socks (not running socks, but Halloween socks) started rubbing the bottom of my foot to the extent that I was in some serious pain for mile 4 and 5.  I had to forge ahead, but maybe next time I will reconsider fun socks for a 10k.  The last big challenge was when I was running on part of the course from the April half marathon, and I remember how AWFUL I felt that day and I started to panic just a little bit.  Oops.  But I pushed through and finished strong!  This was only my second 10k ever, and it was a PR.  Let's hope I can continue my PR streak into next weekend (2:30 or bust)!!
Enjoy some photos!  (Just don't feel like writing anymore…overall, fun race, good times, would do it again next year.)