This month is flying by. So is life! I realized I haven't blogged in quite awhile. This is due to being busy, which is a good thing.
I was talking with a fellow freelancer about the concept of "busy-ness." You've read various articles about how being "busy" is the new response everybody gives and how being busy shouldn't be the goal, and all of this negative press about being busy. The thing about being a freelancer is, being busy means we are working. To me, though busy can be exhausting and overwhelming, busy means I'm paying my bills, I'm saving, I'm going to hopefully retire someday. Busy is good. I enjoy nights off. I enjoy having days off, on those rare occasions in the spring. (Saturday!). But I also enjoy working, I value it, and I'm sorry that I'm so busy I can't do it all. I also hate turning down work, because every call for a new gig is a possibility for something amazing to happen, and having to say no means I'm saying no to that possibility. Sigh.
So I'm busy. What have I done since we last "spoke"? One thing is that my parents stopped by for a quick visit. We had a nice lunch, walked around Forest Park on an absolutely beautiful day, and then they were able to come see me play with the Metropolitan Orchestra of St Louis. Unfortunately Louie came down with a nasty stomach bug (he actually went to the doctor, which means something…neither of us are "go to the doctor" people) and couldn't enjoy it with us, but it was a short and sweet visit. Then I hit the ground running (as always, it seems, even though I worry, I worry about work a lot) in preparation for all of the extra Palm Sunday/Holy Week concerts.
Dad had an unusual looking lunch.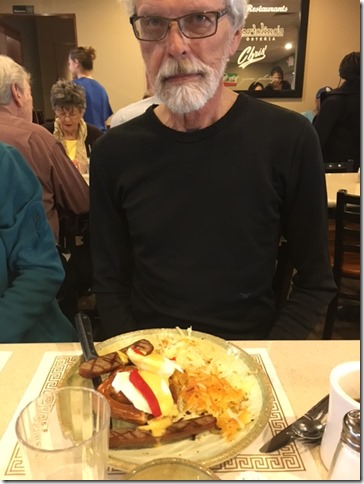 Mackenzie and I at Forest Park.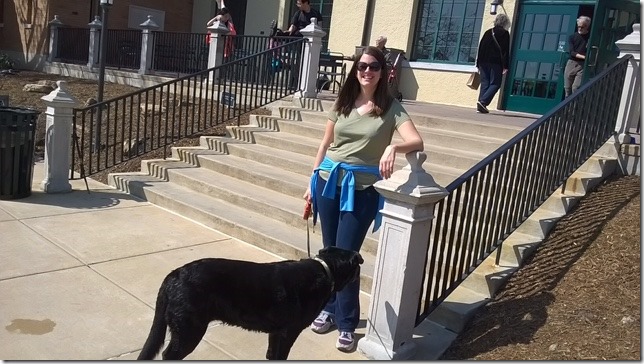 Very large, old tree.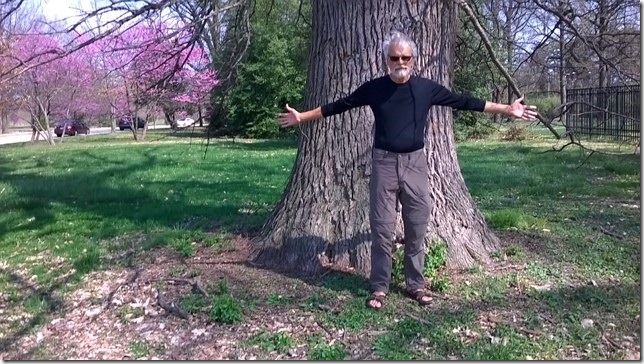 I guess nobody took pictures except Mom, since there aren't any of her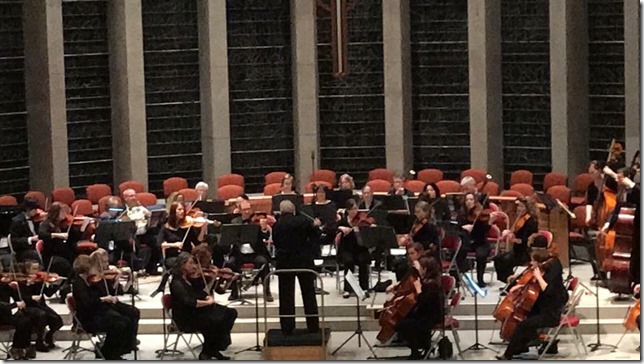 The orchestra concert.
Looking back through my pictures, since then, I voted (again! If democracy is important to you, you need to vote in all the elections. Call your reps, show up, VOTE.)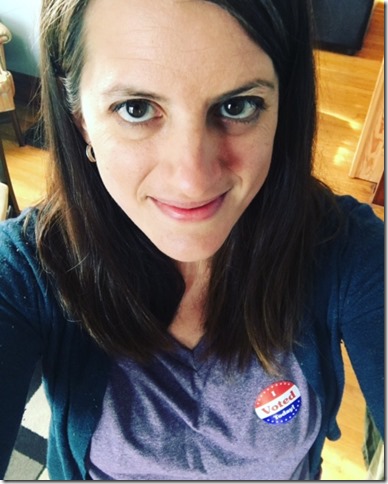 And I've been practicing, reading, dog-walking, running, doing it all. Except hanging out with friends hasn't really been happening. It turns out you can't do it all. One day though, I shall be retired and have time for everything. Except work

My parents were visiting after a bit of a camping vacation. I feel like Louie and I have a lot of interesting stories after our camping trips, but my folks really have more (except no bears, that they have been luckier/smarter). I suppose if you camp and travel enough, the stories start to add up. I made a new life goal after chatting with them. For instance, they had a story about having to pack up their tent in the middle of night due to bad weather, and drive away. And most recently, waking up and realizing the rain had turned to snow, and going to Denny's for breakfast hoping it would melt by the time they returned. Maybe some people don't like these sorts of adventures, but they do keep life interesting!
I'm finding it hard to be motivated to practice when the weather is so nice. The other day I was thinking to myself, did I have anything pressing to practice and decided, no, so I read a book instead. Later that night I realized I had completely forgotten the quartet concert tonight! (We are playing Haydn's Quartet arrangement of 7 Last Words). I don't know if that's a sign growing old (as Louie suggested) or just being tired? Speaking of tired, I woke up an hour before my alarm today. I was dreaming of a day to sleep in, but then when I woke up, I couldn't sleep anymore. I remember days I could sleep and sleep forever, but currently that is not in my cards. At least I can go to sleep pretty decently at night, and I'm just a little tired. Sigh.
On the bright side, there's a great article in the New York Times (fake news!) about how 1 hour of running can add 7 hours to your life. Or it just feels like it

Read it! And then put on your running shoes and go for a run. If I weren't about to go play a concert, I'd join you!