I've had a very exciting and informative weekend at the Food Media Forum (if you follow me on twitter or instagram you've seen a bit of that) but I wanted to collect my thoughts a bit before I blogged anything else about that.
Thursday night my favorite photographer (and friend) Sarah Crowder tweeted me asking if Chris and I were available Friday evening to meet at a restaurant called Growlers Pub in Sunset Hills for a photo shoot in exchange for free appetizers.  I thought it sounded like fun, and we were free since we were both on vacation, so we figured why not.  She wanted to get a group of people to help out—Growlers had hired her to take some pictures for their website of the food and of their back patio, and they wanted to make sure they had enough people around to make the place look popular and fun.
Unfortunately all of our friends already had plans or were out of town, but we headed over.  We had no idea what to expect, but the patio was great—it was large and very open, with a bar outside and the serving staff were all very friendly.  The bartender was informative about the beer (and to clarify, I am writing this on my own, I wasn't compensated for THIS post 😉 ) and Chris and I ordered a couple of IPAs.  I had one of those fun moments where the bartender assumed I would order some "lady" drink, so instead I ordered a Stone IPA.  I told him "I don't drink beer very often, but when I do, I like a really hoppy beer."  The weather was gorgeous for once, not too hot, and breezy enough to stay cool in the shade, so we were enjoying ourselves.
I guess Sarah was photographing the food inside, because after a few minutes some of the staff brought out a ton of appetizers and food for us to try—it was the stuff she had already photographed, and it was going cold.  They also brought another beer. They gave us a few plates and took some other plates to another table.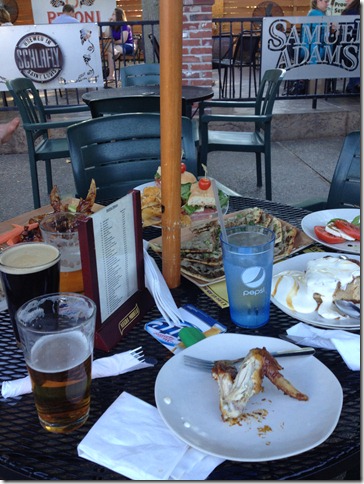 This was all for the two of us.  We didn't even make a dent since we had dinner plans afterwards.  The wings were tasty though, and the bread pudding would have been really good if it had been warm.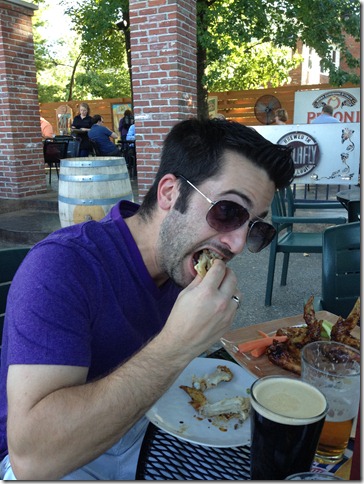 Chris was enjoying some of the flatbread as well.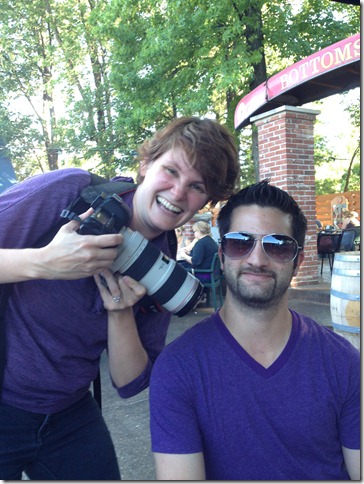 Sarah and Chris were wearing matching shirts.  Sadly I had not gotten the memo.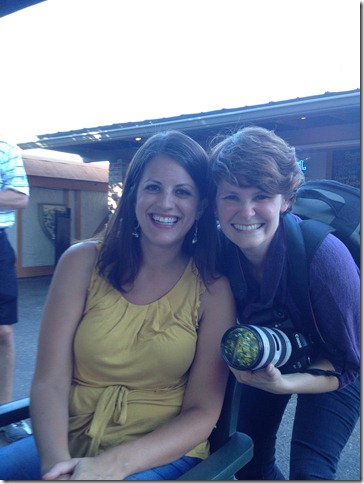 Yellow and purple go well together though, right?
Anyway, she took some close up shots of us chatting and drinking, and just enjoying ourselves.  The band was good too—it was the Ali Jaye Duo.  I have no idea how the pictures turned out, or if we'll end up being on the website, but it was fun.  Chris is really getting good at getting his picture taken.  And Sarah Crowder is always a delight to work with—her enthusiasm and energy is infectious and she is just one of my favorite people!  We have another potential project coming up and hopefully it'll work out too.