I want to blog about so many things, but where to start? 
Let's return to the end of 2011.  If you recall, I was preparing to get married.  My family got into town (my parents came a day earlier than I thought) and we hung out a bit on the 30th.  I was already planning a dinner at my house on the 31st.  Some of our friends were in from out of town as well, though many weren't arriving until the 1st.
The weird thing was the few days leading up to people getting into town I was just sitting around not doing much.  The planning was basically DONE but my friends were ignoring me, either because they were busy or because they assumed I was too busy.  I actually got weirdly lonely!  But I knew it was the calm before the storm so I managed.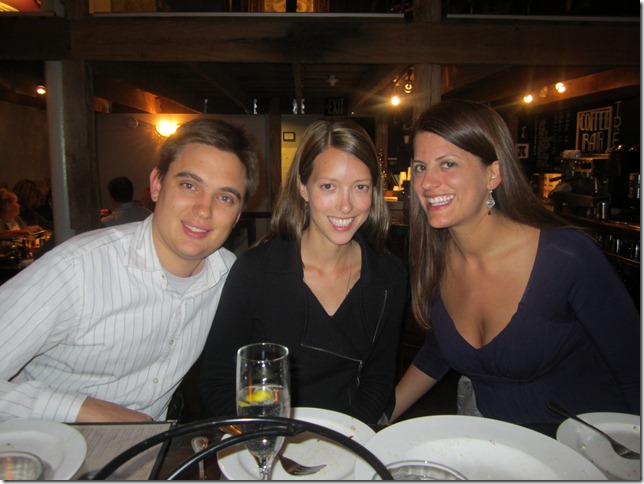 Eating pizza at Pi.  Some people say they got too busy to eat or too stressed to eat before their wedding.  I had the opposite problem!  I was eating every carb in sight.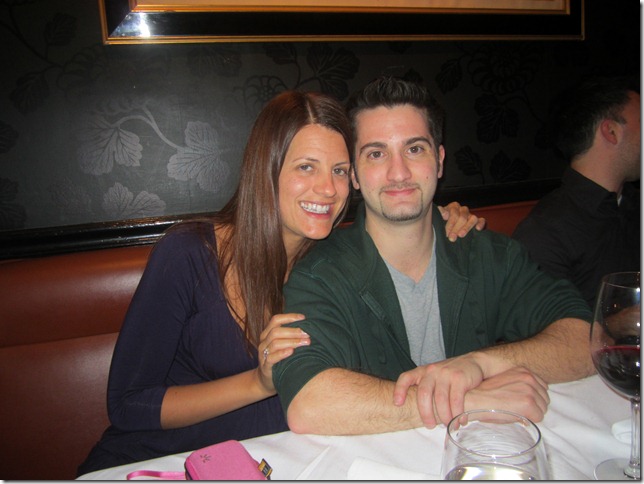 Herbie's!  Little did we know later than night Chris was going to have a serious stomach flu thing happening…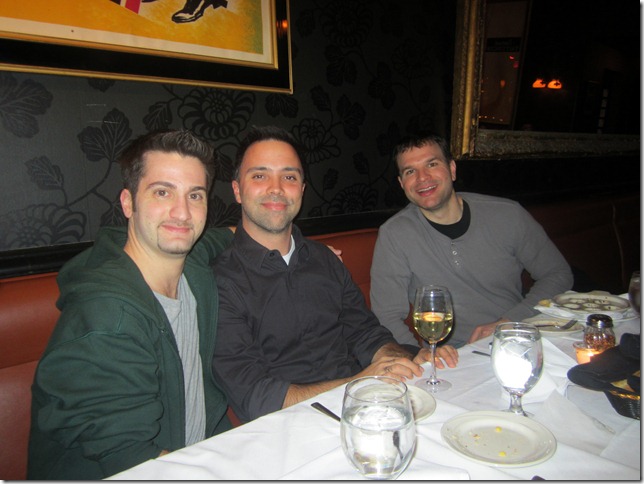 Some of our friends met up for dessert and after dinner drinks.
December 31:  In the morning Leslie and I went for pedicures and a manicure for me.  I decided to get fake nails put on, since I wouldn't be playing violin for two weeks (you can't play violin with long nails) and they looked great!  No pictures right now, but I'm sure there will be from the wedding.  Then we went with my parents and Carrie to Basil Spice for lunch and then went to work on a dinner of meatballs and macaroni and cheese for New Year's Eve Dinner.  Chris spent the day in bed with a bad stomach flu or food poisoning—my dad kept making jokes about him being sick due to not wanting to get married.  I was not amused, but quite worried about him! 
Chris's family (my in-laws!), my parents, and my aunts and uncle came over for New Year's Eve dinner.  We thought it would be easier to cook at home than brave the crowds with a large group.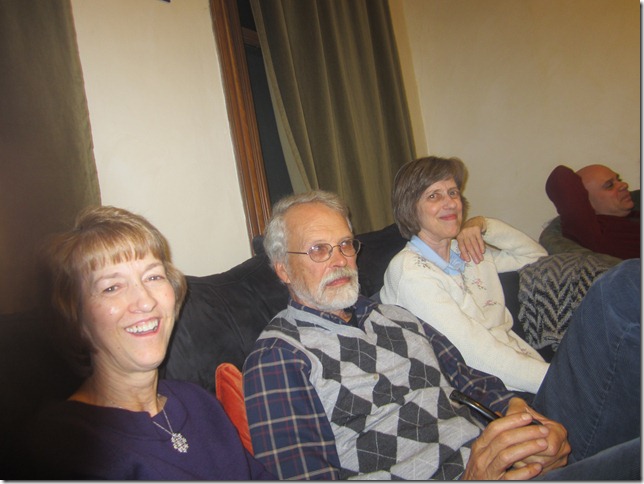 My aunt Connie, my dad, and my mom.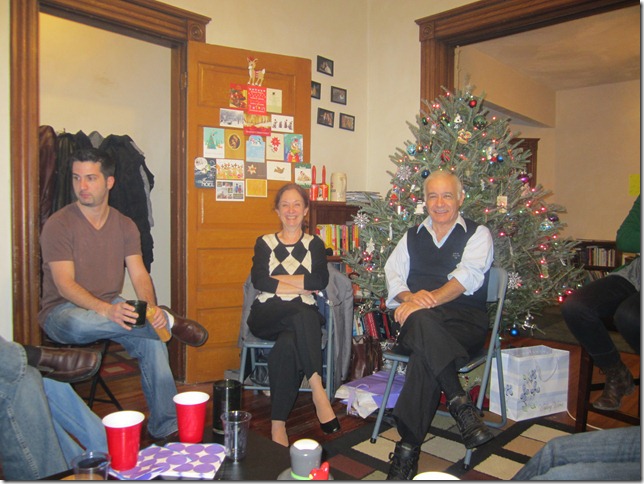 Chris, his mom, his dad.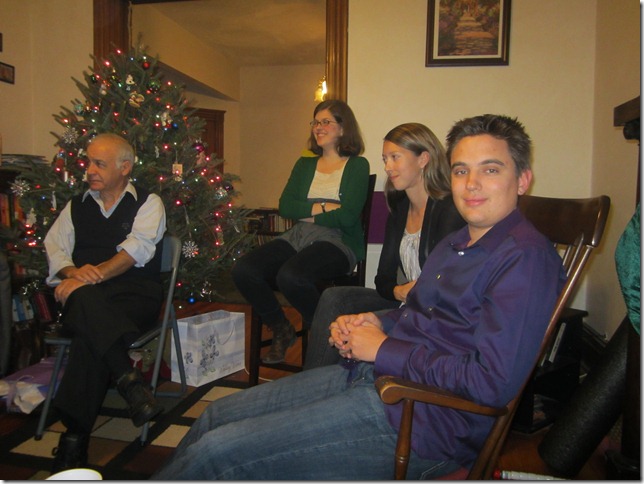 Chris's dad, Carrie, Leslie, Peter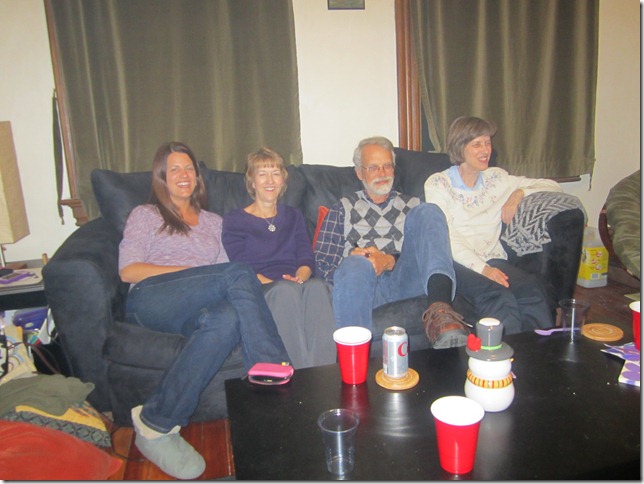 Me, Connie, Dad, Mom.  We all like squeezing into tiny spaces!
Chris's dad and my parents had met before, but it was the first time for his mom and for my siblings and such.  It was a fun evening—we spend hours telling stories and talking.  Chris was up and down, in and out of bed.  He seemed to be on the mend, but I just felt horrible for him :/
Just before 11 pm our parents wanted to watch the ball drop in Times Square, so we turned on the tv.  At 11 pm they wished everybody a Happy New Year…that's how Eastern Time people roll, I guess.   They didn't care that it wasn't midnight yet!  They left, so we young folks headed to our friend Will's for a New Year's Eve party!  Chris insisted…he was barely alive, but he wanted to see some of our out of town friends who were going to be there.  I told him we had one hour and then I needed to be back home to get my beauty sleep.
That's us!  Chris was probably just trying not to puke…because he was SICK people, not because he gets nauseous when I stand too close.
So…in my recap…Happy New Year, readers!  I was in bed by 12:30 pm because January 1 was going to be a BIG DAY.  Rehearsal and rehearsal dinner!  I'll tell you more about that in another blog post.
Present day:  Today I am BACK TO WORK!  I had a meeting with Chamber Project St Louis and three students.  I also managed a 3.5 mile run and a variety of other business related things.  It's nice to get back into my routine!  I'm still way behind, of course, but I'm working on catching up.  I feel way behind on my friends too—I have no idea what people have been doing for really the last month as I was out of town and before that super busy with planning…if you are reading this, let's catch up!  Lunch?