I'm in between making pies right now—chocolate bourbon pecan is in the oven, and then I'll make the old fashioned cream.
I'd offered to bring pie to Thanksgiving dinner at Louie's mom's, mostly because I love pie. I figured since Louie's brother is vegan I'd try to make a vegan thing too, and picked out an amazing looking pumpkin cheesecake. I finished teaching last night around 6 and started working on it, because it was a bit involved—lots of food processing and blending of cashews, pecans, tofu, etc. We even made the marble effect, and then starting baking it. I'm not sure if my oven is a little cool—I usually think it is, but then I worry, so I didn't turn it up. It seemed to need more time in the oven, so I kept checking it every 5 minutes, and gently jiggling it to check texture. I took it out another time…and somehow the bottom of the pan popped up and the whole thing fell out onto the oven door…
After quite a lot of tears and self loathing, Louie helped me clean it up, we tried a little bit (verdict, might have been better if cooked all the way) and then decided that one less dessert on Thanksgiving was okay.
So that's how my vacation is going so far! I have today and tomorrow off work, and I swear I'm not going to answer work emails (the good thing is that on holidays you get less, but the bad thing is that I was already behind so there are a few burning holes in my email inbox), practice (except I agreed to play a gig Sunday morning that has two rather challenging pieces, somehow!) or even think about work (ha!, that was a joke).
Here's a few snippets from the past week: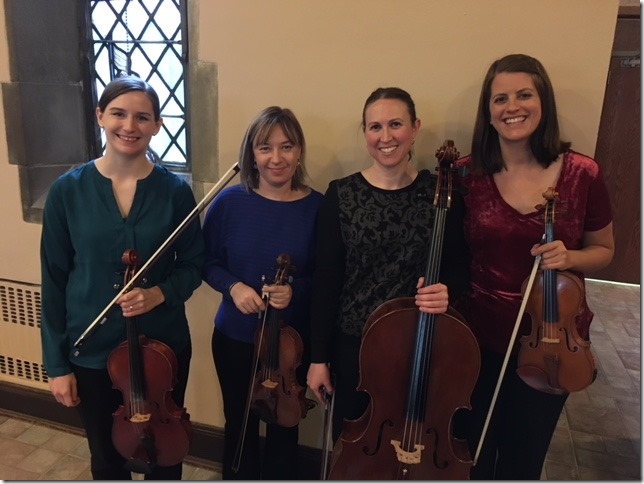 Had a really good quartet concert—played Mendelssohn and Onslow and it was great. The venue was really nice too, and we're hoping to play again there (a local church, Bethel Lutheran).
I also had a few students play in the SLAMTA (music teacher's association) playathon at the Galleria Mall. I wasn't sure what to expect, but the kids had a great time and I always enjoy activities that build community and encourage practicing.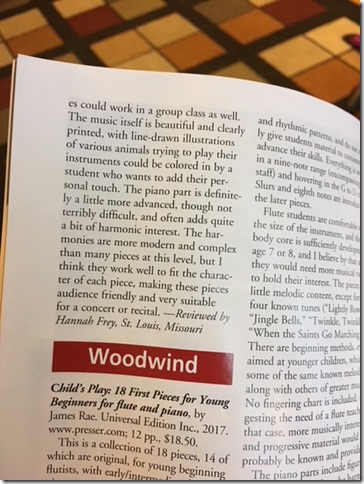 I got a review published in the American Music Teacher! And we are dogsitting for my friend Jen's dog Louie. He's a hilarious little guy, who was afraid to go downstairs, though last night he finally did, which was awesome. It's important to know my kitchen is downstairs, and that's where the dogs are fed, so we had to carry him down the stairs many times, and he hated this. (Never mind that when he got there he got food, he still hated it and was terrified.)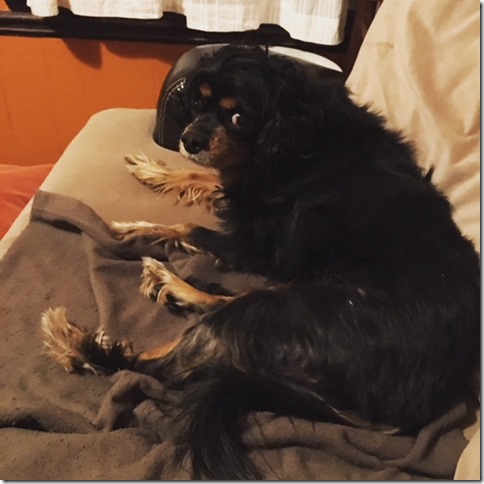 And yesterday we took both dogs on a little hike at Forest 44 Conservation area. It isn't a terribly scenic place to hike but it's easy to get to, not too crowded, and you still get into the woods and get fresh air away from the city, so it's a favorite of ours.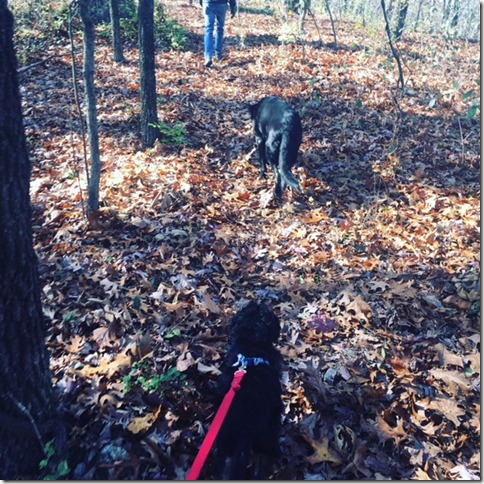 So: coming up, playing for Mannheim Steamroller, playing two weeks of the King and I at the Fox Theatre, various Christmas gigs, lessons, juries, end of semester grading (I actually have papers to grade for one job!) and then it'll be Christmas vacation. I'll have two actual weeks off, well, almost, from December 25 to January 7, no work at all other than some practice, likely. That doesn't count as work, even though it is, somehow.
I'd better check on my pie. Right now my dessert making is 0 for 1. Hoping to make it 2 for 3 by noon.
Happy Thanksgiving! I hope you have a wonderful time celebrating with your friends and family and loved ones, and I hope some of those categories overlap.