I've spent nearly my whole life learning about music. I always wish I knew more about art, but I imagine that it's another field that takes a lifetime.
On our second full day in Chicago (here's the first part of the trip) we decided to visit the Art Institute, which is one of the best art museums in the world. The City Pass we'd purchased allowed us to skip the lines and get right in. We would have had to pay extra for a special exhibition on Van Gogh, and while it sounded great, we figured that there was enough art to see without needing more!
It was an exhausting day! Museum going can be really physically challenging—so much time on your feet. I'd been smart this visit and worn a pair of sneakers so mostly I did pretty well. Louie is always more energetic and more up for walking and standing around than I am, so when he was complaining of being sore and tired, we knew I was! But we saw as much art as we could. From miniature rooms in the basement, to Impressionist works upstairs, and everything in between…so many wonderful and creative and beautiful things.
This guy really is a teapot.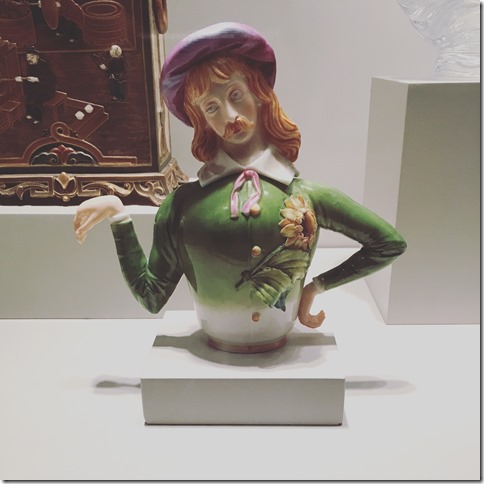 Louie with a work of art that is on loan to the Institute.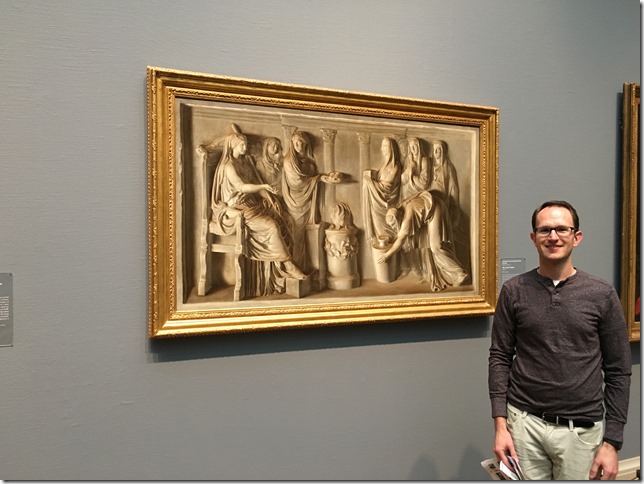 A table of potatoes with electrical current running through them.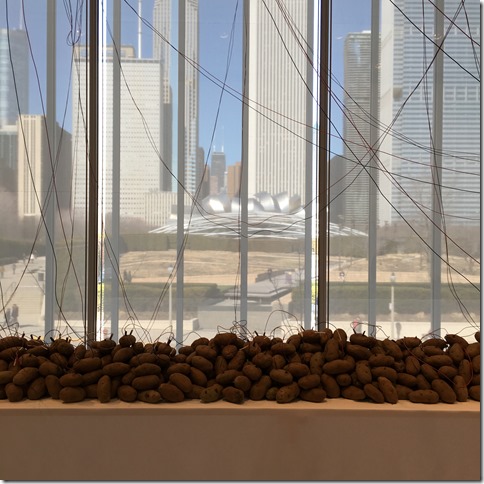 A hand dryer. Actually, this really is a hand dryer. It was in the bathroom, labeled and all.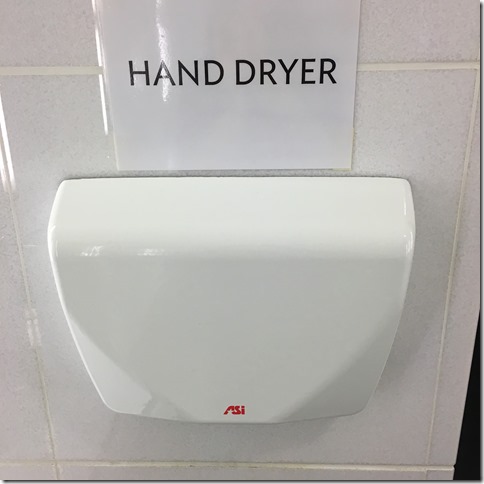 And on of my favorites was this beautiful work by Monet. I didn't know he painted from Norway!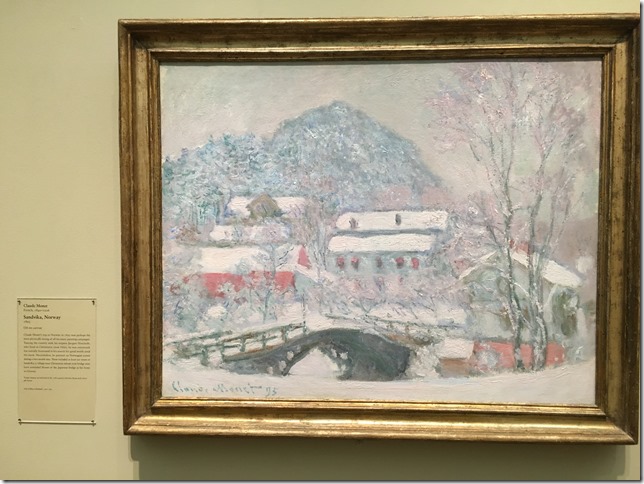 Each time I visit art museums I learn more and am fascinated by what artwork sticks out at me and what I love most. Tastes change over time too!
Anyway, after the museum, near the time it was closing, we realized we hadn't eaten a proper lunch yet so we decided to head to the Purple Pig, a restaurant I'd been to a few years prior, but Louie never had. We walked and got there around 5 pm. It seemed early, but the place was pretty full. It was a tapas style place and we split a few things. They had a really tasty beet salad (I'm obsessed with beets), good cauliflower, a tasty octopus dish, and probably some other things but right now I'm on a lot of cold medicine

so I can't recall!
We realized that the Willis Tower (that's the first time I've called it that rather than the Sears Tower) was open until 8 pm, and a trip to the top was included in our City Pass, so after finishing our lunch/dinner we headed that way.
The City Pass really came in handy for the Willis Tower because we skipped most of the (really long) lines. However, when we got the top it was really foggy and there wasn't much of a view. Boo.
They did have hot dog hats in the gift shop though. One of MANY gift shops you passed on your exit.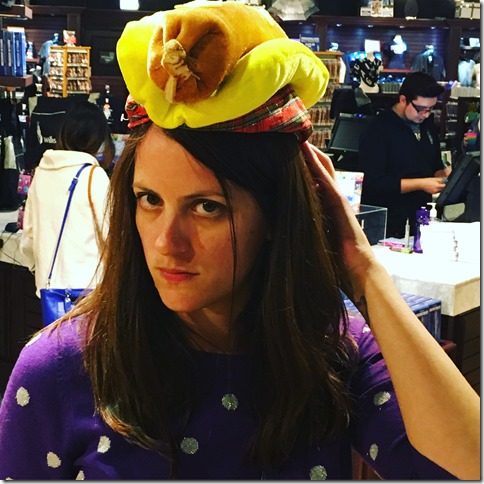 Next we decided we needed a light dinner, so…we went to Avec. We had to wait about 45 minutes for a seat, but it was worth it. We weren't terribly hungry so we only ordered a few things, but they were all delicious. (Mackeral, cheese foccacia, and got a salad with burrata on it.) And for dessert we split a cup of ice cream.
Next day:
I should say that we continued to take buses and trains everywhere for our transportation. On the bus ride to the Field Museum, we realized we'd probably spent more TIME doing so that was wise, but we'd certainly saved money. Deep thoughts, really.
The Field Museum was packed—it was Saturday, and everybody was out and about. Our CityPass didn't save us from the lines either, because the line for will call/City Pass was still pretty long. This was a jam-packed day because we were hoping to see the Field Museum and the Aquarium—simply because the next day we were leaving and it seemed like it would be a pain to get back down to the Museum District.
Really, I'd love to go back and spend an entire day visiting the Field Museum. We didn't get into the museum until after noon, and then left around 3:30. Enough time to catch the highlights and see lots of dead animals and dinosaur bones, but it was rushed!
There is a huge section of the museum devoted to stuffed dead animals. It's like a zoo…except the animals don't move. It was fascinating and interesting and amazing and gruesome, all at once. I pictured the scientists (zoologists?) back in the day (1900-1930 or so?) saying, what a cool animal, let's kill it and stuff it and take it back home for the people of Chicago to see.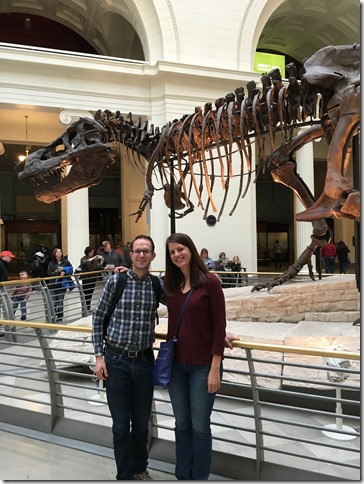 Grizzly and Black Bears. For future reference!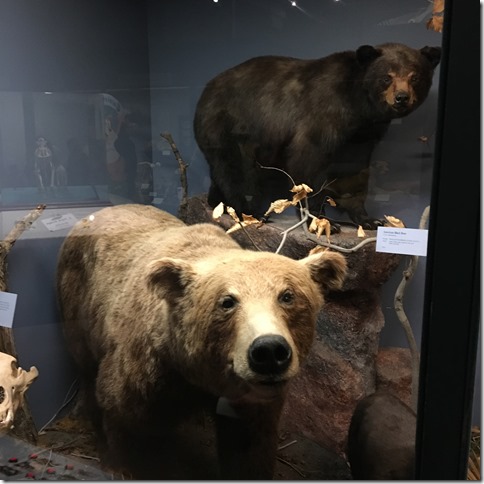 There were several parts of the museum we didn't get to, and we had to rush to see what we did. Next time we will return and learn more! This was my third visit to the museum in my life and each time I am amazed by it.
Then we went to the Shedd Aquarium, which is right next door. Here the CityPass saved us tons of time. We only had about two hours there, but it was plenty. It was hard to transition mentally—so many people, animals are moving in the water—but it was okay. I enjoy the large animals best, like sharks, and they had a few. No pictures though, ha, I guess I was too tired!
After that, we were oddly hungry for seafood. (I know, I know, we are horrible) so we went to a Japanese Fusion place called the Slurping Turtle. Then home to relax and watch another movie.
Our last day we had some laundry to do (staying in a relative's house means you should wash your sheets and towels!) so we stayed nearby. We walked around the lakeside again and Lincoln Park, but it was cold and windy and I was overall just worn out from the trip, so we didn't spend as much time walking as I think Louie wanted to!
We took the bus back to Union Station, and honestly had quite a time finding our train. We didn't realize we needed to line up the main lobby since all the signs indicated otherwise and were quite frazzled by the time we boarded. Luckily we were able to find two seats together, but it was stressful for a few minutes. We were smart and brought some takeout food with us—delicious banh mi from a place near where we were staying, so the trip home was quite pleasant. We had a time waiting for a cab at the train station in St Louis—there was a cab pick up which we waited in for awhile, but then nobody was coming, and cabs showed up but for people who had called them, not people waiting (though I figured if I called a cab somehow somebody else would take it)…finally we decided to call an Uber ride, and by the time he arrived naturally more cabs were waiting, but we learned our lesson—we should have started with Uber.
So there you have it! Spring Break 2016 trip to Chicago. Lots of museums, lots of walking, lots of riding on trains and buses. Culture galore!